Dozens of voters, city officials and state lawmakers came to Elevate Rapid City's Open House event Tuesday evening to learn more about the candidates in the Rapid City Area Schools' Board of Education race.
The ten candidates for school board are running in four different areas. In Area 1, Deb Baker is running against Natalie Slack; in Area 2, incumbent and current Board President Curt Pochardt is running against Breanna Funke and Tatewin Means; in Area 3, incumbent Kara Flynn is running against Gabe Doney; and in Area 7, incumbent Kate Thomas is running against Jenny Read and Megan Collier.
Candidates in each of the races, with the exception of Collier, set up tables around the conference room in the Hilton Garden Inn containing literature, yard signs, candy and cookies as prospective voters walked around the room talking with candidates and among themselves.
Candidates mostly mingled with voters and walked around the room, leaving campaign organizers to man the booths. Some attendees recorded videos of their interactions with the candidates in an effort to hold them accountable for their responses.
The 10 candidates for Rapid City Area Schools' Board of Education can all agree on something…
Christy Hammond came to the open house already knowing who she was planning on voting for, but she wanted to meet the candidate in person and get a more thorough idea of their positions on issues. She said she had researched all of the candidates thoroughly before deciding, and now she has a sign in her front yard to represent her chosen candidate.
As the mother of a third-grader enrolled in RCAS, Hammond said it was important to see that candidates would, if elected, take care of the children they are entrusted with making decisions for.
"There's a huge achievement gap in different areas and different schools in the city, and it's vast. I would like to see that change and for kids to have the same opportunities and to test better no matter where they live," Hammond said.
Hammond said infrastructure is another big issue elected school board members need to keep focusing on, and that she didn't want that priority to fall by the wayside as many schools in the District need upgrades and improvements.
RCAS teachers Sue Podoll and Justin Speck came out to the open house because they said the community needs a strong school board to continue investing in schools.
"The Board needs to be educated and aware in how to move the District forward so we can better serve students and prepare kids for a [future] world that they get to decide," Podoll, who is also the president of the Rapid City Education Association, said.
Speck, a fine arts teacher at Central High School, said it matters whether school board members support teachers so that they can prepare their students well for the world after high school.
"And that world is diverse, dynamic, and ever-changing," he said. "If we want this for our students, we need a board that is well-educated, resilient, flexible, caring, supportive, and worldly."
Podoll added the Board members should not "be stuck in the past."
Speck urged board members, if elected, to challenge the status quo.
"As educators, we know normal is not working for most students. Things are broken, and the pandemic just brought it all to the forefront. We don't need to go back to normal, because normal wasn't working."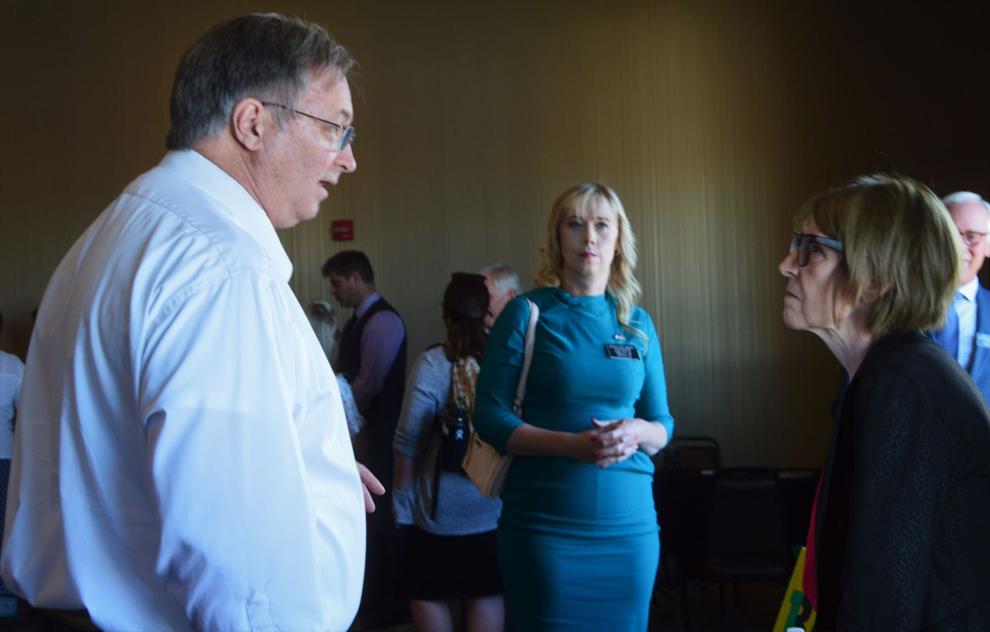 Elected officials from Rapid City also made appearances at the open house to talk with candidates and constituents. Rapid City State Sens. Jessica Castleberry and Mike Diedrich were in attendance, as well as City Council President Laura Armstrong and councilmembers Darla Drew and Bill Evans.
"The school board is an important function of any community," Diedrich told the Journal. "It's important for people to be engaged in all levels of elections."
Florence Thompson, president of the group South Dakota Parents Involved in Education, was present at the open house and described two different ideological factions of candidates: those that are pro-establishment and the opposition. She said if people are dissatisfied with the decisions the board made last school year, they should get out to vote and change that.
Thompson said current Board leadership is "very liberal" and that it has adopted a more radical, left-leaning agenda in recent years. She said school systems should be neutral and not indoctrinate students with specific ideologies or frameworks.
Early voting began May 24 and will last for 15 days. Election Day is June 8.