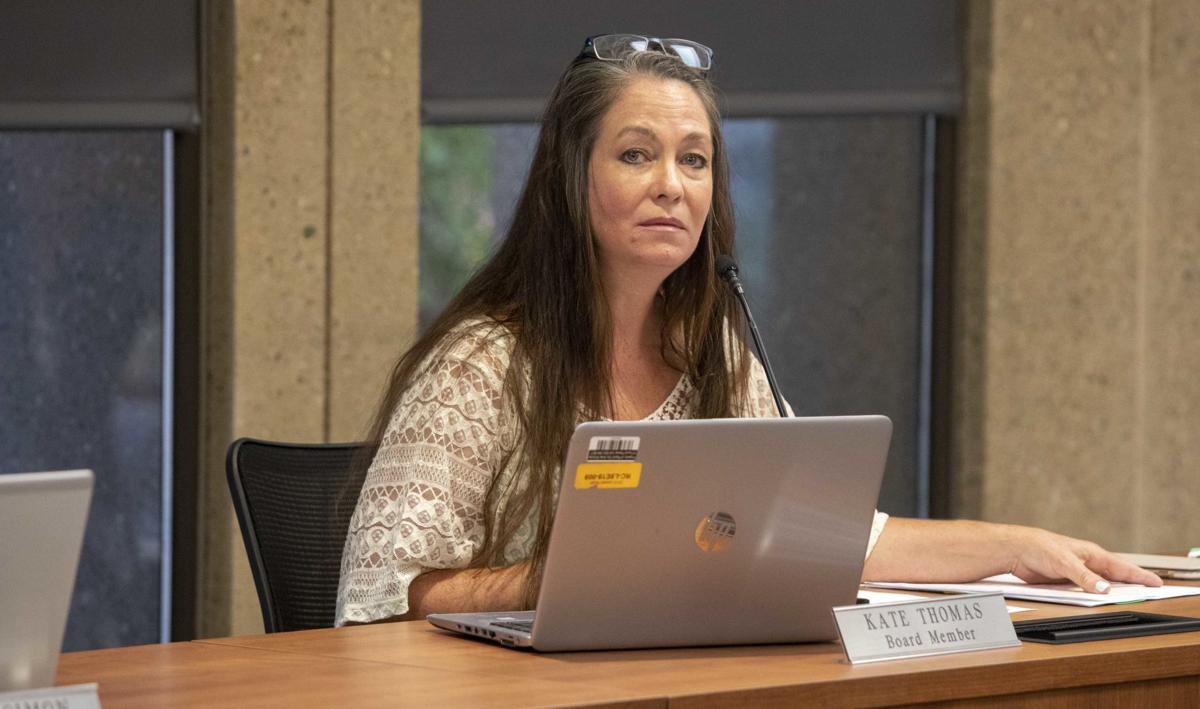 The Rapid City Area Schools Board of Education scrutinized the District's proposed COVID-19 mitigation protocol at a meeting Monday night. Board members said the District's back-to-school plan for COVID mitigation strategies was sent to RCAS families without their knowledge or approval.
Board President Kate Thomas said that the previous Board voted on last year's COVID plan before it was approved and sent out and asked that the same be done for the new plan. Thomas and other board members did not agree with the measures in the plan.
"There should be no quarantine. Just like with the flu, if you're sick, stay home," she said to applause from the crowd amassed for the public comment portion of the meeting.
Thomas also said the school district shouldn't be performing contact tracing, as that is the state health department's job, and that the school should not provide RT-PCR tests for COVID because they aren't accurate.
"It is not our job as a public education forum to be in charge of health care [for] any of these kids or our staff. It is up to them, and that's what health care privacy means," she said.
She added students should not be forced to wear a mask or get vaccinated and that mask-shaming won't be tolerated this school year.
Board representative Gabe Doney said the current plan is untrustworthy, and that RCAS families don't trust the school district after the events of 2020. The new board members need to be trusted, Doney said, which is why they needed to act on the plan.
"We are not going to move forward as a community, as a state, as a nation, if we don't move on. Our kids are going through terrible emotional stress from wearing masks," Doney said. "I get it, there's a virus out there. I'm not saying it's not real. But there's nothing in this past year that has proven to me that any one of our kids or teachers who got COVID were in the hospital, let alone died. Let's move forward."
According to RCAS Community Relations Manager Katy Urban, multiple staff members were hospitalized due to COVID-19 last year.
The Board plans to vote on the 2021-22 back-to-school COVID plan, as well as discuss the superintendent's powers to close schools for health reasons, at the next board meeting on Aug. 23.
The Board also unanimously voted to remove the mask mandate policy from the District's policy book that was implemented last school year. The policy technically expired at the end of the 2020-21 school year, but it was still enshrined in the policy book until the Board voted to remove it.
In a 5-2 vote, the Board denied submission of an application for a Title III Immigrant grant that would provide $30,000 to teach newly immigrated students and their families English as well as how to navigate the school system.
The immigrant population of Rapid City has grown significantly in recent years, and Director of Special Services Lisa Hafer said RCAS is the only district in the state that is eligible to apply for the funds because of the high influx of English language learners into the area.
This March alone, Hafer said the District identified 15-20 students with this need, and she expects there will be more once the school year starts.
Board members asked what "strings are attached" to the money. Hafer said the grant can only be used for newcomers to the country, or students who have only been in America for less than three years. RCAS also has to track those students after they complete the program to gauge how they are progressing.
"We're taking this money to create websites, do summer school like we did last year, to integrate families into our community so they know where to get services [and] how to navigate our school system. So it's going above and beyond what we're already doing," Hafer told the board.
In addition to classroom use, the money would be used to help pay the five English teachers as well as fund out-of-classroom activities like family nights, where teachers meet with students' families to teach them how to navigate the school system.
Only board representatives Amy Policky and Clay Colombe voted to approve the grant application.
The school board unanimously approved the submission of an application for the third round of Elementary and Secondary School Emergency Relief (ESSER) funding, which will give the District $40,129,744 to address learning loss as a result of the pandemic. Combined with ESSER II funds, the District will receive a total of $57,998,080 in federal aid.
Around $10 million will specifically address learning loss and will be used to purchase new computers for every kindergarten through eighth grade student, administer a comprehensive needs assessment, and fund the new Lakota Immersion Pilot project, to name a few things. Additionally, all 23 school buildings will get new air purification equipment to help reduce contaminants in the air through $2.5 million in ESSER funds; and the South Middle School building project will use $45.5 million.
Thomas said she wouldn't vote no on the ESSER grant solely for this reason, but she noted her concern about the Lakota Immersion Pilot's curriculum and what it will actually teach.
"We have been inundated with data all over the country saying there is a push to put Critical Race Theory in through math," Thomas said. "We need to be very careful about the actual curriculum, if it's the standard of what all these other kids are getting and it's just in Lakota, there's no problem. I will be looking at the actual curriculum once it comes out."
The board also unanimously approved the submission of an application for a $440,000 school improvement grant to "build capacity of staff for the planning and preparation of Needs Analysis and Action Plan development to improve outcomes for student success.