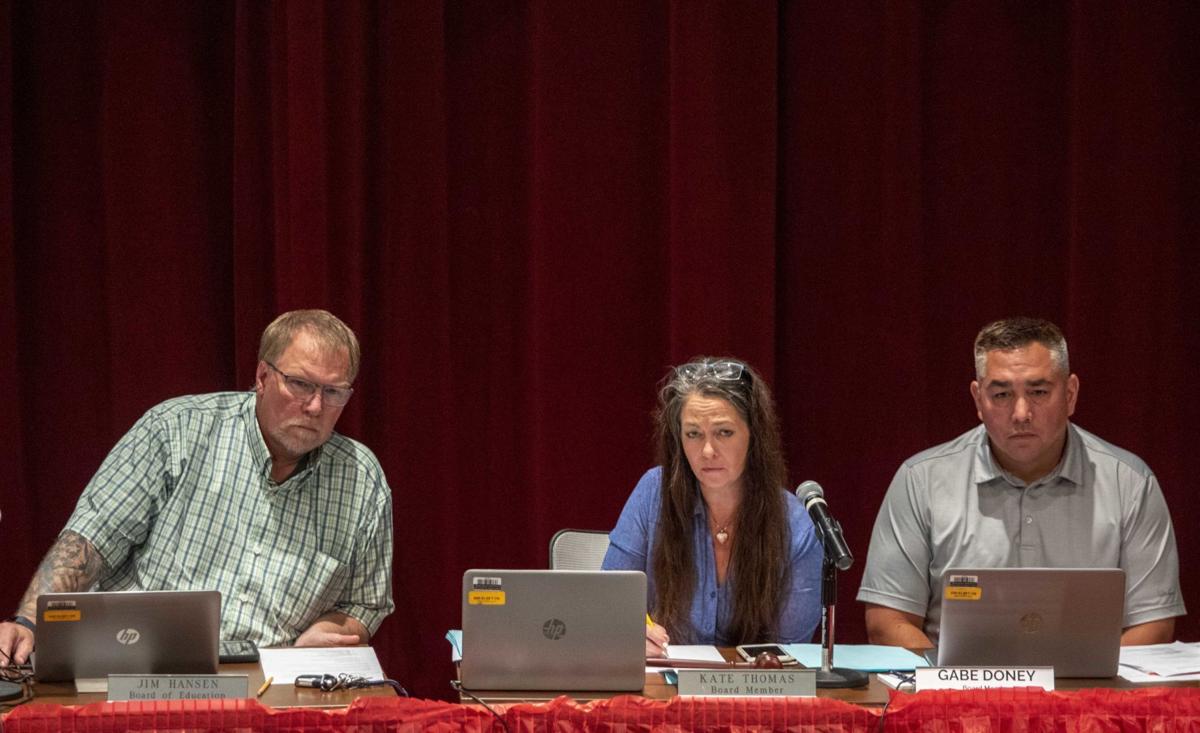 At the Aug. 9 Rapid City Area Schools Board of Education meeting, the Board voted 5-2 not to apply for a $30,000 grant that would help immigrant students learn to speak English without explanation.
In the weeks following that decision, parents and teachers have wondered why the Board would turn down a funding opportunity in a District that is already strapped for cash amid decreasing enrollment and revenue.
The opportunity to apply for the Title III Immigrant Grant is based on the number of immigrant students there are in a community, and Rapid City was the only school district in the state to qualify to receive those funds. The grant would have gone toward teaching 22 current RCAS students who have lived in the United States for less than three years how to speak English conversationally, as the language barrier affects their ability to retain information taught in RCAS schools.
A ninth-grade world history and geography teacher at Stevens High School, Fred Meyer, emailed each Board member on August 10 asking them why they voted not to approve the grant application and what the expectations for the funding usage would have been if it were approved.
"I was curious how the grant was awarded and where the money comes from. I asked [Superintendent Dr. Lori] Simon, who said it was cut and dry: the school district reports numbers of immigrant students to the state and we're awarded the grant based on our current numbers," Meyer told the Journal.
The two board members who voted to approve the grant, Amy Policky and Clay Colombe from Areas 5 and 6, responded to say they were just as confused as Meyer was as to why the grant didn't pass.
Board Representative and 1st Vice President Gabe Doney responded via email to tell Meyer that by accepting the grant, RCAS was implicitly giving the green light for more immigrants to move to Rapid City. He expressed similar sentiments to the Journal, saying that accepting a federal grant pertaining to immigration "could create a bigger problem down the road."
"Next year is it going to be 100 [students], or 300? Do we really want that in Rapid City? $30,000 could turn into $1 million," Doney told the Journal.
He said he's not an immigration expert, but one of his concerns is whether immigrant students would be up to date on the required vaccinations other students already have.
Doney specified the issue is not with children who can't speak English, but that looking at the bigger picture, the grant has the possibility to affect more than just the 22 students who need English language learning assistance in the future.
He acknowledged the need for these students to learn English, but said the Board members requested the superintendent find the $30,000 elsewhere in the budget for the task.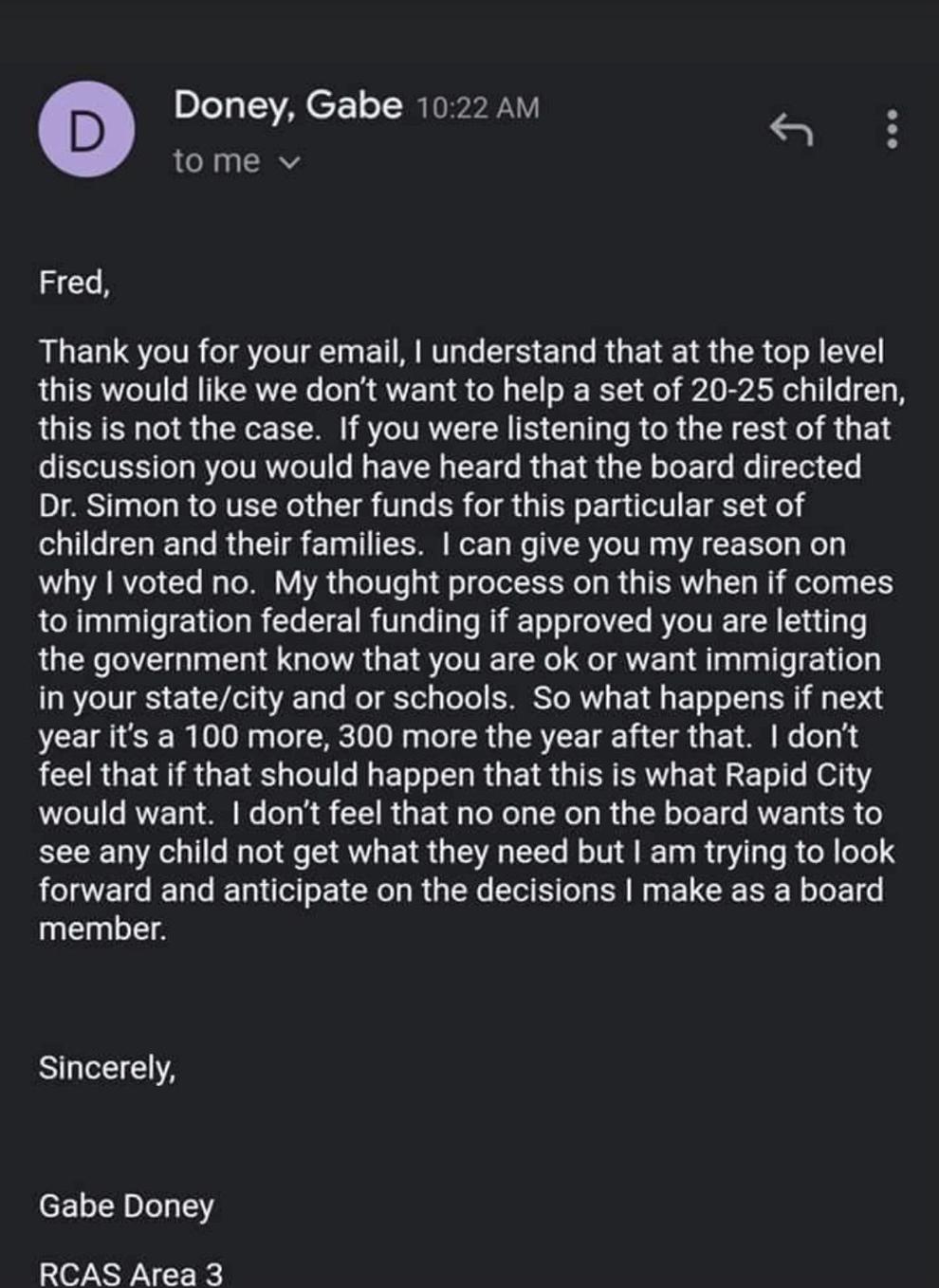 Meyer told the Journal that the District's budget is already tight to begin with considering the decline in enrollment.
"They decided to turn down $30,000 that would have helped our budget while directing Simon to use money from elsewhere — what money do you want her to take? Our general fund is already operating at less than the previous year," Meyer said.
While Meyer is not an English as a Second Language teacher, in his experience the program prepares students to better understand classroom instruction.
"It's been helpful getting students up to speed so they can be with us and engaged in what we're learning," Meyer said.
He also expressed concerns that from an outsider's perspective, the decision makes the school system seem unsupportive of the immigrant community.
"We have people that come from all over that work at our businesses, who are professors at School of Mines, green card holders, et cetera. We are reliant on immigrants and they should be welcomed. This sends the wrong message," he said.
Doney's response "threw him for a loop" because he did not expect it, and he described the comments as "pretty xenophobic."
"I wish [the Board] would have more tact, and a basic understanding that just because we accept the money doesn't mean we will get more immigrants. It's awarded based on those that are already here, and our job isn't to determine who deserves it, it is to educate those who are already here," Meyer said.
Meyer also heard back from Area 2 Representative Jim Hansen, who told Meyer he voted against the grant because he does not want there to be "federal and state ties to our school district." Hansen is a police officer with the Rapid City Police Department, a city-funded agency that has received money from state and federal grants.
"I was thinking… you need to have a refresher on how our schools are funded. And I don't want my property taxes raised to make up the difference," Meyer said of Hansen's response.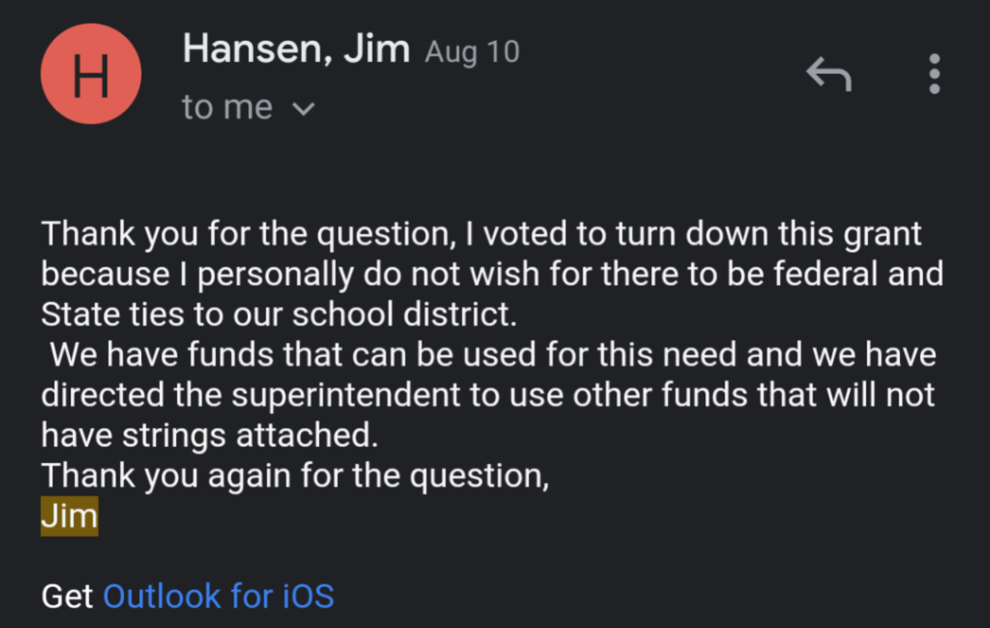 The main source of funding for all public schools is the state, which makes up 40% of RCAS' General Fund. The state aid formula is determined by how many students are in a particular District.
At the same meeting on Aug. 9, Hansen and other board members voted to accept the federal Elementary and Secondary Schools Emergency Relief grant, offered by the U.S. Department of Education to combat learning loss caused by the pandemic.
Request for comment from RCAS' special education department on the grant specifics were not returned by press time Friday.