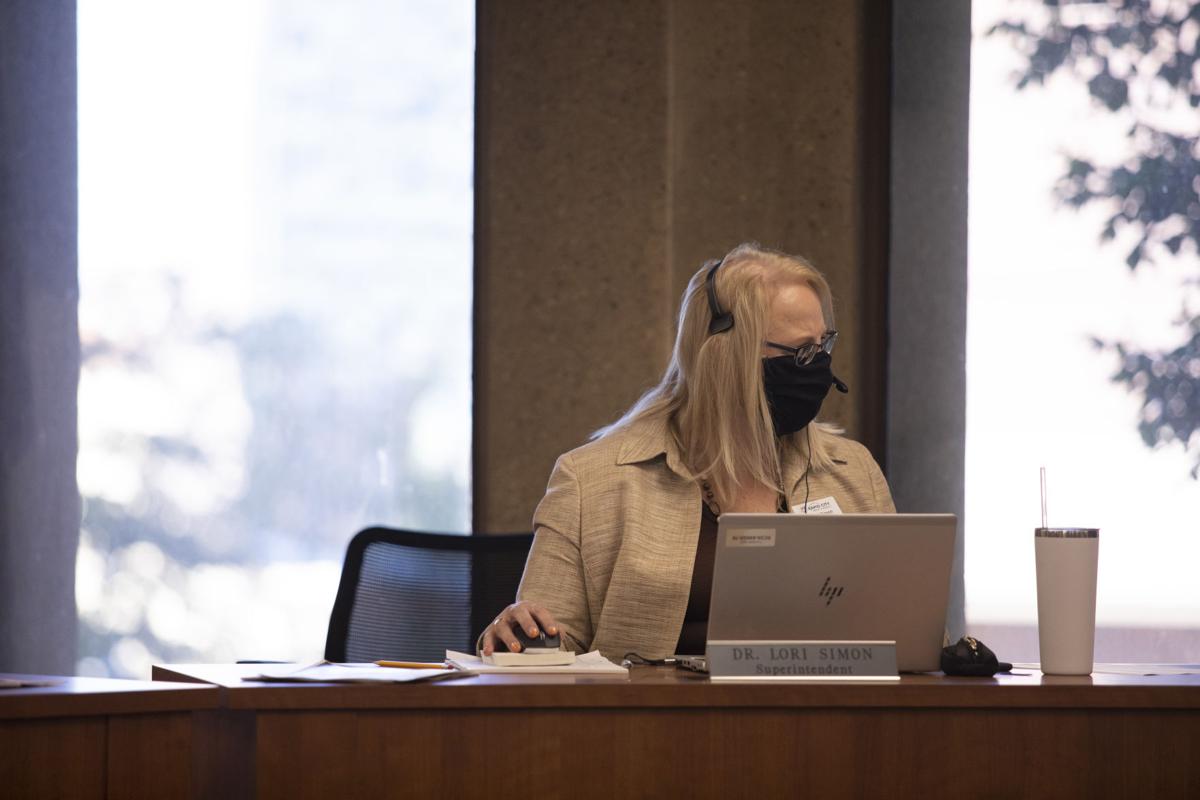 An attorney from Bangs McCullen Law Firm sent a letter on behalf of the Rapid City Area School District that demands a member of the public cease and desist from making "any future defamatory comments" at school board meetings.
The letter states that at an Aug. 24 meeting Florence Thompson accused the RCAS administration of brainwashing students and adopting programs that encourage students to "riot, attack government buildings, destroy property and destroy society."
"It's happened in Minnesota, where our superintendent (Lori Simon) is from, and we have adopted all of those programs that they have up there," Thompson said.
Thompson, a retired school psychologist and president of South Dakota Parents Involved in Education, makes frequent critical comments at board meetings.
Attorney Kelsey Parker cited both of Thompson's comments from the August meeting in the letter dated Aug. 27 while writing that "this is not the first time that you have directly or indirectly attacked an employee of the District or the programs offered" by RCAS.
Simon refused to comment Tuesday on the letter after an interview request went through district spokeswoman Katy Urban's office.
Parker said she discussed the issue with both Simon and the RCAS Board of Education. Both parties elected to send the letter, Parker said, noting she's not aware of any other letters that have been sent to Thompson or other members of the public who have spoken during the public comment portion of school board meetings.
The district works with Parker's firm for employment issues, while another Rapid City law firm, Gunderson Palmer, handles student issues. Parker said she was present at the Aug. 24 board meeting.
Thompson said at the school board meeting Monday night that the letter had a "chilling effect" on free speech.
Board president Curt Pochardt told the Journal on Monday that "as far as a chilling effect, that's overstating it" and that he doesn't see a problem with the letter that reminds Thompson to "maintain a civil tone and discourse in our meetings."
Parker said anyone's First Amendment right to free speech is limited in certain situations, such as talking about personnel matters or making defamatory statements at a school board meeting.
"We aren't free to defame other people or violate board policy," she said. "While public comment is a time to provide information for board consideration, it's inappropriate to make offensive or derogatory comments about people in the district."
Board policy BEDH — which prevents discussion of personnel matters or complaints that directly or indirectly identify an employee — has been an issue in the past, Pochardt said, noting he's unsure if legal counsel ever had to send a letter before.
Pochardt said board members were aware that Simon was "upset" about Thompson's comments and had concerns. If the issue comes to legal action, the board would be involved from there, he said.
Both Urban and Pochardt said they couldn't release a copy of the letter, which the Journal obtained through other routes.