As the Rapid City Area Schools Board of Education planned to discuss the back-to-school plan Thursday evening in a study session, district administrators were still waiting for more guidance on applying for state funding while considering a million-dollar camera purchase to assist with remote learning.
The state received $68 million from the CARES Act specifically for education: $19 million went to higher education, $41 million went to the Elementary and Secondary School Emergency Relief fund (ESSER), and $7.9 million went to the "Governor's Emergency Education Relief" fund (GEER).
GEER funds were split up: $5.7 million went to "quality remote learning, teacher professional development and supporting students as they come back into the building," as Gov. Kristi Noem announced on May 26.
The rest of the funds, $2.2 million, would go towards "supporting workers who had layoffs or closures tied to those businesses where they worked," Noem said.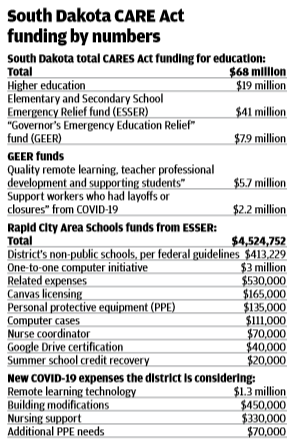 Coy Sasse, director of business and support services for Rapid City Area Schools, said he believed the GEER funds were going to be distributed to schools in a competitive grant process. But Sasse said the district hasn't received further information regarding the GEER funds, which Noem announced over two months ago.
To date, the only state funds the district has received for its COVID-19 response came from the ESSER in the form of $4,524,752, Sasse said, which was lowered to $4,111,523 after a share of the funds — $413,229 — went to non-public schools.
The district's PPE purchases so far include hand sanitizer and sanitizer dispensing machines, face masks and face shields for staff, thermometers, sanitizing wipes, medical gloves, N95 masks, disposable masks and medical gowns, district spokeswoman Katy Urban said.
Urban said the district may order face masks for students depending on the board's decision to buy or require the masks. The district may also consider purchasing building signage and plexiglass.
The district is considering other unique expenses for its COVID-19 response, including what Sasse said would be $1.3 million for remote learning technology in the form of cameras and iPad purchases.
The plan will be to utilize an iPad Mini 5 for the camera and streaming functionality and will sit in a Swivl cradle on a tripod, Urban said, noting the Swivl would provide functionality for the camera to automatically follow the teacher as they move about their classroom, as well as a method to capture audio from the teacher.
The purchase has yet to be approved by the board, but if approved, the cameras could be going into 933 classrooms throughout the district.
Urban detailed the costs in an email to the Journal and said there would be no installation or training costs. She estimated the total cost at $1,288,471:
Swivl (includes Swivl device, tripod, cabling and one "marker): $788

iPad Mini 5: $374

iPad Mini Case: $25

Internal network cabling at Stevens/Central to accommodate network requirements: $182,000

Zoom subscription for all teachers: $39,000 annually.
Urban said the district was already planning on upgrading the network cabling at the high schools during the 21-22 or 22-23 fiscal year.
Urban also said Zoom is currently free for K-12 educators but believed that might not be the case at some point in the future.
"We decided on this option because we are trying to provide as close to a normal learning experience as possible," Urban said. "This will allow students to follow along in real time and ultimately make the transition from on-campus to off-campus learning go smoothly."
The expectation is that teachers would live-stream their classrooms all day long except for downtime when direct instruction is not being given, Urban said.
Regarding any legal issues the cameras could pose, Urban said the district will ask parents and guardians to sign a form that gives students permission to appear on camera.
"While students may appear on camera from time-to-time, the focus will be on the teacher teaching," she said, noting teachers aren't permitted to disclose confidential information. "That will not change in this situation."
Teachers have been informed of the camera plan, Urban said, "although there are still a number of logistics that must be worked out and approved by the Board. There will be more information to come."
When school begins in the fall, each student will have a specific laptop assigned to them for use, Urban said. For students without internet access, the district will take a survey of families to see who needs access.
Superintendent Lori Simon and other superintendents have been in discussion with Gov. Kristi Noem on efforts in her office to provide free internet to families who qualify, Urban said.
Concerned about COVID-19?
Sign up now to get the most recent coronavirus headlines and other important local and national news sent to your email inbox daily.