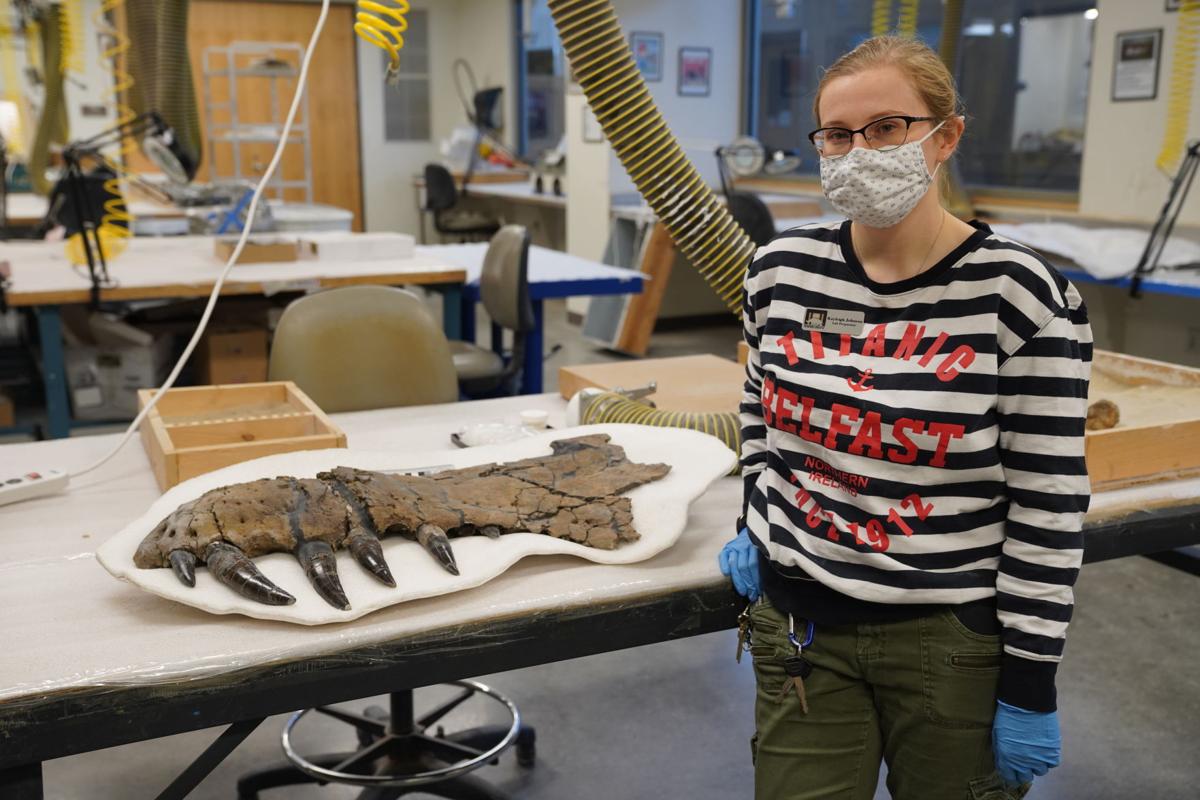 Some 65 million years ago he stalked what is now northwestern South Dakota, no doubt earning his nickname the "Tyrant King."
In all likelihood, this Tyrannosaurus rex specimen took his last step and last breath near Mud Butte in Meade County, less than 100 miles north of Rapid City.
Today, one of his jaw bones rests safely inside a plaster fiberglass jacket in the James E. Martin Paleontology Research Lab at South Dakota Mines. Measuring about 2 ½ feet long, the jawbone weighs in at 30 pounds. His teeth, dark and smooth, measure 5 ½ inches long.
Another piece of the jaw belonging to the Mud Butte T. rex is being staged for an exhibit in the lab's storage area, a room bursting with shelves of paleontological treasures yet to be prepared.
The Museum of Geology on campus displays the remainder of his skull — on a table sandwiched between two marine reptiles.
Kayleigh Johnson, lab manager and preparator, hopes to change that.
Johnson has a dream that one day, the T. rex skull will be displayed in all its glory. "But it's going to take more work and a lot more time," she says.
One of the largest known carnivorous dinosaurs, the T. rex lived during the late Cretaceous Period. Known for its short arms and menacing teeth, its name literally means "king of the lizards" (tyrannosaurus means tyrant lizard and rex means king).
Sixty-five million years ago, T. rex and countless other dinosaur species roamed what is today northwest South Dakota. The Hell Creek Formation, which runs through Montana, Wyoming, South Dakota and North Dakota, has produced a gold mine of fossils.
The Mud Butte T. rex was the sixth of its kind ever found. This particular Tyrant King was discovered during the summer of 1981 by Shirley and Jennings Floden, owners of the property and fossil enthusiasts. Teams lead by then museum director Phillip Bjork worked to excavate the T. rex through 1983.
The Mud Butte T. rex has been at South Dakota Mines ever since.
Since the fossil was initially prepared at Mines, techniques have evolved and improved, Johnson says. As a result, Johnson is working to conserve him for long-term storage and display. "We have better techniques," she says. "But they did a great job for the time period."
While Johnson has only had time to work on the jaw bone for short periods, she estimates that it would take two months of full 8-hour days to complete the prep on just this one jaw bone. But Johnson is not discouraged. Until the work can be completed, she plans to display the other jawbone in the atrium of the Paleontology Research Lab as part of a new exhibit "History of the Museum of Geology Exhibit," which should be ready by the end of the year.
The skull will remain on display in the Museum of Geology, and Johnson recommends checking it out. "This specimen is really an amazing find and needs to be more well known, not only for visitors but also for those who want to research it," Johnson says.