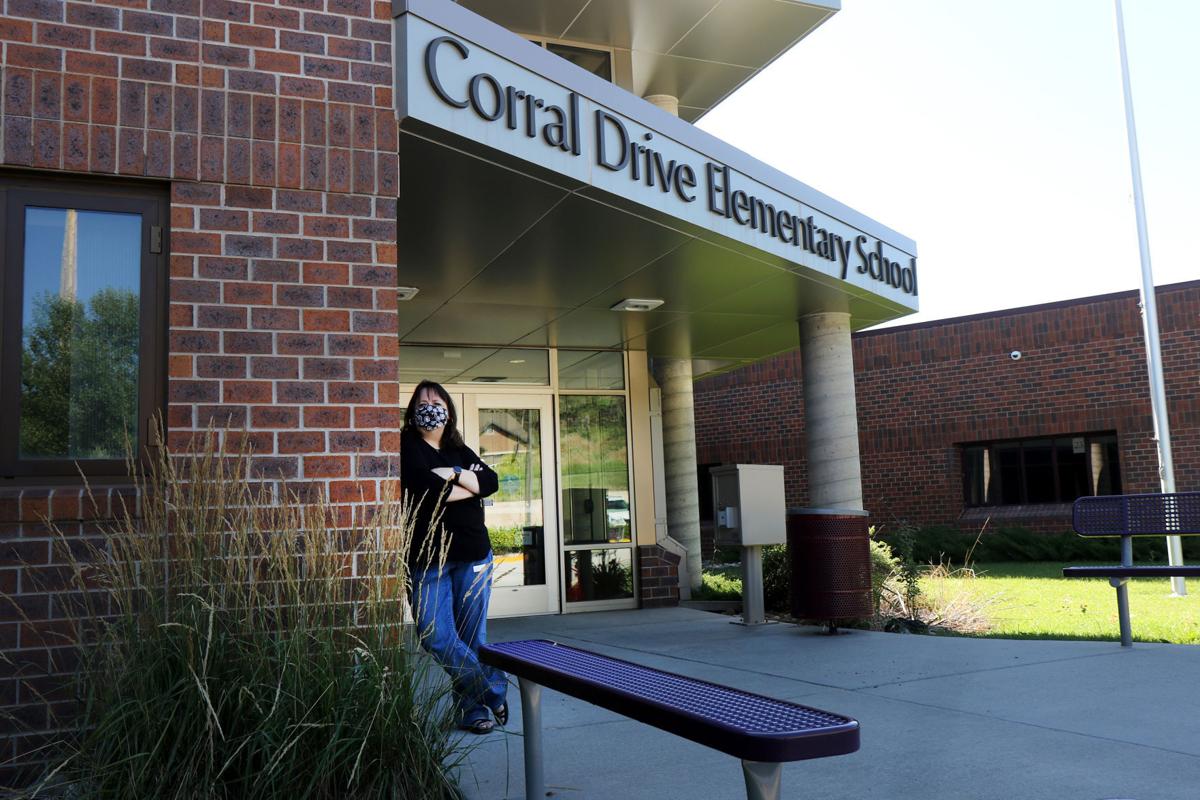 Editor's note: This is the second story in a two-part series about the decision for Rapid City Area Schools to go back to school this fall.
Teachers in Rapid City and across the state are lobbying for more protections for educators, students and staff as they prepare to re-enter classrooms this fall after leaving them mid-March due to the COVID-19 pandemic.
Gov. Kristi Noem first announced schools would close March 17, when the state had 11 cases of COVID-19. Now, schools are planning to reopen as cases surpass 8,000 in South Dakota.
Katy Urban, public information manager for RCAS, said the district's senior leadership team has seen the petition.
"We're going to continue to work through the myriad of other safety reasons before we bring forth recommendations," she said. "We're considering so many things right now in addition to what they put forward."
Regarding the idea of closing for 14 days if there is a case in a school, Urban said it's "inevitable" that schools will see cases.
"We're going to see COVID-19 in our schools," she said, noting the district is still waiting on guidance from the state's education and health departments on what to do in that situation.
'Double duty' for teachers
Stephana Logue, a third-grade teacher at Corral Drive Elementary, said there are still so many unknowns about the school year: how many students will return in-person, what online learning will look like for classes she teaches, and how it will work to teach both in-person and online classes simultaneously.
"That's almost double duty in a sense," Logue said. "It's quite a bit more work. What happens if they change their mind and decide in a couple weeks that home school isn't working, or they would rather keep (their) kids home, are they going to be allowed to flip-flop back and forth between the two?"
Sabrina Johnson, a seventh-grade teacher at South Middle School, is a self-described planner. She said it's hard not knowing what the district's plan is yet.
"I usually spend the last two weeks of July in my classroom every single summer getting things ready, preparing for the upcoming year," Johnson said. "By this time, I have my planner filled out with the first nine weeks of lessons. I haven't even bought a planner yet because I don't know if I'm going to use it like I normally do."
Logue said she's concerned with keeping 30 students socially-distanced in her classroom. "I don't think I can even keep them six feet apart in the space that I have."
Her classroom is made up of a handful of tables with multiple seats, not individual desks, which might help solve spacing issues.
"Kids are kids," she said. "I don't know how to maneuver that without them touching each others' things or without being in each others' space to a certain degree. It's going to be very difficult to social distance eight- and nine-year-olds."
Lisa Evans, a photography teacher at Stevens High School, said she's concerned about bringing her sophomores, juniors and seniors into her classroom this fall. She estimates five of her regular 28 students could fit in her classroom at once with social distancing in effect.
"We bring kids into a classroom that's crowded, poorly-ventilated and we don't have any protection," Evans said. "There's no control over how that virus spreads in that classroom. Everyone has been telling us since last March that we're not supposed to be in large groups, not be in close contact and not be in enclosed spaces. All three of those things are what describe a classroom."
Evans suggests schools could implement alternating days or a varied schedule to help with social distancing and limiting group sizes, but she realizes that could "create a nightmare for single parents, working parents and day cares."
"But it's also a nightmare if your child gets sick," Evans added. "What's the trade-off?"
Johnson said her biggest concern for the school year is the thought of not being able to return to in-person learning.
"I think the mental health of our students is really suffering," Johnson said. "Even back in May when I was wrapping things up with students online, I could tell that they were missing their friends, missing their teachers. There were students I constantly thought about who don't have the best home life, and I didn't hear from them for two months."
The mental health aspect of staying home throughout the pandemic and continuing online learning is a concern for both Johnson and Logue, as well as their students and their own children as they consider back-to-school options.
"We have Zoom meetings, but it's not really the same as being face-to-face with people," Logue said. "For my own kids, they want to go back to school because they are longing for that routine and some sort of normalcy in their lives."
Some classes, like chemistry or biology labs, would be impossible to teach completely online, Logue said.
Johnson said it will be more difficult to build relationships with new students entering the seventh grade if they are working online. 
In the spring, it was harder to check on students and get them to participate, Johnson said. She estimates that 50 percent of her students didn't participate "at all" in online learning. Evans said she also had trouble reaching her students and that students who struggle with remote learning should probably be the ones who attend classes in-person.
"I don't think we can really consider what happened in the spring as 'online learning,'" Johnson said. "It was more of a crisis management, or crisis learning. A lot of teachers didn't have any training." Our school district does not have one-to-one laptop access for students, she added.
Urban said the district is working to get one-to-one computer and internet access for students who opt to do online learning. Classrooms are also working to purchase video equipment so teachers can record or live-stream classes.
Evans, 49, was recently diagnosed with severe asthma — a condition she's still learning to manage, and one that could put her at increased risk for COVID-19.
"I don't want to see myself, my colleagues or my students get this," she said. "It's terrifying. I've been teaching for 20 years, and I've never been so scared to go back to school."
She said some aspects of her photography class could go online, because most of her students have access to a "fairly decent digital camera" with a smartphone. However, she's unsure how students would work in the darkroom with social distancing in place, or how they would use other shared equipment.
On top of COVID-19 concerns, the flu season sees its peak activity from October to May. Johnson said she's afraid that if the school year doesn't start soon enough, "we'll go back during flu season." 
She said at least 13 of her 130 students had the flu last year. For that reason, she's worried about her sons, ages 2 and 4, and their risk of catching the flu or coronavirus.
"My family and I have been quarantined since March," Johnson said, noting she is an avid hand-washer. "I'm scared I'm going to be like a first-year teacher whose immune system isn't built up like normal, and I'm going to get something and be out of work for 14 days."
Johnson said wearing a mask all day might be a distraction for her middle school students, who are "very fidgety and get bored very easily." She said she's worried that masks may become a discipline issue for students that teachers will be left to enforce.
"My opinion is if wearing a mask is going to get us back in school, then let's require the masks," she said, noting she's worried "if a kid doesn't want to wear a mask, I don't think we can make them wear a mask."
Johnson said many teachers don't have enough sick days stockpiled up to cover 14 days if they do get COVID-19 or have to quarantine after any potential exposure.
"Are we going to have to use all of our sick leave and then not get paid?" Johnson asked. "That stuff hasn't been addressed yet, and that's worrisome for a lot of people."
Logue said she's also not sure if a 14-day shutdown after one case in a school is a "realistic response," and that it's likely every school will see a case at some point.
"I understand that people have health concerns, and I think teachers and students should have the right to bow out or not go if they don't feel comfortable," Logue said. "But at the same time, at some point we have to educate our kids. I don't know how long we can go on not doing anything, or shutting it down every 14 days."
Coming tomorrow: Teachers lobby for more protection, safety measures in classrooms during pandemic.
Concerned about COVID-19?
Sign up now to get the most recent coronavirus headlines and other important local and national news sent to your email inbox daily.