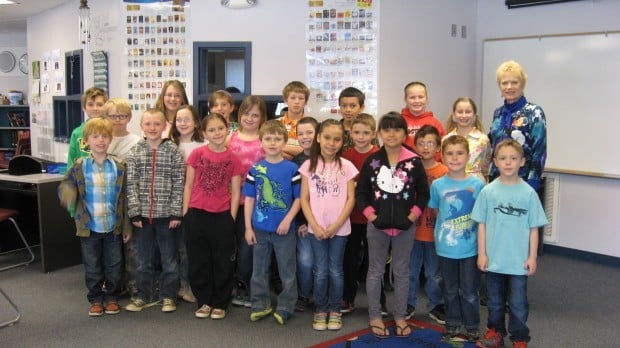 Meade School District Curriculum and Technology Director Jeff Ward has been named the 2013 Curriculum Leader of the Year by the South Dakota Association of Supervision of Curriculum Development.
Priscilla Romkema, dean of the College of Business and Natural Sciences at Black Hills State University, was recently awarded the National Business Education Association Distinguished Service Award.
Robbinsdale Elementary Spirit Award winners for May are: Kindergarten: Antone Two Crow, Carter Brenden, Adam Marcks, Aeryana Lemieux-Feist, Casey Boardman, Violet Nelson, Wica Youngman and Lane Poper. First Grade: Emalea Daniels, Davina Dupris, Danica Logue, Mercedes Johnson, Brennen Heinrich and Jordyn Brown Bull. Second Grade: Kelly Ambrose, Maria Arguello, Mya Bell, Kaden Sullivan, Gavin Gardner, Ariana Standing Bear, Misti Schlaback and Jasua Ford. Third Grade: Gabe Horn, Hunter Bruce, Keano Widdoss, Dierdra Steele, Kian Hamsher and Andre Brown. Fourth Grade: Tyson Morrison, Arianna Rojero, Cloe McNaboe, Devyn Ballengee, Clarita Quintana and Skilier Smith. Fifth Grade: Mazie Croyle, Noah Guzman, Brayden Parrent, Rhiannon Nez, Alexandria Warren and Michael Salvas.
Matthew Babb was awarded the 2013 Comet Award at the Rapid City Christian School graduation exercises on Sunday, May 19. Jaya Evans was awarded the Megan Gray Memorial Scholarship. Jaya Evans and Caleb Leppert received American Legion Awards.
Southwest Middle School awards: Grade 6: Dr. Hines Principal Award: Core 61: Boy: Joseph Sheffield, Girl: Madeline Basso; Core 62: Boy: Cody Arceneaux, Girl: Emma Bernard; Grade 7: Dr. Hines Principal Award: Boy: Joseph Poeppel, Girl: Erin Fine; Grade 8: Dr. Hines Principal Award: Boy: Ethan Reuter, Girl: Hunter Widvey; American Legion Award: Boy: Roger Sheets, Girl: Kara Haug; Pev Evans Award: Boy: Payton Oxner, Girl: Callie Henrich; Gutzon Borglum Award: Janelle Kelly; Top Hawk Award: Boy: Casey Moser, Girl: Ashtyn Bodensteiner.
The following students had perfect attendance for the 3rd trimester at Valley View Elementary: Audun Bakkevik, Kenelle Banks, Carrissa Barrett, Whitney Barrett, Ellie Battest, Jacob Bauman, Vera Baumann, Hannah Baumeister, Violet Baumeister, Jackson Becker, Colin Bender, Shana Bender, Trey Brandhagen, Tya Brandhagen, RayShaun Brown, Aeden Broz, Caden Carlson, Broden Crawford, Gage Darrow, Lane Darrow, Jasmine Davis, Maggie Dennis, Savannah Doherty, Garrett Dotson, Alexandrianna Doty-Jung, McKenna Dukat, Bailey Eckroate, Molly England, Cole Heidelberger, Kaylee Hemstock, Kyler Hemstock, Malyki Herbaugh, Justice Hertel, Briley Hoellein, Bradley Houghton, Zane Howe, Logan James, Michael Jerzak, Treyton Johnson, Makennah Judge, Lukas Kanta, Kyra Keegan, Simone Kenton, Tanner Kopec, Cyris Kozak, Quinn Krause, Samantha Kross, Sarah Kross, Le'mon Loften, Victoria Lundy, Mackenzie Marling, Carina McNay, Ella Miller, Justice Moore, Michael Morin, Cody Morrison, Jamie Moser, Edissa Munoz, Yadriel Munoz, Mandalyn Nachtigall, Cheyenne Olson, Connor Owens, Raeley Pfeifle, Bailee Pike, Sydney Pike, Ryanna Pinkowski, Makenna Rambo, Jaxon Raye, Leila Roybal, Magdelena Sattler, Ronald Sattler, Carlie Sauder, Logan Sauder, Logan Schacher, Lakia Shangreaux, Abigail Solano, Katalena Solano, Ruth Stevenson, Jacob Sullivan, Jeremy Sullivan, Katrina Teal, Ashley Thompson, Morgan Tyler, Spencer Urban, Ashley Vachon, Caleb Van Vleet, Braiden Vines, Jacob Visscher, Satara Vrooman, Tiana Vrooman, Taryn Wells, Michael Whiting, Sheridan Whiting, James Wiechmann and Destiney Wise.
Robbinsdale Elementary School perfect attendance award winners for the year are: Fifth Graders: Heather Abramson, Jeremy Curtis, Jasper Feild, Brandon Gabert, Dylon Jackson, Lydia Jackson, McKenna Tibbetts. Fourth Graders: Ethan Moody, Nevaeh Ray-Holbrooks, Bryer Sun Bear. Third Graders: Emily Barlow, Hunter Bruce. Second Graders: Garrett Richards, Kaden Sullivan. First Graders: Brooke Brey. Kindergarten: Bailee Larson
The following students have perfect attendance for the school year at Valley View Elementary: Audun Bakkevik, Ellie Battest, Sydney Pike, Jaxon Raye, Leila Roybal, Ronald Sattler, Satara Vrooman and Tiana Vrooman.
The following students from the local area were named to the spring semester dean's list at South Dakota State University in Brookings. Belle Fourche: Tyler Carr, Jennifer Jeitz, Kyle Webb, Bryce Wilen, Spencer Schreier, Serena Kokesh, Treanna Kraft, Jason Webb, Veronica Meza, Kaitlyn Gusso; Black Hawk: Michael Dover, Joanna Shivers, Kayla Shivers; Box Elder: Tierney Ray, James Spratt, Hanna Distel; Caputa: Haley Derr; Clark: Jeffrey McGraw, Casey Janisch, Amanda Nelson; Custer: Jessy Harbach, Soren Wahlstrom, Karley Konkol, Chelsea Knuppe; Dupree: Russell Brehmer; Eagle Butte: Nadia Watt, Larissa Martinmaas, Shelby Thompson, Ariel Watt; Edgemont: Jacob Thomsen; Ellsworth AFB: Erin Holmes; Faith: Jerylin Reed, Alana Gray; Fort Pierre: Jason Cornelison, Taylor Smith, Kimberly Tarbox; Hermosa: Nathan Keith; Hill City: Jordan Knowlton-Key, Brianna Sogge; Hot Springs: Sarah Geiser, Shelly Silkman; Kadoka: Benjamin Stout; Lead: Jessica Sternhagen; Lemmon: Kristina Sackmann, Kaitlyn Van Beek; Long Valley: Nicole VanderMay; Mc Laughlin: Erika Schneider; Meadow: Taylor Lensegrav; Mobridge: Kyle Chase, Kassidy Keller, Levi Jensen; New Underwood: Jace Finkbeiner; Newell: Jordan Trohkimoinen, Ariana Hawkins; Piedmont: Rex Lyon, Cheyenne Quinn, Chase Merfeld; Pierre: Drake Hagen, Ryan Hahn, Katie Lingle, Teresa Peitz, Courtney Sargent, Graham Schuetzle, Morgan McLain, Quinn Holden, Drew Brandner, Ryan Dufour, Allison Guindon, Brittany Jallo, Melissa Livermont, Dylan White, Bethany Brusven, Layne Duvall, Shayna Edman, Morgan Finley, Matthew Harty, Heidi Reiners, Erin Ryan, Deryn Beck, Eliott Coughlin, Casi Huizenga, Evan Protexter, Haley Hohn, Rebekah Nelson, Dacey Beck, Taylor Becker, Emily Coughlin, Karen Zahradnicek, Staci Goc; Porcupine: Jacqui White; Presho: Caitlin Uthe, Sarah Muirhead; Quinn: Kelsey Richter; Rapid City: Robert Connot, Courtney Earl, Alonna Fletcher, Shane Holmquist, Sarah Horvath, Emily Magnuson, Cassie Malik, Robert Olson, Zakery Prpich, Jordan Smith, Vincent Wysocki, Landon Olson, Scott Schipke, Megan Byram, Gavin Fenske, Hannah Medeck, Jenny Piette, Audie Schmid, Ryan Wynia, Krista Creager, Breanne Hilt, Andrea Johnson, Kayla Magnuson, Kortney Nelson, Carrie Zastrow, Zane Hunter, Christopher Maks, Tanner Odegaard, Kelli Adelman, Sarah Aldinger, Jillian Brodrick, Stacy Cline, Adam Drake, Mikelle Eliason, Hannah Ewing, Jessica Frison, Jolyn Fuhrmann, Dustin Hay, Megan Hendrickson, Sara Johnston, Joel Kirst, Tylor Kost, Lisa Krebs, Kaitlyn Muehlbauer, Monique Orella, Dylan Oswald, Meghan Pochant, Adam Sanders, Brianna Shanahan, Daniel Warnke, Joy Weaver, Jessica Whitney, Tyler Aldren, William Anderson, Tyson Dietrich, Alex Olson, Gregory Schaefer, Jacob Alderman; Redfield: Emily Schaffer, Drew Dickhaut, Benjamin Gillette, Rikki Baxter, Stephanie Binger, Cassondra Byrum, Kayla Jessen, Elizabeth Manning, Cheyenne Bebo, Cassie Clement; Reliance: Andrew Reis, David Schindler; Spearfish: Ariel Hammerquist, Chelsea Rosenau, Kendra Apland, Shawn Cole, Sarah Spencer, Hannah Hepper; Sturgis: Kelsey Bedford, Kristen Fink, Ethan Matthew, Kathryn Altstiel, Kaitlin Ward, Jamie Clark, Candy Davis, Carlyn Short; Timber Lake: Rebecca Maher, Tyrelle Schweitzer, Kelsey Ducheneaux; Watauga: Colton Nehl; Winner: Blake Burnham, Brandon Tritle, Tanae Novotny, Renee Whetham, Jesse Sprenkle. The following students had a 4.0 GPA: Belle Fourche: Valerie Thorson; Black Hawk: Frank Peterson; Box Elder: Melinda Bouma; Clark: Laura Warkenthien; Edgemont: Laura Corbett; Ellsworth AFB: Bobbie Sedlmajer; Fort Pierre: Susanna Wempe, Austin Ambur; Hill City: Stephanie Burleson; Ideal: Justin Vanneman, Sarah Calhoon; Kadoka: Tia Carlson; Keldron: Dylan Kling; Kyle: Ty McCauley; Long Valley: Ferris Bauman; Mobridge: Sam Sauer; Murdo: Sophie Iversen; New Underwood: Jordann Parsons; Newell: Tyler Swan; Piedmont: Marin Plumb, Samantha Merwin; Pierre: Stephanie Paluch, Owen Shay, Deidre Beck, Megan Sarvis, Regan Duvall, Max Hanson, Michala Jones, Samantha Peterson, Aaron Propst, Maggie Boe, Tessa Bollinger; Porcupine: Bobbi White; Presho: Michael Herman; Rapid City: Samantha Dietrich, Kena Patrick, Nicholas Reagan, Lucas Shama, Emma Kanaan, Dakota Weathers, Cara Groseth, Sarah Leinweber, Nicholas Purcell, Corey Wackel, Derek Anderson, Amanda Biggs, Shelby Edwards, Carlee Ham, Jasmine Maclin, Amy Robinson, Breyanna Terwilliger, Kari Waterson, Patrick Cavanaugh, Connor Farrar, Christopher Galbraith, Josiah Scull, Christian Aldaz, Lisa Alishouse, Kyaera Amo, Cody Burr, Kaitlyn Carda, Kendra Crisman, Lindsey Dammeier, Amanda Deschamp, Ashley Green, Emilie Hamilton, Nathan Harris, Tara Huebner, Heather Jacobsen, Katie Lange, Jordan Naasz, Stephanie Rensch, Lindsey Seaman, Brad Stapperfenne, Jessica Tomac, Meghan Volk, Sarah Wagner, Justina Walter, Joseph Berendse, Megan Dorsey, Trace Steckler, Stevie Wessel, Kirre Wold; Redfield: Caitlyn DeWitte, Madelin Mack, Randall Waldner, Ellen Gillette, Autumn Gross, Elizabeth Burdick, Jason Frankenstein; Reliance: Tyler Holmquist; Saint Onge: Morgan Myers; Spearfish: Morgan Hanzlik, Maggie Speirs, Lisa Krogstad, Blake Klinkel, Melinda Leszcynski; Sturgis: Sienna Mathiesen, Casey Hanzlik, Tera Potts; Wall: Shayla Johnson; White River: Chelse Ludvik; Winner: Micah Herrmann, Chase Bennett; Sundance, Wyo.: Sidney Materi.
The following students from the local area were named to the spring dean's list at Chadron (Neb.) State College. Merya Atterbery, Rapid City, Stephanie Bailey, Rapid City, Angela Christensen, Gillette, Wyo., Robert Custard, Newcastle, Wyo., Alexander Ferdinand, Rapid City, Amy Gibbs, Gillette, Wyo., Tess Grebner, Rapid City, Veronica Highfill, Newcastle, Wyo., Mikah Kadera, Newcastle, Wyo., Victoria Lowe, Rapid City, Jonnie-Lynn Massingale, Wood, Robin Moore, Sundance, Wyo. Lissa Papousek, Quinn, Taylor Pownall, Gillette, Wyo., Kattie Ranta, Rapid City, Clint Sasse, Batesland, Eric Schiermeister, Rapid City, Sandra Sheeder, Rapid City, Angelica Spreen, Rapid City, Kalinn Stewart, Ellsworth AFB, Mattaya Thompson, Rapid City, Tomilyn Trask, Wasta, Kelli Wilson, Elm Springs. President's list: Tyrel Bonnet, Newell, William Christensen, Rapid City, Darlene Erickson, Gillette, Wyo., Rolly Fortune, Interior, Channing Michael Jons, Newcastle, Wyo., Linda Littlefield, Rapid City, Brianna Jeanne Lyman, Gillette, Wyo., Abbie Marti, New Underwood, Betsy Lee Moler, Rapid City, Jessica Orose, Rapid City, Jacob Rissler, Gillette, Wyo., Cole Romey, Oelrichs, Jocelyn Romey, Oelrichs, Angela Schafer, Rapid City, Mackenzie Swanson, Hill City, Chelsea Waldorf, Hill City.
Samuel Ellison of Rapid City was named to the spring semester dean's list at Worcester (Mass.) Polytechnic Institute.
Kaila Vetsch of Rapid City was awarded the Chad Nelson "Let's Do This" Advertising Scholarship at South Dakota State University.
Whitney Werdel of Sturgis was awarded the Mary Helen Quail Memorial Scholarship at South Dakota State University.
Chance Knutson Kadoka Area High School and Laketon McLaughlin Wall High School were awarded $500 Bjugstad Scholarships by the South Dakota Board of Regents.
Homeschool senior Rae McKee of Nemo is the winner of the Rising Star of the West Scholarship contest on KEVN Black Hills FOX TV. She receives a $4,000 college scholarship. Bison High School senior Shaley Lensegrav finished second and wins a $2,000 scholarship. Wall High School senior Ryder Wilson took third place and a $1,000 scholarship. Belle Fourche High School senior Zac Christy finished fourth and is the winner of a $500 scholarship.
Elizabeth Emerson of Rapid City received a Presidential Distinction Scholarship from Concordia College in Moorhead, Minn. 
Kristin Inman of Pierre received a $2,000 Minnehaha Sertoma Club scholarship from the South Dakota School for the Deaf Foundation. Cody Martinez of Custer received a $1,000 scholarship from the foundation. 
Rapid City Regional Hospital VolunTeens Allison Eaton, Sean Feehan, Claire Foerster, and Claire Porter each received $2,000 scholarships from the hospital's Auxiliary.
Nancy L. Pruitt of Black Hawk graduated with a Master of Science degree in educational administration from The University of Scranton (Pa.) on May 25.
Nicholas Tolsma of Rapid City graduated with a degree in health sciences from Butler University in Indianapolis, Ind., on May 11.
Calie Tysdal of Rapid City graduated with a liberal arts degree in art (history) and geography from Macalester College in St. Paul, Minn., on May 18.
The following students graduated from Northern State University in Aberdeen this spring. Deadwood: Jason Schumacher; Eagle Butte: Jaime O'Neal; Hot Springs: Julie Saucerman; Martin: Cara Kratovil; Mc Laughlin: Jennifer Mellette, Danielle Larson, Heather Maier; Mobridge: Dyneil Moriarty, Ryan Hoffman, Caitlin Friesz; Murdo: Katie Nix; Pierre: Lukus Leidholt, Stephanie Snow, Samantha Bullard, Kayla Dowling; Rapid City: Benjamin Villa, Brittany Hiten, Jordan Seidel, Erin Crawford, Chad Gibson; Redfield: Stephanie Mach, Lindsay Bruce; Spearfish: Jennifer Lucero; Timber Lake: Scott Biegler, Chasity Bowling; Wall: Megan Schaefer.
The following students from the local area graduated from Dakota State University in Madison on May 4. Belle Fourche: Gregory Wilson, Bachelor of Business Administration in Management; Black Hawk: Adam Girtz, Bachelor of Science in Computer and Network Security, Magna Cum Laude; Custer: Eric Chase, Bachelor of Science in Computer and Network Security, David Smith, Bachelor of Science in Digital Arts and Design; Dallas: Claire Beck, Bachelor of Science in Education in Elementary Education, Magna Cum Laude; Fairfax: Stephanie Warnke, Bachelor of Science in Exercise Science, Magna Cum Laude; Hayes: Amy Yost, Associate of Science in Business Management; Hill City: Johnathon Bintliff, Bachelor of Science in Exercise Science; Kadoka: Christian Byrd, Bachelor of Science in Exercise Science, Karl Ireland, Bachelor of Science in Exercise Science; Martin: Laura Porch, Bachelor of Science in Digital Arts and Design, Magna Cum Laude; Philip: Caleb Clements, Bachelor of Business Administration in Finance, Bachelor of Business Administration in Marketing, Summa Cum Laude; Pierre: Matthew Demaray, Bachelor of Business Administration in Management Information Systems, Sarah Ellis, Associate of Arts in General Studies, Christopher Johnson, Bachelor of Science in Computer Science, Bachelor of Science in Mathematics for Information Systems, Bryan Linn, Master of Science in Education in Educational Technology, Danielle Magorien, Bachelor of Business Administration in Management, Zachary Merrill, Associate of Science in Business Management, Bachelor of Science in Network and System Administration; Rapid City: Amira Al Haj, Associate of Science in Respiratory Care, Christopher Blanchette, Associate of Science in Respiratory Care, Michael Davis, Associate of Science in Respiratory Care, Shawn Lemley, Bachelor of Science in Information Systems, Tara Nelson, Bachelor of Science in Respiratory Care, Rachelle Orris, Bachelor of Business Administration in Management, Trevor Rossknecht, Bachelor of Science in Professional Accountancy, Larisha Shelton, Associate of Science in Health Information Technology, Certificate in Health Care Coding, Stephanie Varcoe, Associate of Science in Respiratory Care, David Verhey, Bachelor of Science in Mathematics for Information Systems, Bachelor of Science in Physical Science, Magna Cum Laude, Spearfish: Kelli Hartl, Bachelor of Science in Digital Arts and Design, Summa Cum Laude; Winner: Jessica Sharp, Bachelor of Science in Digital Arts and Design, Summa Cum Laude.
Lead-Deadwood Middle School fourth quarter honor roll
6th Grade "A": Dylan Arehart, Chayton Bower, Zoe Keehn, Jasmine Lary, Zakary Mau, Kaitlyn Meade, Carly Mehlberg, Abiah Morrison, Alexis Morrison, Carter Nelson, Cassandra Nelson, William Pearson, Maxx Percy, Brianna Pfeiffer, Olivia Rogers, Phebie Rossi, Mattie Shirley-Fairbairn, Megan Snow, Baylie Trevino, Anny Wisdom, Alexia Wright. "B": Joseph Bates, Trinity Brady, Kyler Farmer-Winsell, Z'antha Fischer, Lucas Fish, Zoe Frauen, Jacob Galbraith, Devin Garai, Ashtynn Gibson, Cierra Hjermstad, Ashley Hoffman, Dylan Janke, Stephen Kruse, Chase Ladner, Laine Maddux, Alexis Martinez, Hunter Mitchell, CJ Murray, Arielle Opitz-Brownell, Annie Pearson, Carson Pinske, Tanner Scholl, Eric Schumacher, Donavan Stevenson, Justin Tish, Wyatt VandeVelde, Kaitlin Wilks, Shilo Wilson.
7th Grade "A": Ember Adkins, Jacob Alley, Grace Campbell, Jack Egemo, Allison Engel, Isabel Fredericksen, Alexis Goddard, Carolyn Groeger, Gavin Haefs, Wyatt Hess, Shelbee Hopkins, Mara Jacobs, Dylin Johnson, Lily Keehn, Garrett Kiefer, Gracie Kosters, Jaci Petsch, Morgan Shirley-Fairbairn, Brianna Sneesby, Kelsey Stuen, Katie Tieman, Alex Ulmer, Brigham Williams. "B": Jared Aman, Nathan Chipman, Camaysa Crittenden, Chase Ekeren, Sheeva Fenner, Haden Harper, Stewart Job, Alex Kruske, Thad Kulp, Josh Lehman, Chris Lipp, Brandy Morris, Madison Morrison, Zachary Murray, McKayla Norton, Jachin Ruth, Hailey Trewhella.
8th Grade "A": Sydney Auld, Taylor Beagle, Colt Bradley, Willow Hansen, Brett Mattson, Alexis Simpson, Allison Specht. "B": Madison Andersen, Ryan Bialas, Christina Enninga, Taylor Finn, Kalei Hamilton, Kristian Hanna, Tanner Hanson, Ashlyn Hemmah, Hayden Hill, Beth Hoffman, Rose Losey, D'Artagnan Lowe, Riley Lundquist, Miranda Luze, Kyra Mack, Griffen Mackey, Philip Madsen, Carston Mertens, Max Nelson, Lillie Niemeyer, Caleb Percy, Natalie Pinske, Kaeler Quenzer, Nikolas Scott, JW Singer, Courtney Sprague, Stephanie Stagner, Brianna Tish, Angel Valenzuela, Angeliese Wisdom, Paige Wittmayer.