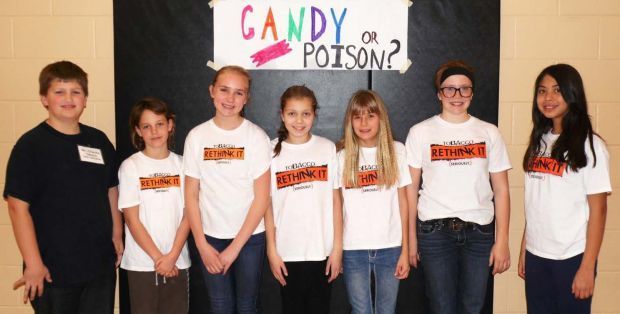 The sixth-grade members of Teens Against Tobacco Use organization at Piedmont Valley Elementary School took third place and $200 in prize money in the Chicago Department of Public Health-sponsored "Don't Get Burned" nationwide social media contest.
The students, competing in the 9-12 age division, had to create a short video about the dangers of tobacco to share on YouTube, Instagram, Facebook, Vine and other social media platforms. The video, "Candy or Poison," can be viewed at dontgetburnedchicago.com.
The Rapid City Morning Optimist group donated $5,000 to begin the Wellspring college scholarship for current and former youth.
Wheaton College: Rapid City: Andrew Graber; Gillette, Wyo.: Adam Hofinga
Chadron State College, dean's list: Box Elder: Kayla Bunch, Tyler Pittmon, Joshua Scheler, Tori Stepp; Hermosa: Alyssa Bauer, Taylor Bauer; Hill City: Caleb Wiederhold, Interior: Rolly Fortune; Kadoka: Chandlier Sudbeck; Newell: Prestyn Novak; Norris: Taylor Merchen; Piedmont: Tylee Evans; Prairie City: Taz Olson; Quinn: John McGriff; Rapid City: Erica Anderson, Merya Atterbery, Stephanie Bailey , Nathaniel Brown, Mary Johnson, Alex Litzen, Kelley McNabb, McKenzi Meeks, Soren Sasso, Malorie Schefcik, Jacob Seales, Mikelle Stoltenberg; Gillette, Wyo.: Dallas Shaw; Newcastle, Wyo.: Anna Henkle, Courtney Munger, Alondra Munoz; presidents' list: Black Hawk: Stachia Reuwsaat; Box Elder: Matthew Vinson; Deadwood: Ijzaya Sterna; Hill City: Mackenzie Swanson Midland: Kelsey Hostutler; Piedmont: Jessica Orose; Quinn: Lissa Papousek; Rapid City: Rebecca Beu, Aimee Glandt, Tessa Gorsuch, Angela Schafer; Wasta: Cheyenne Deering, Tomilyn Trask; Gillette, Wyo.: Angela Christensen, Aliciah Leu, Jacob Rissler, Evan Smith; Newcastle, Wyo.: Kiana Cade, Merritt Crabtree, Troy Hieb, Channing Jons; Sundance, Wyo.: Robin Moore
The Montana State University, dean's honor roll: Belle Fourche: Jacob Ryan; Fort Pierre: Emily Ketteler; Hot Springs: Marissa Miller; Martin: Nicole Novak; Rapid City: Mikayla Fletcher, Spencer Jacquot, Janna Kerk, Jenna Kuipers, Addison Maierhauser, Siri Palm, Mark Petereit, Riley Scherr, Maxwell Veazey, Samantha Vifquain, Virginia Vifquain; Spearfish: Christine Bergmann; Sturgis: Lia Meirose; president's honor roll: Custer: Tia Goebel; Meadow: Sydney Arneson; Pierre: Nathan Blaseg; Hermosa: Keeley Ireland; Rapid City: Aaron Benson, Madeleine Price,
Rockhurst University, dean's list: Rapid City: Liam Duffy, Kristina Hammerquist
Dakota State University, president's academic honors: Box Elder: Ashley Prussner; Deadwood: Keegan Struble; Gregory: Codi Horst; Hill City: Ryan Gimbel; Lead: Logan Petik; Lemmon: Chad Pelkofer; Lower Brule: Kristin Moran; Newell: Heather Kari; Pierre: Casey Bethke, Kelly Brusven, Whitney Ellwanger, Braden Green, Rebecca Hunt, Melissa Hyde, Erin Ryan, Daniel Shay, Nathan Shay; Rapid City: Eric Holm, Mikaela Kavanaugh, Tana Lockner; Gillette, Wyo.: Breanna Adsit; Part-time students: Box Elder: Jesse Hamer, Alanna Ray; Hill City: Jack Huntley; Piedmont: Dennis Eisenbraun; Pierre: Bernice Hanson, William Hofer, Shane Whidby; Rapid City: Penny Davis, Renee Douglas; Clinton Huling; Matthew Pawelski .
South Dakota State University, *=4.0: Belle Fourche: Alexander Bogner, * Tyler Carr, * Mikelle Eliason, Camile Kling, * Spencer Schreier, Kara Stephens, * Rachel Zacher; Black Hawk: * Alissa Foos, Jayden Gapp, Alexander Mergen, Kayla Shivers, * Abigale Walz; Box Elder: Stephanie Morgan, * Brooke Sandmeier, * Haley Thompson, * Alicia Waala, * Blake West; Clark: Colin LaBrie, Stephanie Wookey; Colome: Tasha Hauf, Casey Shippy; Custer: Jessy Harbach, * Arthur Kirk, * Karley Konkol, Anna Pickford, * Cyla Walker; Deadwood: Caitlyn Engebretson, Kaitlin Sulentic; Eagle Butte: Larissa Martinmaas, Shelby Thompson; Edgemont: Laura Corbett; Ellsworth AFB: Amber Pennington; Fairfax: Justin Warnke, Marcus Warnke; Fort Pierre: Taylor Hackett; Gregory: Natalee Graesser, * Rebekka Schell, Brett Steffen, * Ashlie Steppat; Hermosa: Tara Morrow; Hill City: Jessica McDonald, * Heather Miley; Hot Springs: Leslie Elmore, Brooke Thompson; Ideal: * Sarah Calhoon; Lead: * Carley Gerving, Evan Glanzer, * Jessica Sternhagen; Lemmon: Jessica Ginther; Martin: * Drew Hicks, Colin Kuxhaus, John Slattery, Grant Strain, * Megan Winter; Mc Laughlin: Tequisha McLaughlin, Ray Talley; Mobridge: * Jordan Feist, * Kayleigh Henderson, Eric Looyenga, * Sam Sauer, Tyler Villbrandt; Murdo: Shania Vollmer; New Underwood: * Jace Philipsen, Keely Thompson' Newell: Jessica Bean, Kimberly Eichler, * Ariana Hawkins, Cady Olson, * Tyler Swan, * Jordan Trohkimoinen; Philip: Samuel Haigh, Kianna Knutson, * Kelsie Kroetch; Piedmont: Christian Bedard, Sarah Cresalia, Jodi Moore, Mirissa Swaney, Pierre: Nicole Anderson; Deryn Beck, * Heidi Becker, * Tanna Becker, * Matthew Blaseg, Maggie Boe, * Jamie Chalcraft, * Weston Christensen, * Eliott Coughlin, Ryan Dufour, Chase Dunn, Shayna Edman, * Hadly Eisenbeisz, Logan Gesinger, Daniel Griese, Danielle Griese, Brittany Jallo, * Cartney Knecht, * Jacob Lang, * Kirstyn Larsen, Brenna Longman, Caleb McKinley, * Rebekah Nelson, Julie Nilson, * Amanda Peterson, Aaron Propst, * Graham Protexter, Shay Reinke, * Christopher Rumrill, * Courtney Sargent, Randi Schlenker, * Rachelle Schmidt, * Kathryn Schuetzle, Hannah Shay, * Owen Shay, Sean Snyder, * Cody Somsen, Caleb Stoltenburg, * Molly Tschetter; Prairie City: Valarie Burkhalter; Presho: * Hadley Cropsey, Sarah Muirhead, Reed Reuman, Eric Terca, * Caitlin Uthe; Quinn: Kelsey Richter, Ridge Sandal; Rapid City: * Brooke Alexander, Lisa Alishouse, * Kyaera Amo, Tessa Armstrong, Mariah Asheim, Brett Bennett, Katelyn Buhler, * Jessica Caffee, * Lara Cafruny, * Abigail Ceremuga, Kathrina Cline, Robert Connot, Leslie Cope, * Kendra Crisman, Kirk Crosse, Brooke Dadah, * Lindsey Dammeier, Desiree Danielson, * Mikishea Darrar, Alyssa Daschle, * Amanda Deschamp, * Scott Dingus, * Brianna Doran, Haylee Dormann, Adam Drake, * Renae Dykstra, Hannah Ewing, Connor Farrar, * Gavin Fenske, Lyla Ferguson, Matthew Fitzgerald, Rochelle Flynn, * Jessica Frison, * Angelyne Furniss, * Jordan Grable, Cara Groseth, Danielle Hague, * Kyla Hall, * Emilie Hamilton, * Katherine Harlow, * Nathan Harris, * Danielle Harrison, * Cameo Haugen, Rylee Haugen, * Shannon Hellman, * Megan Hendrickson, * Kacey Herrmann, * Destiny Hildebrant, Becca Holmquist, Krista Holmquist, * Caden Holzer, * Cole Holzer, * Sarah Horvath, * Wiyaka Hudson, Sarah Issler, Tyler Jacob, * Tyrel Jacquot, * Katelyn Jennings, * Newt Johnson, Tyler Joyal, * Stacey Kilber, Charles King, * Alexandria Kinzley, * Kaitlyn Kirsch, Danielle Koppmann, * Lisa Krebs, Kendra LaCroix, Katie Lee, Tessa Loberg, Emily Magnuson, * Kayla Magnuson, Christopher Maks, Kimberly Mattson, * Tessa McIntosh, * Hannah Medeck, Alisha Milnes, Christine Muilenburg, Kortney Nelson, * Danielle Nielsen, Stanislaw Nikolaev, * Elizabeth Nooney, Searra Ochocki, Chelsea Oines, Alex Olson, * Kelsey Olson, Landon Olson, Donald Osborne, Nicolette Oster, Kena Patrick, * Kaela Patterson, * Nakayla Pheifer, * LaToya Phillipe, Alix Powell, Michael Rauert, * Nicholas Reagan, Skyler Reese, Riley Richardson, Moriah Ruthford, Gregory Schaefer, * Scott Schipke, Audie Schmid, Rachel Seidel, * Jordan Smith, Summer Spurlin, Sarah Sullivan, Robert Toles, Taylor Tschetter, * Elise Twohy, Daniel Warnke, * Kassidy Weathers, * Nathan Wentz, * Robert Wessel, Hunter Wiege, Andrew Wilson, Matthew Wilson, McKenzie Wolf, Scott Wynia, Daniel Zimbardo; Redfield: Katie Anderson, Hunter Avery, Tanner Clausen, Drew Dickhaut, * Andrew Frankenstein, * Benjamin Gillette, Adam Jungwirth, * Madelin Mack, Miranda Mack, Ethan Millar, Savannah Suchor; Reliance: Corrina Reuer; Spearfish: Kody Derosier, Kyle Derosier, Ryan Driscoll, * Blake Klinkel, Megan Larsen, Gwendolyn McDonald, * Miranda Meeker, * Virginia Mollman, * Ryan Olson, Zackery Olson, * Veronica Parsons, * Trevor Richardson, Adam Runyan, * Callie Sleep, * Samantha Sleep, Sydney Sleep, Andrea Turner, Michael Undlin, * Christina Voth, Adam Wietgrefe, Betsy Winney; Sturgis: * Kathryn Altstiel, * Elizabeth Bertolotto, * Andrea Collins, Ethan Matthew, * Kelsey Patmore; Summerset: Kristyn Wittmeier; Timber Lake: Kelsey Ducheneaux, * Tyrelle Schweitzer; Wall: Gary Amos III, Kaden Eisenbraun; Winner: Zachary Horstman, * Jack Kerner, Trace Meyer, * Rebecca Moorhead, Chesney Nagel, Samantha Stickland, Corey Wackel
Dakota State University: Kyle: Kateri Montileaux: Master of Science in Information Systems; Martin: Bruce Schulz: Bachelor of Science in Digital Arts and Design; Piedmont: Gregory Roling: Bachelor of Science in Computer Game Design; Spearfish: Tucker Hodson: Bachelor of Science in Computer and Network Security;Summerset: Tanner Collins, Bachelor of Science in Computer Game Design
Above and Beyond $50 winners: Merideth Wilkes, teacher at Black Hawk Elementary; Tiffany Engesser, teacher at East Middle School; Anita Deranleau, Homeless Coordinator, RCAS; Beth Courchain, office staff, Grandview; Lindsey Compton Crazy Bull, para-professional, Horace Mann; Jaye Svarstad, literacy coach, Horace Mann; Joelle Nuetzling , Reading Recovery, Horace Mann; Jamie Walgren, para-professional , North MS; Rhonda Lipp, office staff, Rapid City High School; Jesse Sporrer, transition specialist, Rapid City HS; Barb Duda, Library Clerk, Rapid Valley; Lunch supervisors at Rapid Valley; Carolyn Bush, para-professional, Stevens HS; Beth Walker, para-professional, Stevens HS; Dave Kaiser, maintenance, RCAS
The South Dakota School of Mines & Technology received a $3.6 million federal grant to encourage American Indian and low-income students to enroll in college and help ensure their success in the South Dakota Jump Start program.
Philip: Tyana Gottsleben, $500 Farmers Union Leadership Scholarship on behalf of the family of Frank Butler from the South Dakota Farmers Union Foundation
Black Hills State university: Rapid City: Rebecca Brady, Dr. Malvin Skarsten Memorial Scholarship, Betty Richey Scholarship, and E.C. Mikkelsen Education Scholarship, Seth Goodro, Education Department Scholarship, Kiannah Bay, Madeline Foerster and Ariel Pozorski, Walter Higbee Scholarships, Brody Brisk, Art Sullivan Scholarship, Cody Schulze, Bryce and Clara Christensen Scholarship, Erica Everson, Bryce Christensen Scholarship, Chelsey Biegler, Dean and Mary Ann Myers Scholarship; Gillette, Wyo.: Tanner Gillette, Dave and Claudia Little Scholarship. Edgemont: Lacy Stevens, Howard Kennedy Scholarship; New Underwood: Alexander Anderson, Cliff Papik Scholarship; Timber Lake: Courtney Dahlgren, Dorcile Fowler Scholarship, Joe & Elaine Floyd Scholarship and Dale Brownell Memorial Scholarship; Black Hawk: Cassandre Wood, Betty Richey Scholarship; Newell: Taylor Trohkimoinen, Dan Kortan Scholarship
Jackson Peterson of Box Elder received a $22,000 Horatio Alger National Scholarship.
Timber Lake Middle School/High School: second quarter perfect attendance: *= perfect attendance for first semester: Grade 6: Nathanial Schaffer; Grade 7: Matthew Daugaard*, Miranda Hulm, Isaac Kraft; Grade 8: Georgi Mendoza*; Grade 9: Sam Bad Warrior*, Sierra Daugaard*, Sierra Eagleman, Micaela Hulm, Jakways Mendoza*; Grade 10: Ethan Schaffer; Grade 11: Wyatt Beyer, Emily Goldade*; Grade 12: Mary Aberle*