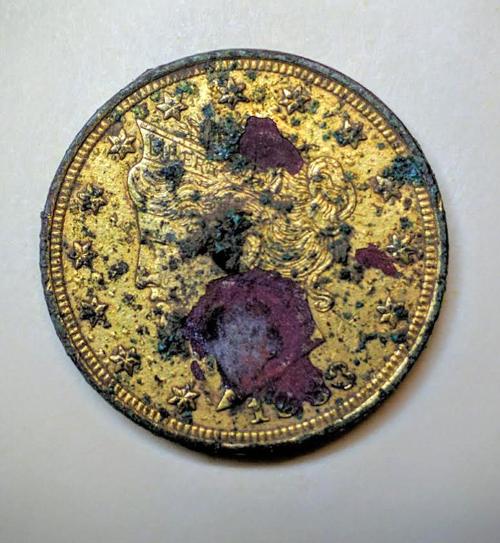 DEADWOOD | In what is being described as a "Eureka!" moment, numismatists examining a treasure trove of coins unearthed during four years of archaeological digs in this Black Hills community have discovered what may be one of the most unusual coins on earth.
Dubbed the "Racketeer Nickel," the 1883 U.S.-minted coin was uncovered July 31, 2001, during one of four archaeological digs in Deadwood's famed Chinatown district.
Found 59 centimeters below the surface of the soil in an area known as Trench 2, the coin's location was recorded into a geographical information system for future reference. It was then transported to the South Dakota Archaeological Research Center in Rapid City with 226 other coins found in the digs for cataloging and assessment.
In 2009, the coin joined a quarter-million other historical artifacts in a new archaeological lab and storage facility housed in the bowels of Deadwood City Hall, where it sat for seven years until California coin experts Kevin and Margie Akin re-discovered it late last month and realized what they had.
In 1883, the U.S. Mint issued a new 5-cent nickel (though it was not yet consistently called a nickel, as the 3-cent nickel coin was still occasionally used). At the time, it was an innovation in that for the first time, a non-precious metal coin carried a Liberty-head design, Kevin Akin told the Journal.  
"This design was similar to that on gold coins of the time," he explained. "So when the early 1883 V nickels came out with no 'cents' inscription below the Roman numeral 'V' for 5, it was new to everyone, and grifters immediately began gold-plating them to pass as $5 gold coins."
U.S. Treasury officials denied there was a problem. But a local newspaper story at the time told a different tale.
"The new nickel five-cent piece is the subject of much discussion in the treasury department," the Feb. 22, 1883, Black Hills Daily Times reported. "Treasurer Gilfillan carries one in his vest pocket. One of these coins is plated with gold, and its resemblance on one side to a five-dollar gold piece is quite striking. The broad 'V' on the opposite side is unlike the device on any other coin, and of course should be an effectual barrier to its fraudulent use."
The same newspaper article stated that Mint Director Horatio Burchard, "ridicules the idea of any successful counterfeit of gold being made from the new nickel. He said that a proposition to suspend coinage of the new piece has not been made, and so far as he knows none is contemplated."
Three months later, the Daily Times reported that well-heeled merchants and miners of Deadwood had found a new use for the Racketeer Nickel.
"A number of the toney young men about town are wearing cuff buttons made of the new nickels," the newspaper reported. "They are highly plated with gold, and to the uninitiated look for all the world like genuine five-dollar gold pieces."
Last year, the city of Deadwood and its Historic Preservation Commission hired the Akins, authors of the recently published 300-page field guide, "Numismatic Archaeology of North America," to examine 202 Asian coins unearthed during the Chinatown Digs.
Using photographs of the coins supplied by the city, their task was to identify each with the intention of tracing the origins of the coins and tokens discovered in the Wild West town in an effort to shed light on the former gold camp's frontier days. While visiting Deadwood in late September, historic preservation officials asked them to examine 16 of the Asian coins that could not be identified through the photos.
"It's a common joke among archaeologists that the best thing you find, the most important discoveries, are made in the last hour of the last day," Margie Akin said recently from California. "I've seen many cases where that has been true."
Their efforts with the Asian coins complete, the Akins asked City Archivist Mike Runge what else he'd like examined, and he presented them with a small collection of U.S. coins uncovered during the archaeological digs.
"When we found it, I held it up and said, 'Margie, look at this. A Racketeer Nickel, oh my God!'" Kevin recalled. "It was a bit of a Eureka moment."
In researching the Racketeer Nickel, Kevin Akin said he had found more than 1,000 of them on sale on eBay as well as a number of well-worn stories tied to their use by scam artists on unsuspecting, easily deceived individuals.
The most interesting vignette involved a deaf-mute named Josh Tatum who noticed the nickel was the same size and had a similar look to $5 gold pieces, Akin noted. So Tatum began plating them in gold and passing them off on small purchases. After he was arrested, his attorney argued in court that Tatum could not have asked for change because he could not speak and thus, no crime had been committed. The court agreed and released the young man.
The problem with that tall tale, and the vast majority of the hundreds of purported Racketeer Nickels available for purchase online, is that they are all unproved, according to Akin.
"It's pretty easy to plate a nickel," he said. "It makes such a great story, but they're fakes. None of them has the provenance of this particular coin, the Deadwood Racketeer Nickel."
Other examples of such tall tales abound in the world of coin collecting.
"It's sort of like the brothel tokens that people sell online that they say are from the Wild West, but most were made in the 1960s," Margie Akin added. "They still make a good story. And that's what people really want; the magic of an article that came out of the ground. They're a connection to the past."
Worried that the Deadwood discovery would set off a flood of metal detector-wielding fortune seekers, the Akins stressed the monetary value of the Racketeer Nickel is negligible. But its historical significance, they said, cannot be understated.
"Actually, the current market value of the nickel is less than 10 cents because of its abysmal condition," Kevin Akin said. "But for archaeologists, the value is another matter. As far as we know, this is the first discovered in the excavation of a 19th century site. We don't know of any that has been archaeologically discovered."
He said the coin's scholarly value rests in the stories it conveys about how it was used and where it came to rest.
"But even an archaeologist wouldn't pay a dime for it. Scholarly value and market value are entirely different concepts," Kevin Akin said.
For Runge, the man charged with overseeing Deadwood's massive municipal collections of archival and archaeological materials, discovery of the Racketeer Nickel is another in a series of great finds that make reporting to work each day a joy rather than a job.
"This community's collection constitutes every facet of the human experience in the late 19th and early 20th centuries as related to frontier life in Deadwood, South Dakota," he said. "The discovery of the coin is wonderful."
Runge said there is much more to learn.
"The discovery is wonderful. But what is important about this is we have professionals in numismatic archaeology who are using this collection to help us understand our past," he said. "This assemblage the city owns is in its infancy in terms of research. There will be discoveries in the future that will rival or exceed what has been discovered."
Get local news delivered to your inbox!
Subscribe to our Daily Headlines newsletter.