Josalyn Ritthaler hopped on the school bus last fall and soon saw police cars heading toward her family's ranch near Upton, Wyoming.
"Did they find her? Did they find her?" the 9-year-old remembers thinking about her big sister, Shayna, who had been missing for five days.
Josalyn said she was pulled out of her third-grade classroom later that day — Oct. 8, 2019 — and was met by her grandmother Shelly, who was crying.
"I thought it was happy tears at first and then it wasn't," she said.
That's when Josalyn learned the news. Her 16-year-old sister was found in a Sturgis basement, shot to death by a 17-year-old.
"Your guts fall out of you," Shelly said of what it felt like to lose her granddaughter. "You want to throw up," echoed her husband, Reuben. But "at the same time, you're in a state of disbelief," Shelly added.
"It's kind of hard because I had so many plans to do with her this summer," Josalyn said. If I miss Shayna, "I usually hold my favorite stuffed animal and cry until I feel better." 
Campbell told investigators he shot Shayna — who he met on a dating app and called his girlfriend in court — on Oct. 4 after they were fighting about their relationship. Shelly and Reuben don't buy that.
Shayna did not consider Campbell her boyfriend, and they were fighting because "she wanted to go home," Shelly said.
Shelly said she and Reuben raised Shayna after some instability with her parents — a time that left Shayna with some trauma. 
Shayna loved to help her grandfather with hard labor on the ranch, whether it was herding cattle, driving heavy machinery or calving heifers. She became a skilled horseback rider, a basketball player and track runner, a 4H participant who raised championship hogs, and a piano and guitar player. Shayna, who hoped to join the military after high school, was a talented hunter who received a coveted elk tag last fall. But she was killed before she ever got the chance to find her elk.
Josalyn said her sister loved listening to music and "knew the lyrics to all the songs."
"She was nice and we may have fought a lot but our sister connection was stronger each time we fought," Josalyn said. "She taught me that girls can do anything boys can do because we're strong, independent people."
Shayna "had an infectious smile," Reuben said. "Everybody liked her," Shelly added.
Reuben said a school official notified his family around noon on Oct. 3 that Shayna hadn't showed up that day. She'd skipped school in the past but he thought something was wrong when she didn't answer his texts or calls.
"No answer. And that isn't right, she would have answered," said Reuben, adding that law enforcement never found Shayna's phone.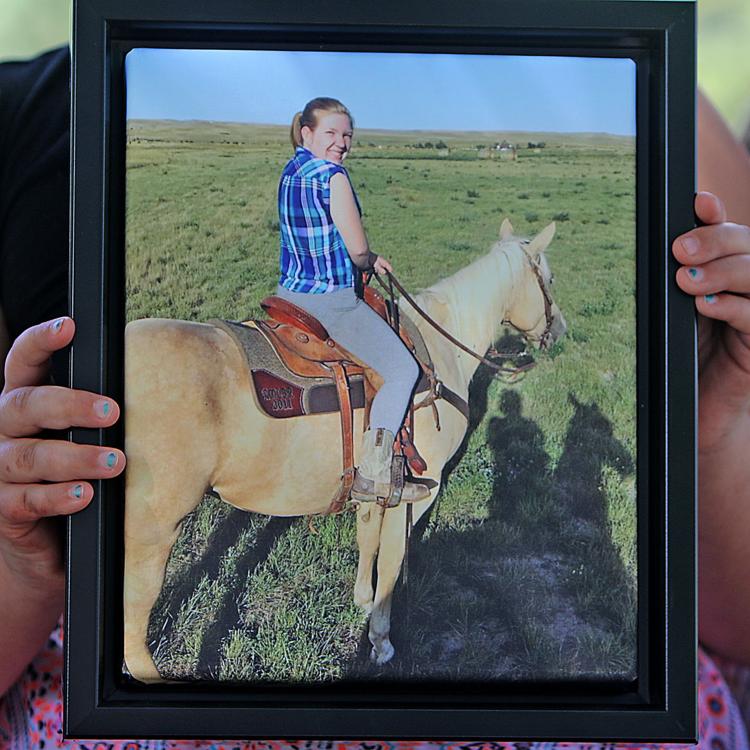 Moorcroft Police Department made a Facebook post on Oct. 4 about Shayna's disappearance and shared a photo of a jeep-like vehicle she was seen getting into at a coffee shop.
Reuben said officers weren't able to track Shayna's phone, which was off. He said the Upton and Moorcroft police departments have wonderful officers but they aren't as experienced in major criminal cases and he wished there was more investigation that took place in the first 48 hours. 
Reuben said he made dozens of calls to area officials and eventually reached out to We Help the Missing, a nonprofit, which connected him with Dave Wolfskill, a private investigator and former law enforcement officer.
He said officers searched through Shayna's phone records on Oct. 5 and asked if he recognized a number, which they said they couldn't track. Reuben shared the number with Wolfskill who called back 10 minutes later to say the phone belonged to a person named Michael Campbell who lived in Sturgis.
Reuben said local South Dakota officers went to Campbell's home, where they found the jeep-like vehicle — which belonged to Campbell's mother — and Shayna's backpack.
He said he knows Campbell's mother was home and either she or Campbell told officers that Shayna had been over but she walked to the highway to hitchhike after they got in a fight. Police couldn't yet search the home because they had no evidence Shayna was in danger.
Reuben said a Meade County deputy called him, and both said they didn't believe Campbell's story. 
Two days later, on Oct. 7, law enforcement approached Campbell at the Deadwood casino he worked at, Reuben said. Reuben said he listened to a recorded interview where after Campbell's mother urged him to tell the truth, he finally admitted to shooting Shayna. But he didn't say if she was alive or dead. 
That admission gave police permission to enter the house without a warrant since they were looking to see whether Shayna needed emergency medical aid, Reuben said. Officers found Shayna, but "it was too late" so they left and returned once they obtained a search warrant.
Reuben said he had a bad feeling when South Dakota officers called that night to ask if Shayna has any tattoos or distinguishing features on her body since he had already provided them with photos.
Two officers with the Moorcroft and Upton police departments knocked on his door the next morning to confirm his worst nightmare.
Reuben and Shelly said it was difficult to attend court and learn about defense motions attempting to quash evidence or investigate Shayna's private medical and academic history.
"It was intensive, it was gut wrenching, and it took all of our time, all of our emotion," Shelly said . It "picked the scab off of it again," Reuben added.
The family had to take a more than two-hour round trip to reach the court in Sturgis.
"We're so good at protecting predators — it doesn't matter if it's a grizzly bear, a wolf or a killer — they've all got rights in the Constitution" when victims don't, Reuben said.
He said he understands the needs for defendants' rights but it's hard when you're on the other end. 
Campbell — who was originally charged as an adult with alternative counts of first and second-degree murder — pleaded guilty to first-degree manslaughter. Reuben said he believes Campbell was guilty of first-degree murder because his decision to walk upstairs to grab a gun shows the killing was premeditated.
But he and Shelly say they ultimately agreed to the plea deal — which sent Campbell to prison for less time than they would have liked — because they received some important protections. Campbell has a permanent no-contact order against the entire Ritthaler family and is not allowed to appeal on any of the adjudicated motions.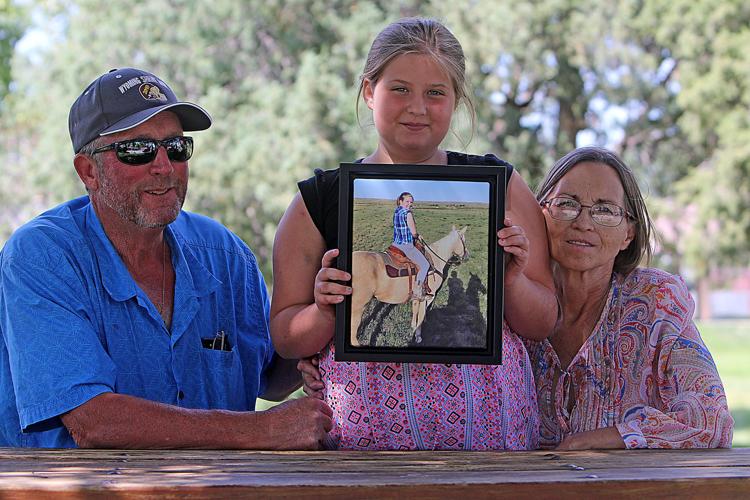 Reuben and Shelly praised local South Dakota law enforcement, state investigators and attorneys, and the judge. They also appreciated Michele Bordewyk, Meade County state's attorney, who Shelly said is a very kind and quiet person but goes "pow" when she makes her forceful arguments in court.
Shelly also thanked the many people from northeastern Wyoming and the Black Hills who showered her family with prayers, flowers, food, letters and tributes at athletic events. A local utility — Powder River Energy — even created a preschool scholarship in Shayna's memory.
"It would have been tough without that" support, she said.
Shelly said she felt she could only truly start to mourn once she received a notification on Tuesday that Campbell — who recently turned 18 — was transferred to prison. She said she now plans to bury Shayna's ashes in their family cemetery.
"We're looking for answers" for how to deal with our grief, she said.
Shelly said she hopes Shayna's death will inspire parents to teach their children about being safe with strangers. But she also hopes it inspires people to support those with trauma and "holes in their hearts" so they don't feel the need to speak or leave home with a stranger in the first place.
"If we could somehow find a way to fill in the empty spots where they feel lost or alone without friends, we could help stop this," she said. ​
Get local news delivered to your inbox!
Subscribe to our Daily Headlines newsletter.