Michelle Thomson knows who deserves much of the credit for South Dakota's nearly $4 billion tourism industry.
"We can never thank Doane Robinson enough," she said.
Thomson, president and CEO of the Black Hills & Badlands Tourism Association, was one of the speakers Thursday at the unveiling of a historical marker honoring Robinson, who died in 1946. Robinson conceived the idea to carve giant sculptures in the granite of the Black Hills and wrote a letter in 1924 inviting sculptor Gutzon Borglum to do the carving.
The new bronze marker, which proclaims Robinson "The Father of Mount Rushmore," is alongside Iron Mountain Road where the Mount Rushmore National Memorial is framed by the Doane Robinson Tunnel, three miles south of Keystone. About 30 people attended the unveiling of the marker, including some of Robinson's descendants.
The real name of the man known as "Doane" was Jonah LeRoy Robinson. He was given his nickname during childhood — according to a story told Thursday by one of Robinson's great-grandchildren, Karen Olson — when a young sibling repeatedly mispronounced "Jonah" as "Doanah," which eventually morphed into "Doane."
In 1924, while serving as South Dakota's state historian, Robinson sent a letter inviting Borglum to design and supervise a "heroic sculpture of unusual character" in the Black Hills.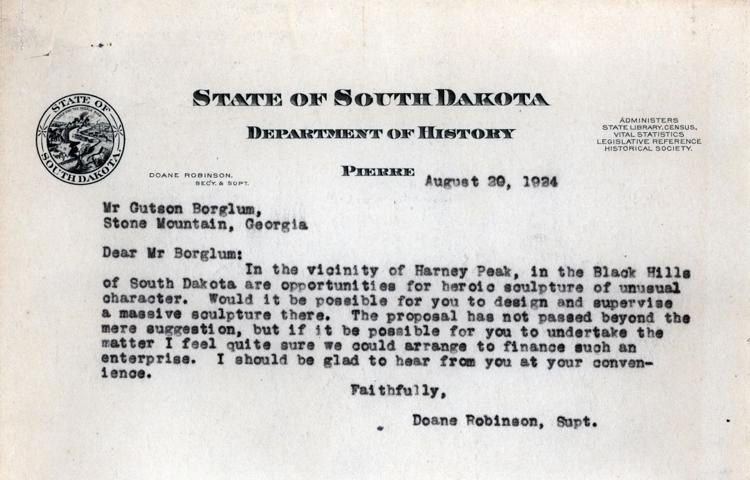 Robinson thought the Needles formations should be carved into sculptures of Western heroes to attract tourists. Borglum, who was at work on a Confederate Civil War memorial in Georgia that he eventually abandoned, visited the Black Hills and instead proposed to carve the likenesses of presidents into the large granite face known as Mount Rushmore.
The carving began in 1927 and lasted until 1941. Today, Mount Rushmore National Memorial attracts more than 2 million visitors annually and powers a South Dakota tourism industry with an estimated $3.8 billion in annual visitor spending.
Much of that success is traceable to Robinson, said a succession of speakers at Thursday's event.
Gary Keller, development director for the Mount Rushmore Society, said Robinson "ignited tourism here in western South Dakota."
The only person at the event old enough to personally remember Robinson was 95-year-old Don "Nick" Clifford, the last survivor of the nearly 400 workers who helped carve Mount Rushmore.
"We have Doane Robinson to thank for the idea," Clifford said.
"And what resulted in Mount Rushmore was his greatest idea," Vogt said.
The tunnel where the historical marker is posted was named for Robinson in 2015, after public safety officials requested names for several tunnels to get better location information from motorists in emergency situations. At the same time Robinson's tunnel was named, additional tunnels on Iron Mountain Road were named for Scovel Johnson, who made surveys for the road and led the construction of the nearby Needles Highway; and for C.C. Gideon, who designed Iron Mountain Road and its pigtail bridges.
The historical marker about Robinson was funded by a contribution from Jerry Klinger, of Derwood, Md., through the nonprofit Jewish American Society for Historic Preservation, of which Klinger is the president. Klinger said in a release from the Mount Rushmore Society that the idea for a Robinson historical marker occurred to him last year after donating to the Mount Rushmore Society and visiting Mount Rushmore.
Vogt, of the State Historical Society, said his department has no budget for historical markers but helps develop them when donors step forward. It typically costs about $3,000 to post a marker, Vogt said.
There are 700 historical markers statewide, largely due to the efforts of Doane Robinson's son, Will G. Robinson, who also served as director of the State Historical Society and created the state's historical marker program.
Get local news delivered to your inbox!
Subscribe to our Daily Headlines newsletter.