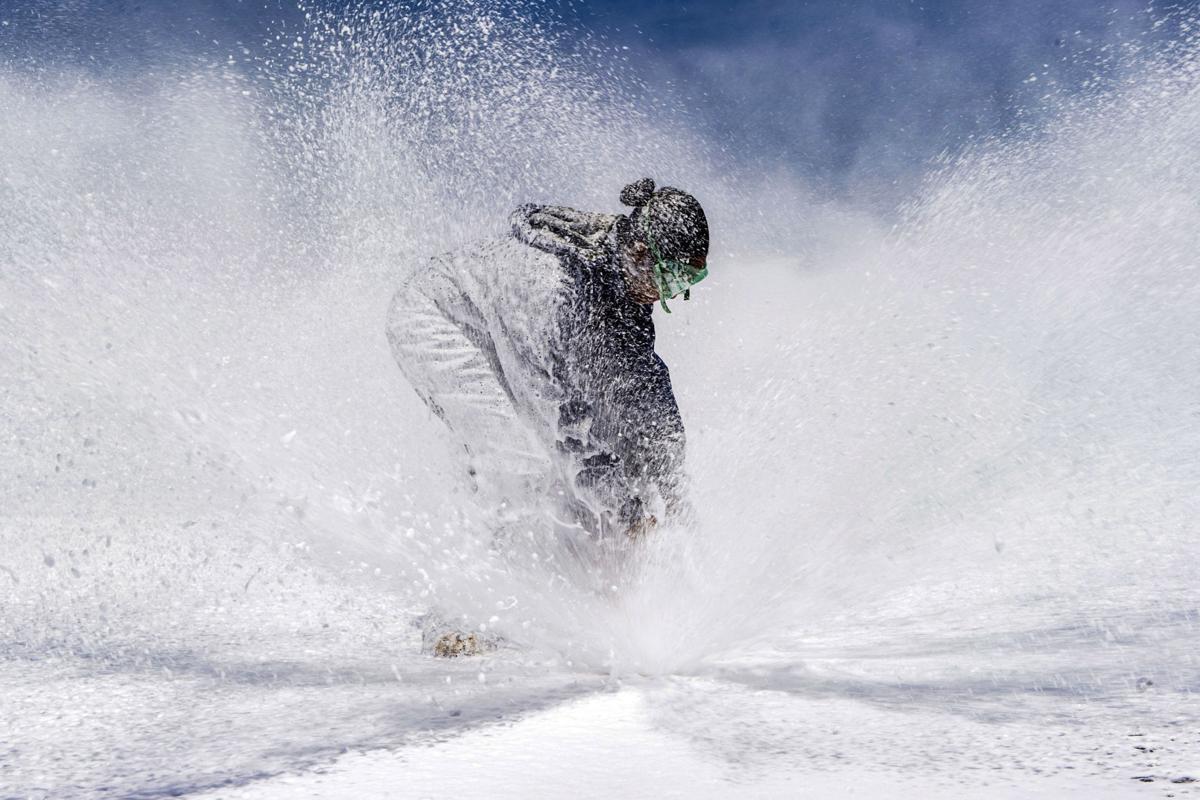 In 1970, innumerable gallons of toxic, chemical-laden firefighting foam started contaminating the grounds of Sioux Falls Regional Airport. Almost 50 years later, the city is now dealing with the consequences.
Today, 19 municipal wells sit dormant. Chemicals linked to cancer and other health maladies have contaminated 15 of those wells, including 10 with concentrations above what the Environmental Protection Agency deems safe. Foam use by the South Dakota Air National Guard and Sioux Falls Fire Department is the cause.
As city officials grapple with the well shutdowns — representing 28 percent of the city's water production from the Big Sioux aquifer — it may soon face an even larger challenge when citizens begin to learn how long their drinking water was contaminated before it was detected and the wells taken offline. As that question looms, the contamination's scope remains unclear.
"We really haven't determined the extent of release yet," said Capt. Jessica Bak, a public affairs officer with the Air Guard's 114th Fighter Wing at the airport.
About half of Sioux Falls' drinking water demands — 7.73 billion gallons in 2017 — are met by the Big Sioux River, Big Sioux aquifer and Middle Skunk Creek aquifer. Before water drawn from those sources reaches residents, it's routed to the city's water purification plant just east of the airport.
In 2011 and 2012, treated water leaving the purification plant and heading to homes was sampled for chemicals within firefighting foam, known as per and polyfluoroalkyl substances (PFAS). The results, which the city received in 2013, showed PFAS but at levels below the EPA's health advisory level, a baseline amount of exposure at which there are no expected adverse health risks.
The EPA believes two PFAS, pefluorooctanoic acid (PFOA) and perfluorooctane sulfonate (PFOS), have health effects when in people's drinking water if it's concentrated above 70 parts per trillion. That level is equal to about three-and-a-half drops of water in an Olympic-sized pool.
In response to the detections, the city began testing all 69 municipal wells to identify the source. Every well with PFAS was shut down.
City engineer Tim Stefanich, who oversees the water system, conceded "there was a little bit of time in between" finding the contamination, determining its source and deciding to shut off affected wells. But with such low levels — between three and four parts per trillion according to city Utilities Operation Administrator Trent Lubbers — there was little fear of an immediate health risk.
"We take the quality of our drinking water very seriously," Lubbers said to the Journal in September.
In 2014, the city tested for PFAS as part of an EPA-mandated water sampling program. In 2016, when the EPA dropped its advisory level to the current 70 parts per trillion threshold, it tested again. There were no detections in 2014 but low levels of PFOS were found in 2016.
More wells were subsequently shut off. Today, the 19 offline wells are no longer sampled, but water leaving the city's purification plant is sampled monthly. No water samples have contained PFAS since 2016. In October 2016, three years after the first detection, the city acknowledged the contamination in a news release.
Mark Meyer, drinking water program administrator for the Department of Environment and Natural Resources (DENR), said the city notified his office in 2013. Since then, Meyer said, the city has managed the situation "as best they can."
As in Box Elder, the cause of Sioux Falls' contamination is firefighting foam, a water-based, high-expansion solution made to smother petroleum fires that contains a soup of PFAS. But unlike Box Elder, where training, testing and emergency response activities at Ellsworth Air Force Base led to contamination, two culprits are responsible for the contamination in Sioux Falls.
According to a 506-page report by a DOD-hired consultant, the Sioux Falls Fire Department was responsible for fire protection at the airport from 1970 to 1991. During that time, it used foam for firefighting and allowed it to "dissipate in the area" during weekly tests and training.
In 1991, the South Dakota Air National Guard took over firefighting responsibilities and conducted foam tests and training primarily on its base near the southern end of the airport's two runways. Countless gallons of foam — neither the city nor the Air Guard kept records of use — were released in the area before eventually emptying into the city's sanitary sewer system. Though the city ceased accepting foam-water solution at its wastewater treatment plant in 2013, once PFAS is released into the environment, it never breaks down. 
You have free articles remaining.
The DOD report identifies 12 locations where foam was presumably released as well as the results of well sampling at those locations. Of the 17 wells sampled for PFOA/PFOS, 12 had concentrations above the EPA level, including one well 3,500 times that level.
Results of the city's municipal well sampling were not part of the base report and have not been disclosed by the city. But the report notes that municipal well 10 had PFAS concentrations 200 times the EPA level. City testing of a few private wells near the airport's southern boundary found some PFAS detections that were shared with well owners, Lubbers said.
When asked, Lubbers said neither the Big Sioux River nor the Diversion Channel, which snakes along the east side of the airport, have been tested. Further investigation by the Air Guard is scheduled for 2019, including the possibility of off-base testing. Another report will follow, though it's unlikely to be published until late 2019 or in 2020.
It's been nearly five decades since the Air Force first used firefighting foam, one decade since the EPA set its first advisory level for PFOA/PFOS and a half-decade since the base learned of the city's municipal well contamination. The Air Guard, however, shows no sense of urgency in completing its inspections.
"Remediation has not taken place because we're still in the site-inspection phase," said Bak of the SDNG.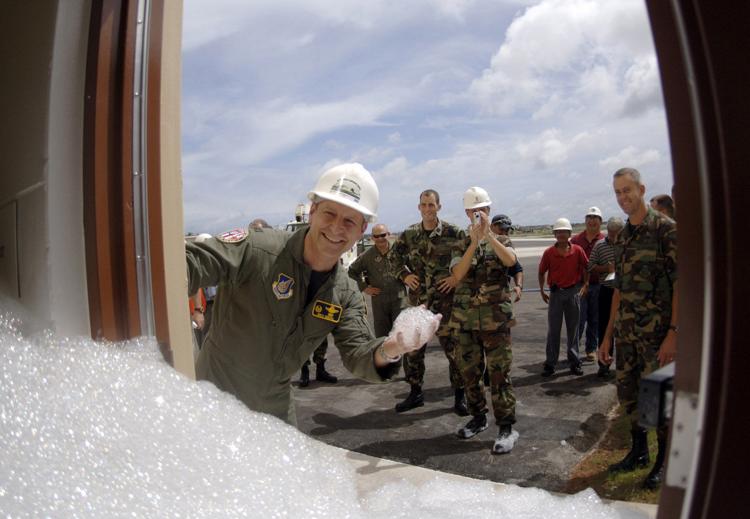 As with the efforts at Ellsworth Air Force Base, the Air Guard in Sioux Falls is following the EPA Superfund process. Bak said short-term remediation like providing bottled water to people with affected private wells, as is being done by Ellsworth for affected residents in Box Elder, could occur sometime in the future. Without the contamination's extent known though, no one is sure what remediation will look like.
Meanwhile, the city continues monthly sampling. With no PFAS detections in raw water entering the treatment plant since 2016, Lubbers and Stefanich believe they have the situation under control. The Lewis and Clark Regional Water system, a nonprofit, wholesale provider of treated water that Sioux Falls uses for the other half of its drinking water needs, is also tested and has no reported detections.
Still, a significant amount of the city's well production is now offline and it appears as though, at the very least, the 10 wells with detections above the EPA level will be offline indefinitely. Stefanich said those 10 wells produced about 440 million gallons of water on average per year, representing about 12 percent of the city's well production and almost 6 percent of its total drinking water usage in 2017. For now, the city has increased water purchases from the Lewis and Clark system. Looking forward, it will need to find a more sustainable option.
"They have the short term kind of covered," said DENR Drinking Water Program Administrator Mark Meyer. "But as we march into the future, having 28 percent of their well capacity offline … the future is going to come sooner than later."
Lubbers said the city continues to have conversations about what the long-term solution may look like.
"To give you a specific list today, I'm probably not prepared to do that," he said. "We're in a brainstorming phase right now."
David Savitz, professor of epidemiology at Brown University and one of the first people to study PFOA's health effects in the mid-2000s, said the problem in Sioux Falls is one municipalities across the nation face.
"One of the biggest challenges is it's in the groundwater, we know it's there … well how long do we have to wait before it goes away on its own?" Savitz said. "And the answer is longer than we're willing to wait. We need to intervene and have alternative water supplies and that's a function of its (PFAS) chemical persistence."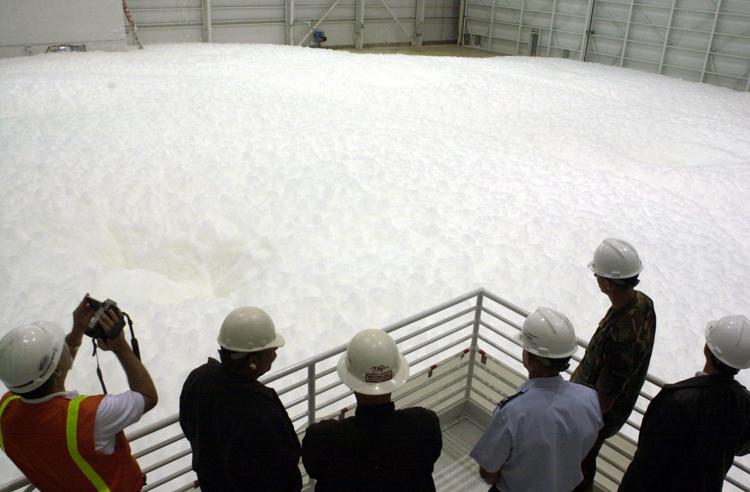 Important questions about today's PFAS contamination remain unanswered. From the date PFAS entered a private well or municipal water system to the date it was detected and mitigated, what was the effect and on whom? How many airmen and women handled and used the foam for decades without proper protection? What was the effect and where are they now?
Lubbers and Stefanich balked at addressing those questions. Bak simply stated, "You can't really speak to what was in the past."
But in courtrooms across the nation, answers have come aside multimillion-dollar fines, settlements and awards against PFAS manufacturers like 3M and DuPont. And in Washington, D.C., a flurry of PFAS-related bills have been introduced or passed in recent months.
Broader but equally thorny questions also persist, including the accuracy of the EPA advisory level, the EPA's role policing chemicals before they're manufactured en masse, the alleged safety of the replacement foam now being outfitted across DOD installations and the lethargic Superfund cleanup process.
Together, they point to two fundamental questions: Why did this happen and how do we ensure it doesn't happen again?
Monday: The pitfalls of the regulatory process.