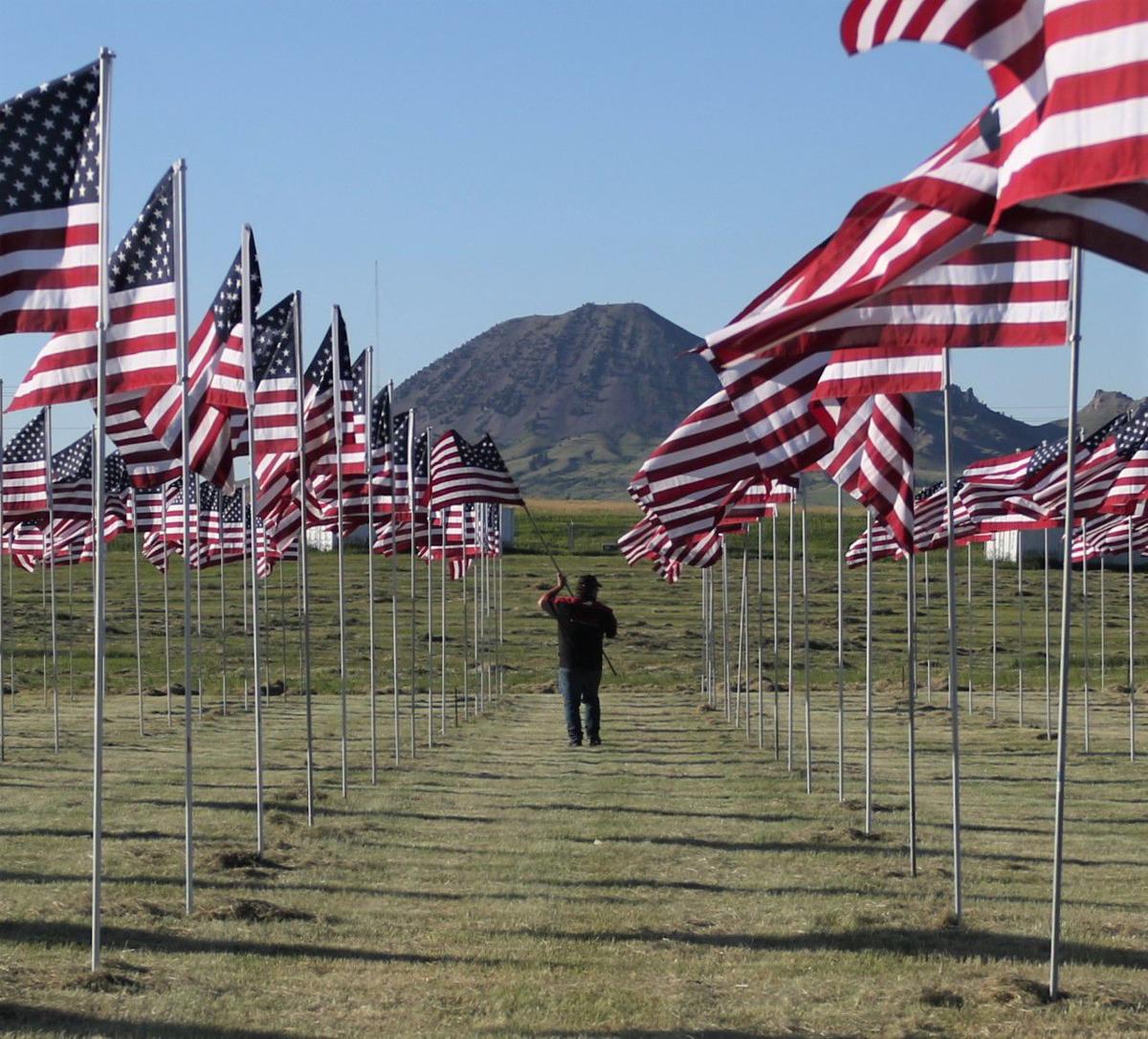 Veterans saluted flags they placed in one of 42 rows and remembered their fellow service members at the Buffalo Chip's Freedom Field.
Volunteers, veterans and community members raised 808 U.S. flags across the field in a 42-by-19 pattern on Friday. The annual event is intended to honor those who served the country and lost their lives in the line of duty.
For Mike Kain, who served in the Army for 30 years, including flying helicopters in Vietnam and piloting tanks in Desert Storm, the flag raising allows him to honor those who passed and serves as a reminder of the friends he served with.
"Our country needs it right now," he said. "We don't know any of these people, but here they are coming to put flags up. Why do they do that? Because they love this country and our veterans love this country, and it's something we all need to get back to. Right, wrong or indifferent, we aren't perfect, but it's a heck of a good country, and I love it."
Kain said he was proud of the service members then and he's proud of the service members now.
The raising began about 20 years ago as a way to honor those who died while fighting in the Iraq War, according to the Buffalo Chip's website. Initially, each flag represented one American life lost with a soldier's name on each flag. As the count grew, space ran out, so it's now a tribute to all active and retired soldiers and those who died in the line of duty.
Rod Woodruff, founder and president of the Buffalo Chip, said the flag raising has become a tradition that people look forward to each year.
"It's something that touches their hearts, and when you touch somebody else's heart like that, it touches yours," he said. "If you have to ask me 'why do you do that,' I don't really know how to answer. It's the American flag and to see this many of them, it's just about the most beautiful thing in the world."
Volunteers, Buffalo Chip staff raise 808 flags to honor those fallen
Woodruff said people return year after year to help with the event. He said some volunteers have spent four weekends going through the flags to make sure none are frayed or worn.
He said what people will learn if they talk to those who served in serious situations is that they don't talk much about what they experienced — instead, they learn about it from others or from history.
"It's the same way in my case, (I had) to find out from looking at records and who knew them in those times," Woodruff said.
He said he hopes the flag raising continues for many years to come because he wants the Republic to last.
"Doing our share to show patriotism, respect for the flag that people have put together this union, this republic with 50 states right now, it worked pretty well for 200 years and I'd like to see it continue on for a long, long time," he said.
Woodruff said tour buses and veterans often come to visit the Freedom Field, and it's typically an emotional sight.
He said the field and what happens at the Buffalo Chip helps reinforce people's commitment to their rights and privileges as citizens of the United States.
The field will stay standing through the Sturgis Motorcycle Rally, which will be Aug. 7-16.
Get local news delivered to your inbox!
Subscribe to our Daily Headlines newsletter.