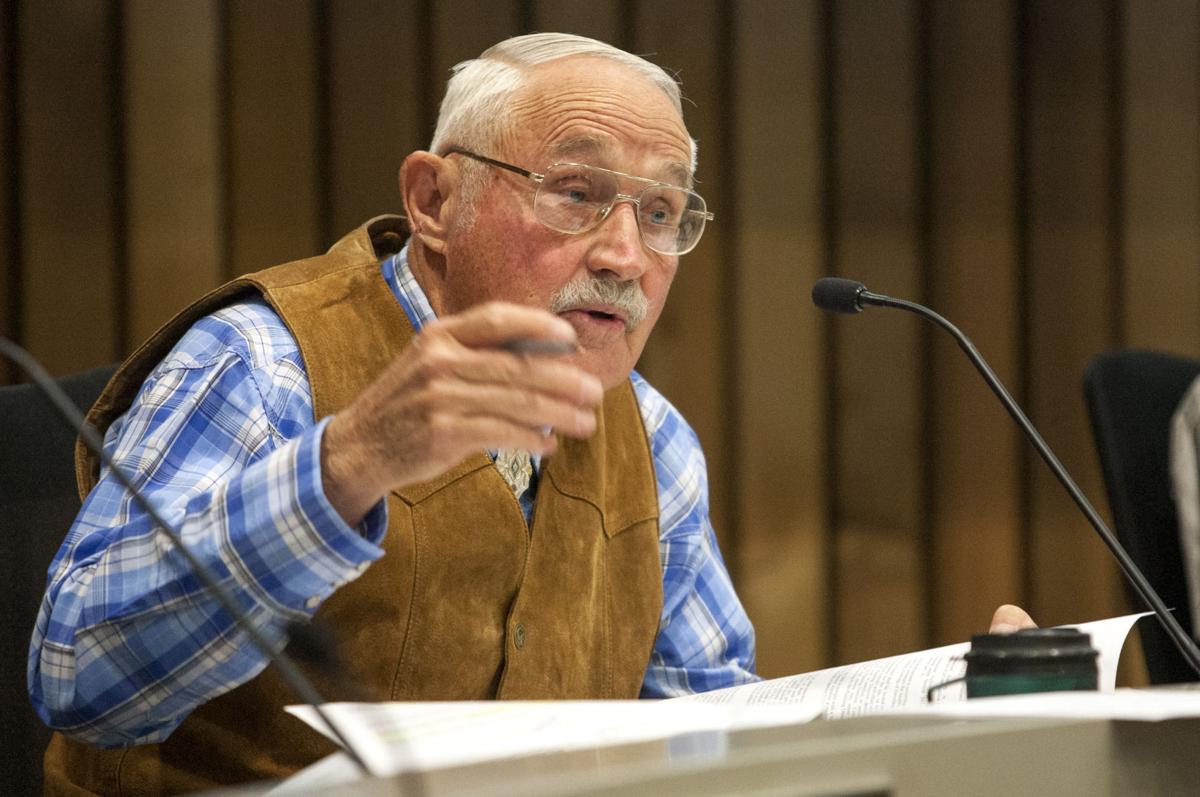 Former Pennington County Commissioner George Ferebee died Thursday.
Ferebee, a rancher from near Hill City, was a vocal and active member of the Republican party and later the Constitution party in Pennington County and South Dakota. He unsuccessfully ran for the state Legislature in 2010 and 2012, but remained active in Pennington County politics.
Tonchi Weaver of South Dakota Citizens for Liberty said Friday that Ferebee was a personal friend, political ally and freedom fighter.
"He understood what our guarantees are under the Constitution and often took a stance that seemed like it was a no-win situation, such as grandfathering laws, but he knew that if somebody didn't stand in the breech, we would all be run over," Weaver said to the Journal. "He was a patriot. He served his country. He loved his country."
In 2013, Ferebee was a vocal critic of the Spring Creek Advisory Committee, which was formed by Pennington County to help restore Spring Creek. Ferebee believed the project was a waste of federal tax dollars.
As a member of a conservative group self-described as "The Wingnuts," Ferebee successfully ran for the Pennington County Commission District 1 seat in 2014.
Ferebee pledged to "get the government off of our backs and out of our pockets," and fight "over-regulation, overtaxing and overspending."
While on the county commission, he voted to pull funding from the local chamber and economic development partnership, opposed any county wheel tax proposal and frequently decried what he saw as government overreach in Pennington County septic system regulation.
"He would put himself at risk to point out that there was an injustice and stand there and take the hits for it," Weaver said.
Ferebee was often critical of the Pennington County Commission and was also the subject of criticism to his tactics — specifically over the septic system regulations.
In 2015, the Pennington County State's Attorney's Office filed a complaint against Ferebee in magistrate court, charging that he violated county law by failing to obtain a permit for his own septic system. The case lingered through 2019, when a retrial was granted and Ferebee was again found guilty.
Ferebee was defeated in a re-election bid for the Pennington County Commission in 2018 and continued to serve the remainder of his term, even after the Pennington County Commission voted 3-1 to send a letter to Ferebee requesting his resignation.
During his tenure on the Pennington County Commission but after his election defeat, Ferebee remained active in his quest to fight septic system regulations. In 2018, Ferebee successfully petitioned the West Dakota Water Development District to commit public funding to oppose regulation of septic systems.
Weaver said Ferebee would defend and fight for what he felt was right and would do anything for others when he saw an injustice.
"I can't say enough about the fact that he inspired others to stand up when you feel there is an injustice, you have to stand," Weaver said. "Sometimes you stand alone and George was never afraid to do that."
Funeral arrangements for Ferebee are pending.
Get local news delivered to your inbox!
Subscribe to our Daily Headlines newsletter.