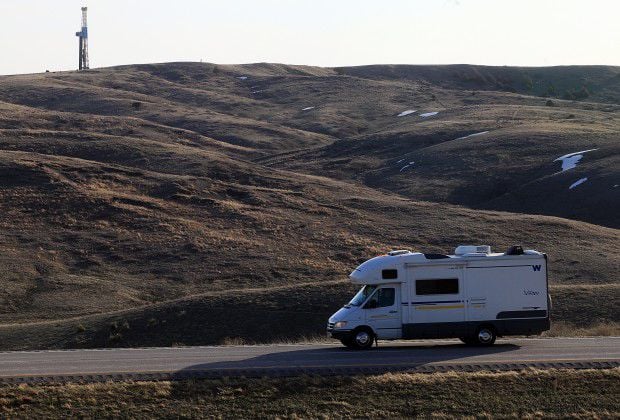 PIERRE | The drawn-out saga of a failed attempt to drill for oil on land near Wasta appears to have come to an end, but the drill bit stuck in the earth may never be removed and the well may never be fully capped.
The state Board of Minerals and Environment decided last week to take what's left of more than $2 million that was invested in an attempt to dig an oil well near Wasta in eastern Pennington County.
Board members approved oral rulings and findings by acting Chairman Bob Morris that the well was improperly capped.
As a result, the state Department of Environment and Natural Resources will get two surety bonds jointly worth $130,000.
The findings will be put in writing and are expected to be approved at the board's next meeting. That will likely be March 16.
Since no objections are expected, that's little more than a formality.
Leon Somsen of Yankton is essentially the last man standing in the failed venture. He consented to forfeiting the two certificates of deposit and to the revocation of a drilling permit issued to Quartz Operations.
While testifying, he had the look of a man who just wanted a discouraging process to end.
"Quartz Operations never made any money," he said, adding that it doesn't have any equipment either.
When questioned, he said he initially invested $300,000.
In spring 2013, when the well was being dug about 45 miles east of Rapid City, investors had ponied up more than $2 million combined and were still running short, Somsen said.
Mike Lees, a hydrologist with DENR's minerals and mining program, detailed the agency's history with Quartz:
The endeavor began in November 2012, when Quartz initiated contact with DENR about digging the well. That same month, an initial $20,000 bond was submitted.
The plan was to probe to 9,700 feet through a dense layer of pre-Cambrian rock in hopes of striking oil.
On March 5, 2013, two drilling permits were deemed complete. Six days later, the state requested a second $110,000 after DENR officials expressed concerns about the well and whether it could succeed.
Ultimately, the digging of one well — Northern Points 1 — was approved and drilling started in April 3, 2013.
Trouble followed soon after.
By April 5, the bore was 4,800 feet deep. But then a drill bit broke about 2,760 feet below the surface, after going through several aquifers.
While attempting a repair, Quartz broke another pipe with a larger diameter.
On May 11, the company attempted to plug the well without state authorization, and the well collapsed on itself at 1,130 feet. The next day, Quartz pulled the well, again without authority.
From then, Lees said, Quartz had a year to restore the surface. The May 2014 deadline was missed, but Quartz graded the area in September 2014 and restored vegetation in June 2015, he said.
Still buried in the ground are the drill bit and a sizable stretch of drill pipe.
There is an upside to the debacle, though.
Previously, DENR officials were concerned about the intermingling of water from different aquifers because of the drilling.
The top of Minnelusa Aquifer is roughly 3,900 feet below ground. About 800 feet below it is the Inyan Kara Aquifer.
Lees testified that the Inyan Kara Aquifer, which is the source of Wall's water and is tapped by other wells in the area, is of better quality. But, he said, any water that might have seeped into it from Minnelusa would be minimal and would flow no farther than 1,400 feet in 50 years.
Derric Illes, state geologist, echoed those comments. He said the water would flow away from the nearest well, and even if it somehow reached it, any Minnelusa water would be highly diluted.
Lees said the improperly capped well is a compliance issue that merits the forfeiture of the bonds and drilling license, but is not a significant environmental problem.
He said the DENR estimates it would cost $2 million to plug the well by digging another hole, then boring laterally. But he's skeptical it would work and said it's certainly not worth the cost.
Lees said he doesn't even know if the Minnelusa and Inyan Kara aquifers are interacting.
So DENR will take the $130,000 and use it for whatever future needs there are at the site of the Wasta well.
Steve Blair, assistant attorney general representing DENR in the case, said he could have subpoenaed other Quartz investors who are out of state, but that is a complex process that just wasn't worth it.
He agreed with a board member who summarized the situation as "what's done is done."
All six board members voted to seize the bonds and pull Quartz's drilling license.