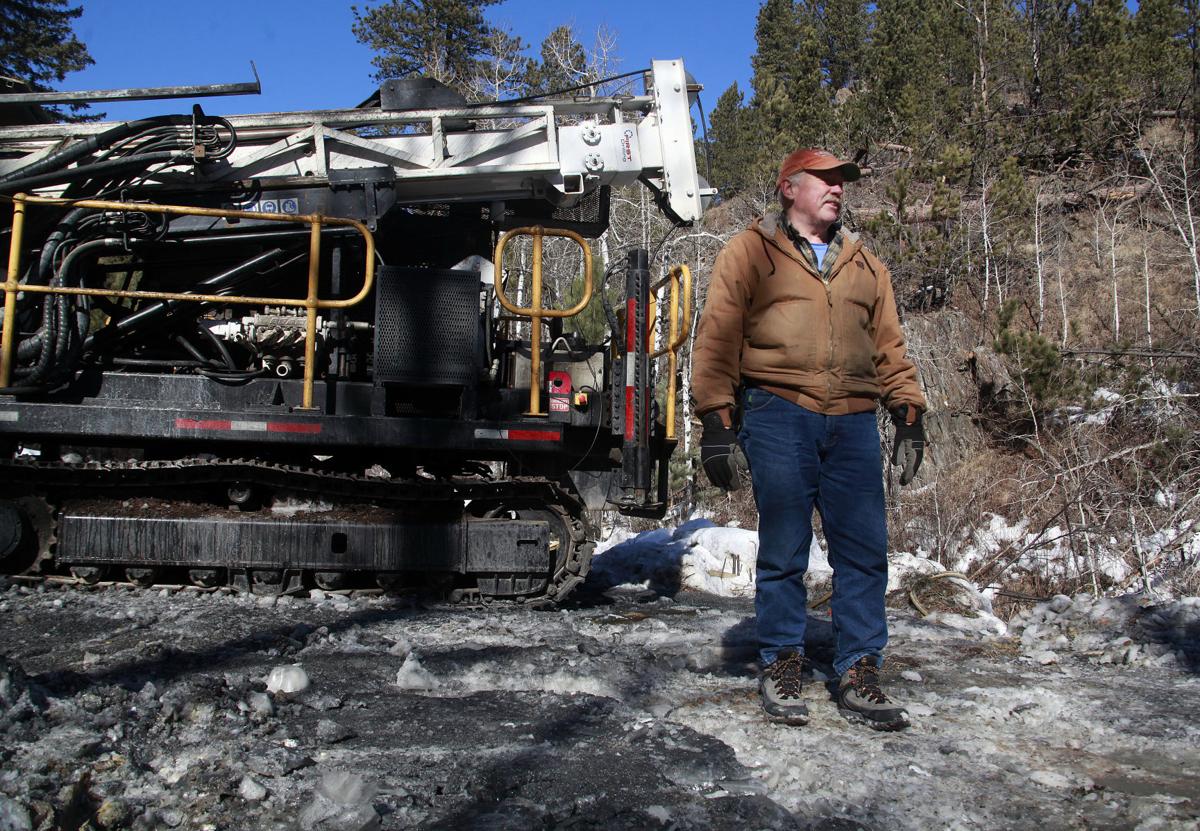 A Canadian company searching for gold near Rochford is drilling one long, diagonal hole this fall and winter, according to its top official.
Nelson Baker, CEO of Mineral Mountain Resources in Vancouver, British Columbia, spoke to the Journal on Friday by phone. He said the company began drilling a 1,600-meter-long (5,249-foot) trunk hole in October.
"It'll be at least Christmastime before we get to the bottom," he said.
Directional drilling will be employed, which means the hole won't go straight down. Instead, it will angle toward a target. A chart on Mineral Mountain's website says that target is 3,000 feet deep.
The hole is called a "trunk" because the company plans to eventually drill shorter offshoots from it underground, which Baker said will save money and cause less ground disturbance than drilling every hole from the surface. Directional holes and their offshoots can extend outside of a drilling project's surface boundaries as long as the driller has mineral rights in the areas that are probed underground.
Mineral Mountain has already drilled 10 other holes from the surface — which have been filled with bentonite and plugged with concrete — since beginning its current drilling operation last year in a mountainous and forested area just east of Rochford. The small community is about 30 miles west of Rapid City in the Black Hills. Baker said Mineral Mountain has acquired ownership of the land and mineral rights where the drilling is located.
Drilling produces core samples of rock, roughly baseball size in diameter, that are tested for gold. Mineral Mountain hopes to find a deposit of gold suitable for mining. Baker said Mineral Mountain is an exploratory company, so it would seek a "senior partner" if gold is found in quantities and locations that would make a mine economically feasible.
Gold mining has been a constant in the Black Hills since the 1870s, most famously at the Homestake mine that closed in 2002 and more recently at the Wharf Mine near Lead, which produced 76,840 ounces of gold and 50,575 ounces of silver last year.
Companies that plan to drill on privately owned land in South Dakota do not have to apply for a permit that regulators approve or deny. Instead, drillers file what's called an "Exploration Notice of Intent," to which the state Department of Environment and Natural Resources can and does attach restrictions to protect the environment.
In 2017, Mineral Mountain filed a notice that it planned to drill up to 120 holes near Rochford, and DENR attached numerous restrictions to the notice. Last month, Mineral Mountain filed another notice with a plan to drill up to 90 more holes, for a grand total of up to 210. That notice is under review by the DENR.
Baker said that if the company finds a promising gold deposit, it may need to drill up to 200 holes to fully study it.
"We're anticipating that we may need those extra holes if we're successful, so we want to make sure everything's in place," he said.
Baker is a Canadian who earned a geological engineering degree from the South Dakota School of Mines & Technology in 1969. He said Mineral Mountain, a publicly traded company in Canada, has spent $13 million on its Black Hills drilling program since it began in 2012 near Keystone, including about $5 million since deciding to focus exclusively on the Rochford area.
During the company's current phase of drilling, water to lubricate the drill is being purchased and hauled from the city of Lead. Spent water is held in small, lined pits near the drill rig, where the water is allowed to evaporate. After the drilling is complete and the holes are plugged, the drilling areas and pits are required to be restored to a natural-looking state.
Besides Mineral Mountain, companies including F3 Gold, of Minneapolis, and Dakota Territory Resources, of Reno, Nevada, have announced plans to conduct exploratory drilling for gold in the Black Hills. Coeur Mining, headquartered in Chicago, is doing exploratory drilling in hopes of extending the life of its Wharf Mine near Lead.
Get local news delivered to your inbox!
Subscribe to our Daily Headlines newsletter.