A Rapid City credit union is looking to sock it to homelessness — literally. 
Highmark Federal Credit Union is hosting a sock drive until March 14 as part of the national Joy of Sox campaign. During the campaign, businesses and organizations across the country collect new socks to give to local shelters. 
For Highmark, that includes its six locations across western South Dakota and eastern Wyoming, including Rapid City, Custer, Spearfish, Sturgis, Belle Fourche and Gillette, Wyo.
"It's been a long, cold winter which means lots of wear and tear on feet and socks," LouAnn Tyler, marketing and training director at Highmark Credit Union, said in the release. "We're asking for members and the community at large to donate new socks to provide to the homeless during a time of need."
Socks collected will go to The Cornerstone Rescue Mission, Hope Center and Working Against Violence, Inc. in Rapid City and The Salvation Army in Spearfish, among others. 
John Carlson, president of Highmark, said in a news release from the credit union that this is the business' third year partnering with Joy of Sox. He said Highmark hopes to collect 2,500 socks. 
New sock donations can be dropped at any Highmark location until March 14. Rapid City's is located at 725 Fifth St. For other branch locations and hours, visit highmarkfcu.com/branch-locations-hours.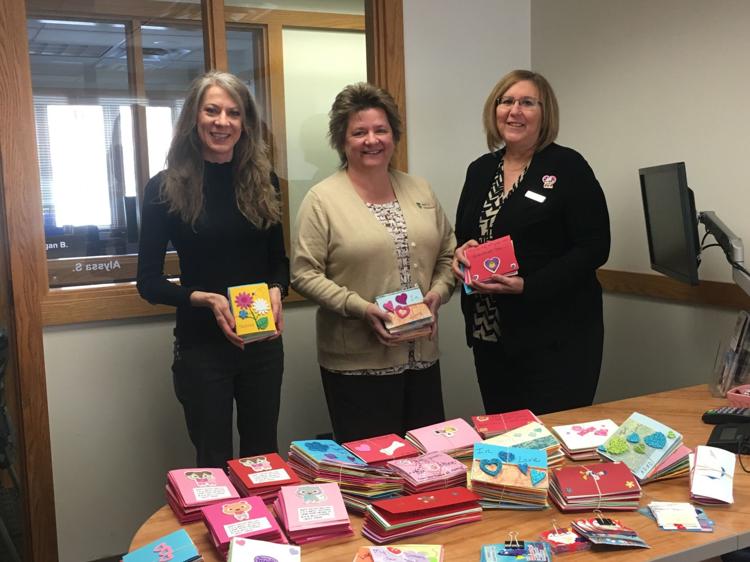 You have free articles remaining.
Employees and members at Black Hills Federal Credit Union in February handcrafted approximately 1,750 Valentine's Day cards for veterans and the elderly.
On Valentine's Day, employees delivered the cards to veterans homes, VFW posts, and assisted living and nursing homes across the state, according to a news release from the credit union.
Dawn Erk, chair of BHFCU's Valentine's for Veterans Community Action Team Project, said the team distributed a record number of valentines in Hot Springs, Sturgis, Rapid City, Pierre and Sioux Falls.
Employees also raised $200 for the Hungry Hearts program in Sioux Falls and $1,000 for Special Olympics South Dakota through a donation-based eat-in and jeans day fundraiser.
In December, employees purchased 50 holiday gifts and donated about $700 to the Salvation Army's Angel Tree program. Employees also raised $200 for the Lakota Voice Project, which works to prevent youth suicide on the Pine Ridge Indian Reservation; donated toiletries and other items to Working Against Violence, Inc., the Hope Center and Western Community Action; and donated $900 to Pizza Ranch's 12 Days of Pizza program, among other efforts.
Black Hills Energy donations
Black Hills Energy recently distributed more than $110,000 in grants to 23 nonprofit organizations serving Black Hills residents, according to a December news release from the company. Nonprofits awarded were:
Teammates Mentoring: $30,000 to launch its mentoring program in public schools in Sturgis, Spearfish, Custer and Rapid City;
First People's Fund: $25,000 toward buying the organization's headquarters in Rapid City;
Storybook Island: $15,000 toward a structure to protect a vintage carousel;
Northern Hills Training Center: $3,000 for music and art supplies;
Humane Society of the Black Hills: $2,500 for new kennels;
Town of Buffalo Gap: $2,500 for renovations to the city park;
Newcastle VFW Post 2516: $2,500 to replace tables and chairs.