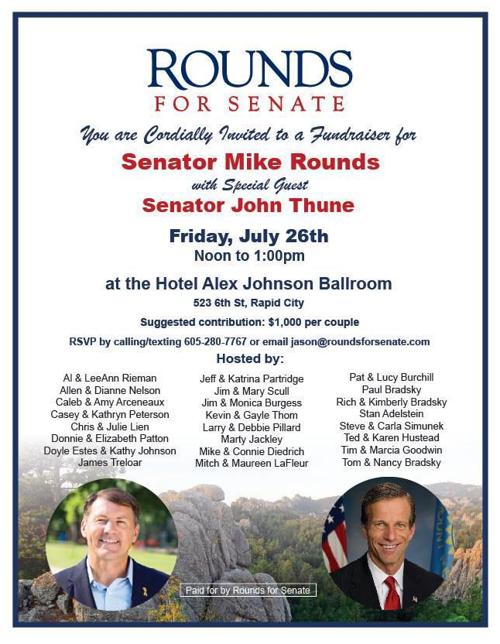 Mike Rounds has a $1.4 million head start in campaign cash over his intra-party challenger, and he has access to a constellation of additional fundraising entities that could multiply his advantage in the money race.
Rounds, a Republican former two-term governor, is serving his first term in the U.S. Senate and is up for re-election in 2020. His Rounds for Senate committee organized a fundraiser Friday at the Hotel Alex Johnson ballroom in Rapid City that was hosted by a total of 24 couples and individuals and featured U.S. Sen. John Thune, R-S.D., as a special guest.
Borglum organized her fundraising committee, Borglum for U.S. Senate, on July 3 and won't have to disclose its finances until October.
Rounds' committee, Rounds for Senate, has existed since 2012, prior to his victory in the 2014 Senate election. The committee's most recent report to the Federal Election Commission, filed July 15, covers its finances through June and showed $1.4 million on hand.
But the finances of Rounds' campaign committee don't tell the full story of his fundraising apparatus. There are several other entities that are raising and spending money to help him, directly or indirectly.
One of those other entities is Rounds' affiliated political action committee, the Peter Norbeck Leadership PAC, named for a former South Dakota governor and senator. Rounds for Senate received $10,000 from the Norbeck PAC in March, and the Norbeck PAC's most recent report to the FEC shows it had $66,953 on hand at the end of 2018.
Two of the other committees authorized to help Rounds are joint fundraising committees. A joint fundraising committee allows two or more regular committees to pool their contribution limits into one larger limit, and then solicit mega-contributions and split the proceeds.
Rounds is part of the 2019 Senators Classic Committee, which was organized in April and includes 15 other incumbent senators. The joint committee raised $1.1 million through June and transferred $852,000 to its authorizing committees, including $53,515 to Rounds for Senate.
Another joint fundraising committee that includes Rounds for Senate is the Rounds-SDGOP Victory Fund. The other participating members in the joint committee are the Peter Norbeck Leadership PAC and the South Dakota Republican Party.
The joint committee was organized in November 2018. It raised $18,200 by the end of that year and transferred $4,000 apiece to Rounds for Senate and the South Dakota Republican Party. From the beginning of 2019 through June, the joint committee raised no more money and had only $627 on hand after expenses.
Rounds has also benefited from independent expenditures, which organizations and individuals can use to fund ads and other political communications in unlimited amounts so long as there is no coordination with the candidates mentioned in the ads.
Get Government & Politics updates in your inbox!
Stay up-to-date on the latest in local and national government and political topics with our newsletter.