Some of you may have received a post card in the mail recently about reasons to vote no for the School Bond. A few of these facts are simply not true.
The ballot language specifically states the purpose of the bond is "for the constructions of 3 new elementary schools, a new middle school, a fine arts wing and student counseling center" as well as renovations to existing school facilities, pathways related updates, safety and security improvements, other school district improvements, deferred maintenance and furnishing and equipping the buildings which will be constructed. This is not a blank check for the district to spend. We have a specific plan presented with each of these items. 70% of the bond is for new buildings, 29% for additions, renovations and safety and security upgrades and 1% is for deferred maintenance and other improvements.
When a school district in the northwest portion of SD included the exact location of their new school in the ballot language, they found trouble. The soil on the stated site was unsuitable to build upon, but when they found a very suitable alternative location, those who had been opposed to the bond measure sued the school district for not following the exact language of the bond. There has to be some common sense used as you read the bond language and then look at the plan proposed by the school district.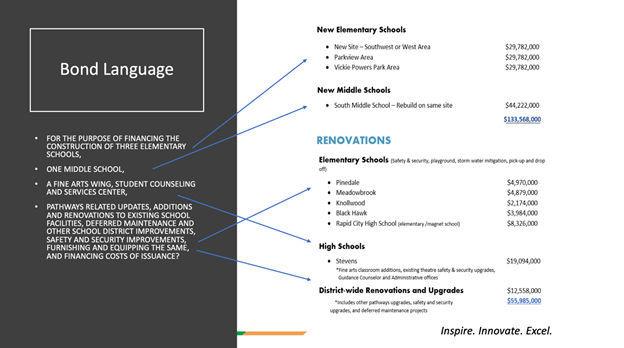 The mil levy cannot be stated in the ballot language - this would be a blank check for the school district - because we cannot collect more than the annual payment for the bond. These payments will be set when the bonds are sold and are calculated on an .85/1000 levy. If the total property tax assessment amount in a particular year grows more than 4% (the growth rate used to calculate the bond repayment in our models), the levy would be lower than .85. We cannot set the levy in the bond otherwise it could not ever be lowered and we would HAVE to collect more than the annual payment.
At-risk students are not being abandoned. The Rapid City High School program, consisting of 324 students, is utilizing less than half the functional capacity of the building they occupy. Common sense would tell you it is prudent to fully utilize this building when there are schools currently being used with unrepairable structural damage and a need for more classroom space. Because the greatest capacity need is for elementary students, the plan is to convert the building housing the RCHS program to an elementary school (helping 600 students) and the RCHS program will be moved to a new home that will enhance this important program.
The existing buildings being closed are in very poor condition and do not provide suitable environments to educate our children. Many buildings have limited natural lighting and temperature control is inconsistent- it can be cold on one side of a classroom and boiling hot on the other side. The classrooms are small and overcrowded, meeting only 70% of recommended space requirements. The high noise levels negatively affect student learning, especial in classrooms located too close to gyms, cafeterias and music rooms. Small group spaces are lacking and individual workspaces are limited. Many kids in affordable neighborhoods will get to attend new facilities and benefit from modern learning environments. The bond is based on a solid plan that keeps more kids across the entire District in schools closer to their homes. It is not a senseless waste of existing buildings.
The buildings paid for with this bond will last Generations. School buildings are multi-generational investments, it makes sense to pay them back over time. The bond will be paid off over 25 years, Corral Drive Elementary and Southwest Middle Schools are 25 years old.
There is a strong body of research that shows school facilities can have a profound impact on both teacher and student outcomes. With respect to teachers, school facilities affect teacher recruitment, retention, commitment, and effort. With respect to students, school facilities affect health, behavior, engagement, learning, and growth in achievement.
Yes, this bond will not increase teacher pay. It is for facilities only.
Yes, the bond is an investment made by every citizen in our community. With this investment our community will continue to thrive and grow, which should result in more people and businesses to share the tax burden and lower each individual's burden.
Get Government & Politics updates in your inbox!
Stay up-to-date on the latest in local and national government and political topics with our newsletter.