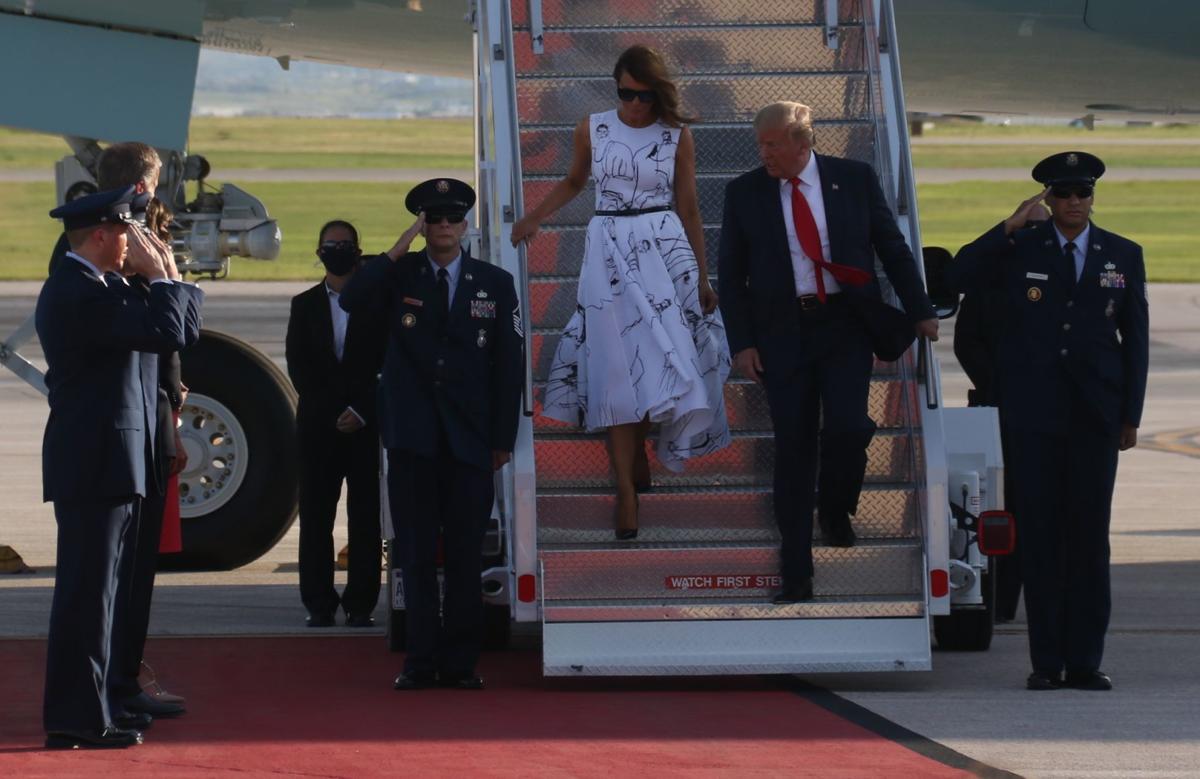 President Donald Trump was greeted Friday by Gov. Kristi Noem and U.S. Sen. John Thune upon touching down at Ellsworth Air Force Base.
Trump made his first visit to the Black Hills to watch the fireworks display at Mount Rushmore, the first display since 2009.
The president was joined by First Lady Melania Trump and Noem on Marine One to head toward the national monument. Trump's daughter, Tiffany, was close behind and in one of four ospreys that accompanied the helicopter.
Before they arrived, the base buzzed preparing for the president's arrival. At least one osprey took a turn around the base, and base personnel — including a service dog — checked the stairs the president would later walk down.
After checking the distance from where the president would meet Noem and Thune, base service members went through security screening, although none of them got closer than 170 feet, the same as local media, who stood on or just in front of a semi-trailer platform.
Marine One buzzed, the ospreys took off toward the west side of the base and through the whir of the blades, silence crept over service members and media, watching as Air Force One lowered its wheels onto the landing strip.
After the stairs were lined up, Trump poked out of Air Force One and carefully descended toward the ground with the first lady behind him.
The Trumps spoke with Noem and Thune for just a couple minutes before heading toward Marine One where they were greeted by two Marines.
Moments later, Marine One spun its blades and moved toward the takeoff route, followed by a lookalike aircraft and later joined by the four ospreys.
Concerned about COVID-19?
Sign up now to get the most recent coronavirus headlines and other important local and national news sent to your email inbox daily.