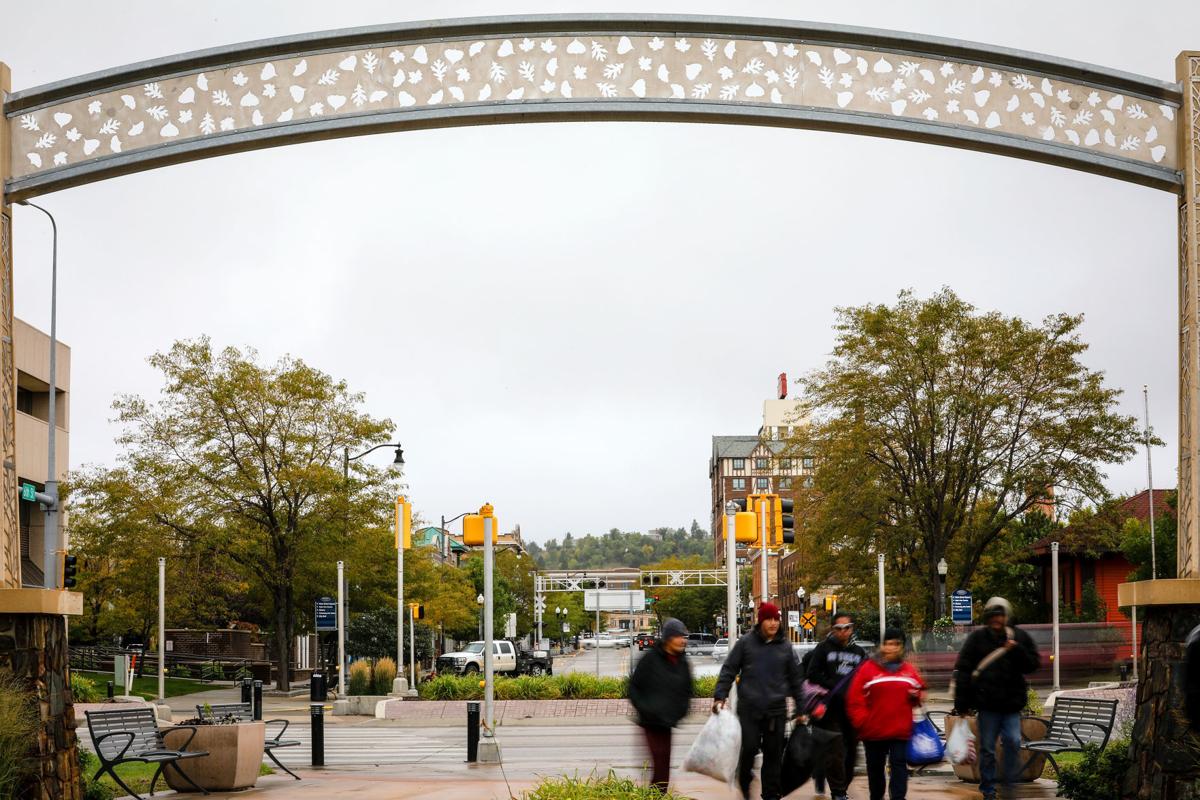 Rapid City will not study the path to a more pedestrian friendly crosswalk at Sixth and Omaha streets, the city council decided during Monday night's regular council meeting. 
Typically, Mayor Steve Allender would break a tie vote, but he cannot in cases where the vote would trigger spending city money. With a tie, the motion failed. 
Aldermen Chad Lewis, Bill Evans, Ritchie Nordstrom, Laura Armstrong and Darla Drew voted to support the study, while Lance Lehmann, Becky Drury, Lisa Modrick, John Roberts and Greg Strommen voted against. 
The agreement, had it been approved, would have spent a maximum of $125,097 with Felsburg, Holt and Ullevig to study the feasibility of closing Sixth Street to vehicle traffic at the intersection with Omaha (also known as S.D. Highway 44), lowering Omaha to below current street level and building a walkway over Omaha.
Kip Harrington, long-range planner for the city, said the walkway would make the crosswalk safer and more inviting for pedestrians who want to visit downtown Rapid City businesses, then cross Omaha Street into Memorial Park or a little farther to the civic center. City officials expect to see increased foot traffic downtown once the Rushmore Plaza Civic Center expansion project is done (projected finish date is fall 2021). 
Most of the council members weighed in before the vote, with particular interest paid to how the study and potential promenade would have been funded.
Harrington and Ken Young, Rapid City community development director, said about 81 to 82 percent of the money to fund the study would have come from federal planning funds. Those funds are allocated toward long-range planning projects and could not be spent on other things — like fixing potholes, for example. The remaining 18-19 percent would have come from the city's funds already budgeted for long-range studies. 
Lewis, who supported the study, said he sees the revamped crosswalk as a way to "open up our city and make it more inviting to everyone." 
"We've done a lot of revitalization of our downtown area, and this would be one final piece to help tie that better in with the Civic Center we're building," he said. 
Roberts said the city does "lots and lots of studies," many of which go nowhere. Even though the study would be federally funded, if the project itself moved forward, he predicted a redone intersection as having a "very hefty price tag."
"I think this is a good idea — I think it's a really good idea — if we had unlimited funds. But, unfortunately, we don't," he said. 
Harrington told the council there are federal grants for which the promenade may qualify. 
Roberts also questioned whether lowering Omaha Street would put it below the water level of nearby Rapid Creek, which could cause other safety and liability issues. 
In other business, the council: 
As part of the consent agenda, approved accepting part of a grant from the Great Plains Tribal Chairman's Health Board for its Connecting With Our Youth Program. The funds are distributed by the Substance Abuse and Mental Health Services Administration. The program will partner with the Rapid City Police Department to receive $341,080.20 to fund a full-time school resource officer for the next five years, to help students at risk for suicide, especially Rapid City Area Native youth.
Presented the October Sustainability Award to For Real Community Cafe, a nonprofit cafe that allows people to pay what they can for meals made with fresh, locally grown ingredients.