Two public safety agencies in Rapid City are adding larges classes of new recruits, which will result in a total of 35 new employees.
Seventeen of those recruits will help fill numerous vacancies at the Pennington County Sheriff's Office.
Of the 17 new hires, seven will work in addiction treatment services at the county's care campus, five will work as correctional officers at the Pennington County Jail, two will work as Western South Dakota Juvenile Services correctional officers, and three will work as deputies for the sheriff's office.
David Foster moved from Maryland where he worked as a Charles County Sheriff's Office Deputy to serve as a deputy for the Pennington County Sheriff's Office. Foster and his wife had always wanted to retire in the Black Hills and decided to make the move sooner than later.
"I've lived on the east coast my entire life, so coming out to the Midwest is going to be a huge change," Foster said.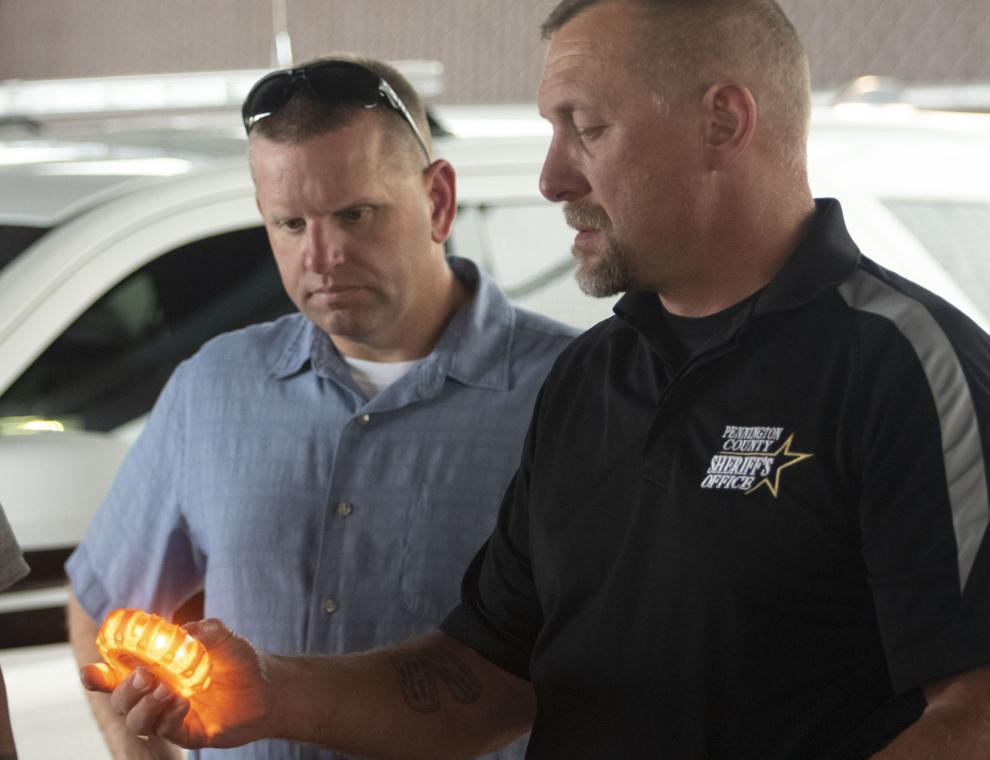 Evan Wheaton will be working as a juvenile correctional officer and is originally from the area.
Wheaton has a military background and worked 10 years in the oil fields of North Dakota prior to applying for the correctional officer job.
"I saw this as opportunity, similar mindset as working in the military and oil fields," Wheaton said.
"The juvenile correctional officer job jumped out at me. I want to see if I can make a positive change in some of the kids' lives. I'm looking forward to some of the comradery, similar to what I experienced in the military."
Steph McCoy, human resources manager for the Pennington County Jail, said law enforcement and correctional officers will typically move in from other states.
"But most of our other positions are people from within the community," McCoy said.
"We're very fortunate in just that we're from South Dakota and we're agencies that have conservative values, we have community support and political support. A lot of those individuals are coming here because that's part of why they wanted to be in law enforcement. They wanted to serve people who wanted to be served and raise their families in good, safe places. A majority of them, they're leaving for a better quality of life."
McCoy said many of those who applied for a deputy position with the Pennington County Sheriff's Office inquired initially after seeing Gov. Kristi Noem's invites to law enforcement throughout the nation to apply for positions in South Dakota.
"We haven't had any of those major incidences or responses that have happened in other major communities impact the way our law enforcement is viewed or treated," McCoy said.
McCoy said the sheriff's office also works with candidates who are uprooting their lives to come to South Dakota.
"We understand flying to Rapid City multiple times during the hiring process is not something we should ask of people. We also understand that if you're making a career move and you're moving from another state, there's no reason we can't work with your timeline," McCoy said, using Foster as an example.
"He had to sell his house and the whole nine yards, we worked with him because there was no reason not to. Then he had to come here, get his kids in school, find a house. We try to work with people because we understand those things."
The Rapid City Fire Department is also filling vacancies left by numerous retirements over the last year.
Capt. Mike Bartling is the training specialist for the Rapid City Fire Department with the task of training 18 recruits over the course of 13 weeks.
At the end of the 13 week training academy, the new recruits will be ready to go to their designated stations throughout Rapid City and respond to calls for help, said Bartling.
"This is probably our largest class ever. There are some difficulties with having that many people, such as the size of our training area and having to move them to and from places," Bartling said.
"Our call volume has gone up, it's increased dramatically. We're also kind of in a wave within our fire department where we're having a lot of retirements and a lot of people leaving. So we had to fill all spots and we didn't want to go through all this for just two or three people."
Bartling said it's uncommon for a fire academy class to have as many out-of-state residents as this one.
For Florida native Sage Stephens, coming to the Black Hills has always been a dream. It was during the COVID-19 pandemic that he and his wife decided to make that dream a reality.
"My wife and I have always wanted to live in Rapid City. Our first vacation together was here and we have family here. We actually were married down in Custer State Park at Sylvan Lake," Stephens said. "COVID-19 kind of opened our eyes and made us realize that we that we should follow our dream."
Stephens worked as a firefighter with the Lakeland Fire Department in central Florida and obtained his associate's degree in EMS prior to coming to Rapid City.
"I remember always coming down at our vacations I'd look over the city and would say, man I wish I could make this my life," Stephens said. "The only thing keeping me from that was my job."