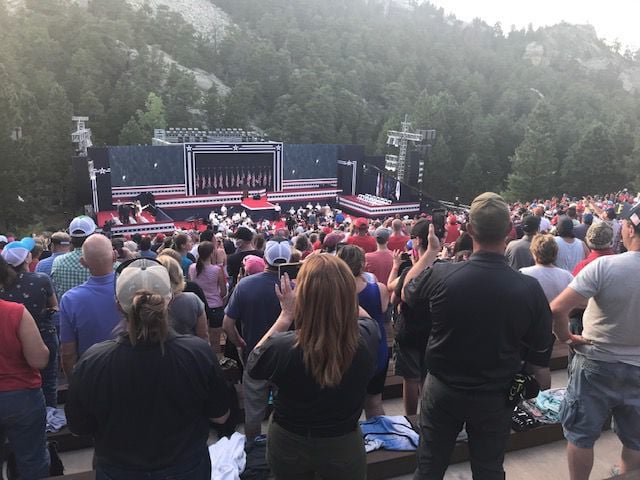 The eyes of George Washington, Thomas Jefferson, Theodore Roosevelt and Abraham Lincoln were looking down on President Donald Trump as he addressed the crowd at Mount Rushmore before the fireworks display that returned after an 11-year hiatus.
Trump aimed his speech at the most recent calls to remove Mount Rushmore and statues across the nation after weeks of Black Lives Matter protests. Many protesters across the nation have torn down statues of Confederate generals, Spanish conquistadors and other historical figures who may have contributed to the enslavement of people of color, and the mass murder and colonization of Indigenous people.
"We believe in equal opportunity, equal justice and equal treatment for citizens of every race, background, religion and creed. Every child of every color, born and unborn," Trump said.
That statement followed Trump saying, "We are building the wall."
"We will never abolish our police, or our great Second Amendment," he said.
Calls to abolish, reform or defund police forces have arisen in the wake of George Floyd's May 25 death while in the custody of Minneapolis police.
"Angry mobs are trying to tear down statues of our founders, deface our most sacred memorials, and unleash a wave of violent crime in their cities," Trump said. "They know exactly what they are doing. They think the American people are weak, soft and submissive. But know the American people are strong and proud."
The crowd gave a standing ovation in response to that statement, then gave another "USA" chant.
"One of their political weapons is 'cancel culture,'" Trump said. "Driving people from their jobs, shaming dissenters and demanding total submission from anyone who disagrees. This is the very definition of totalitarianism. This attack on our liberty, our magnificent liberty, must be stopped and it will be stopped very quickly."
Trump addressed the media and the educational system, and claimed there is a "new far-left fascism that demands absolute allegiance" in schools, boardrooms and newsrooms.
"If you do not speak its language, perform its rituals, recite its mantras and follow its commands, then you will be censored, banished, blacklisted, persecuted and punished," he said. "Make no mistake, the left-wing cultural revolution is designed to overthrow the American revolution."
Trump said he's employed federal law enforcement nationwide to arrest anyone who defaces statues and monuments. Under a new executive order from Trump, people who deface or tear down statues will be faced with a minimum of 10 years in prison.
"And that includes our beautiful Mount Rushmore," he said.
Trump also expressed interest in planting an American flag on Mars with the help of the recently launched Space Force.
Trump began his speech by thanking the armed forces as well as the nation's health care system, who he said are working tirelessly to "kill the virus."
Before Trump's speech, the crowd cheered wildly and gave a standing ovation as he and First Lady Melania Trump walked onstage. Many in the audience were wearing red "Make America Great Again" hats. Some brought homemade signs conveying various messages of support for Trump and his re-election.
Gov. Kristi Noem said she and Trump have been working on bringing the fireworks back to Mount Rushmore even before she was sworn into office.
Noem claims there's an "organized, coordinated campaign" to remove all references to the nation's founding. This line received boos from the crowd. Noem had recently tweeted that Mount Rushmore would not go anywhere or be blown up on her watch as governor.
"Rather than looking to the past to help improve our future, some are trying to wipe away the lessons of history, lessons we should be teaching our children," Noem said. "This approach focuses exclusively on our forefathers' flaws. This is being done deliberately to discredit America's founding principles by discrediting the individuals who formed them."
Her speech was followed by a chant of "USA" from the crowd.
"Let us not destroy history. Let us preserve it," Noem said.
Secretary of the Interior David Bernhardt said the fireworks would not be possible without the help of Trump and Noem.
"Over a decade ago, fireworks illuminated the sky over this memorial, a place that honors our former presidents," he said. "Tonight, they return."
The annual fireworks show was cancelled in 2010 due to concerns of potentially sparking a forest fire, particularly because a pine beetle infestation had killed enough trees to create forest fuel in the Black Hills National Forest.