MANDERSON | The tiny hemp sprouts popping from the ground near Alex White Plume's home this spring are descendants of mature plants seized 16 years ago by federal agents.
"When they cut my crop down," he said last week, "they spread the seeds something awful."
Every year since, White Plume has watched wild hemp poke out of the spring soil, grow to summer maturity, cast off seeds and die.
With each passing season a little more of the hope died that industrial hemp could become a cash crop for White Plume's family, or for other members of the Oglala Sioux Tribe on the poverty-stricken Pine Ridge Indian Reservation in southwestern South Dakota.
Then last Monday, a federal judge lifted a longstanding, one-of-a-kind court order against White Plume's cultivation of the crop. Other legal problems remain in his way, but for the first time in 16 years, hope is springing up with the hemp in the lowlands along Wounded Knee Creek.
"I don't know how to feel yet," White Plume said a day after the ruling, "but it seems like a new day."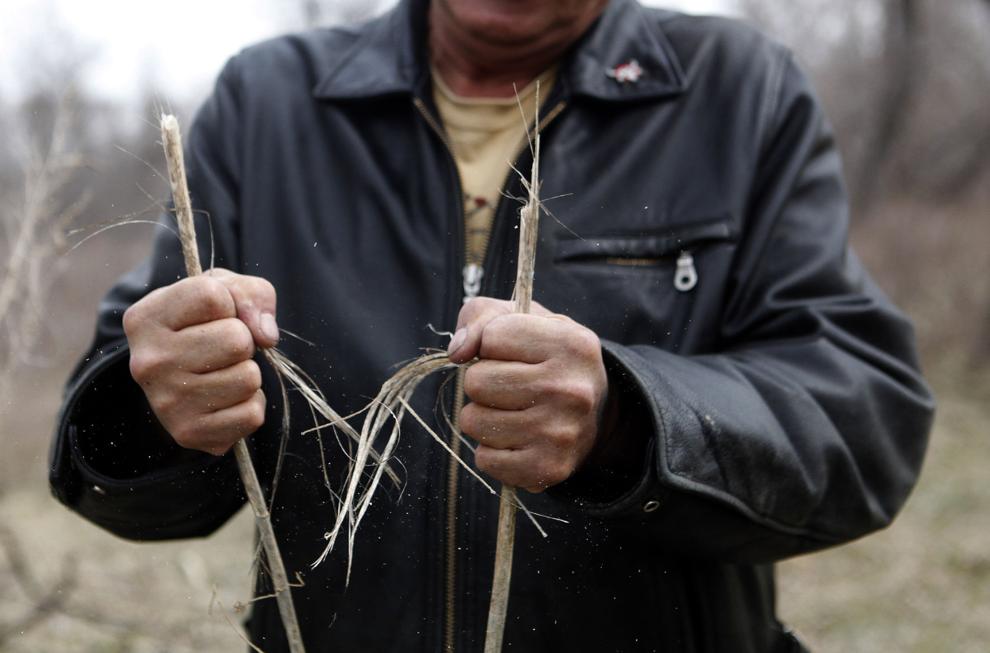 White Plume, 64, had begun to fear he might not live to see industrial hemp grown legally on the reservation.
His dream of becoming a hemp farmer and sparking a reservationwide industry of hemp growers, processors and manufacturers took root almost 20 years ago. In 1998, the Oglala Sioux Tribe, working with White Plume, adopted an ordinance that defined industrial hemp and exempted it from the tribal ban on marijuana.
Hemp and marijuana are varieties of cannabis, but unlike marijuana, industrial hemp does not produce a high when ingested. Industrial hemp's stalks grow straight and tall, and the crop has been used for centuries in an array of products. Modern uses include fabric, food, paper, lotion and biofuel.
1937: Passage of the federal Marijuana Tax Act essentially criminalizes marijuana and casts …
Hemp suffered unjustly, its backers say, from marijuana's criminalization in the 1930s and has never fully recovered. Since 1970, industrial hemp has been regulated by the federal Controlled Substances Act despite containing only a small fraction of the psychoactive substance in marijuana.
Passage of the Act meant prospective hemp growers needed permission from the U.S. Drug Enforcement Administration, which rejected nearly all applications for decades. Hemp products continued to be sold in the United States, but the products were either imported or made from imported hemp.
White Plume saw economic potential in the crop and thought the Oglala Sioux Tribe's sovereign status and hemp ordinance provided a sufficient legal umbrella. He also wryly recalled old government treaty promises of oxen and plows to convert Native Americans into farmers.
"I called the BIA," White Plume recalled with a chuckle, referring to the federal Bureau of Indian Affairs, "and told them I wanted my 'oxen and plows.' But now I wanted them to be tractors instead."
White Plume never got his tractors, and his bet on tribal sovereignty did not pay off.
He did manage to grow a small plot of hand-sewn hemp in 2000, using seeds plucked from wild plants in Nebraska that might have been remnants of government-sponsored hemp grown during the 1940s. Hemp imports ran short during World War II, and increased domestic production was needed to produce twine, rope, thread, parachute webbing and other items for the war effort.
There was no government support for White Plume's venture. He remembers the morning when federal agents with guns, bulletproof vests and dark sunglasses appeared in his hemp plot, about three miles north of Manderson, where he lives with his extended family in modest homes and trailer houses.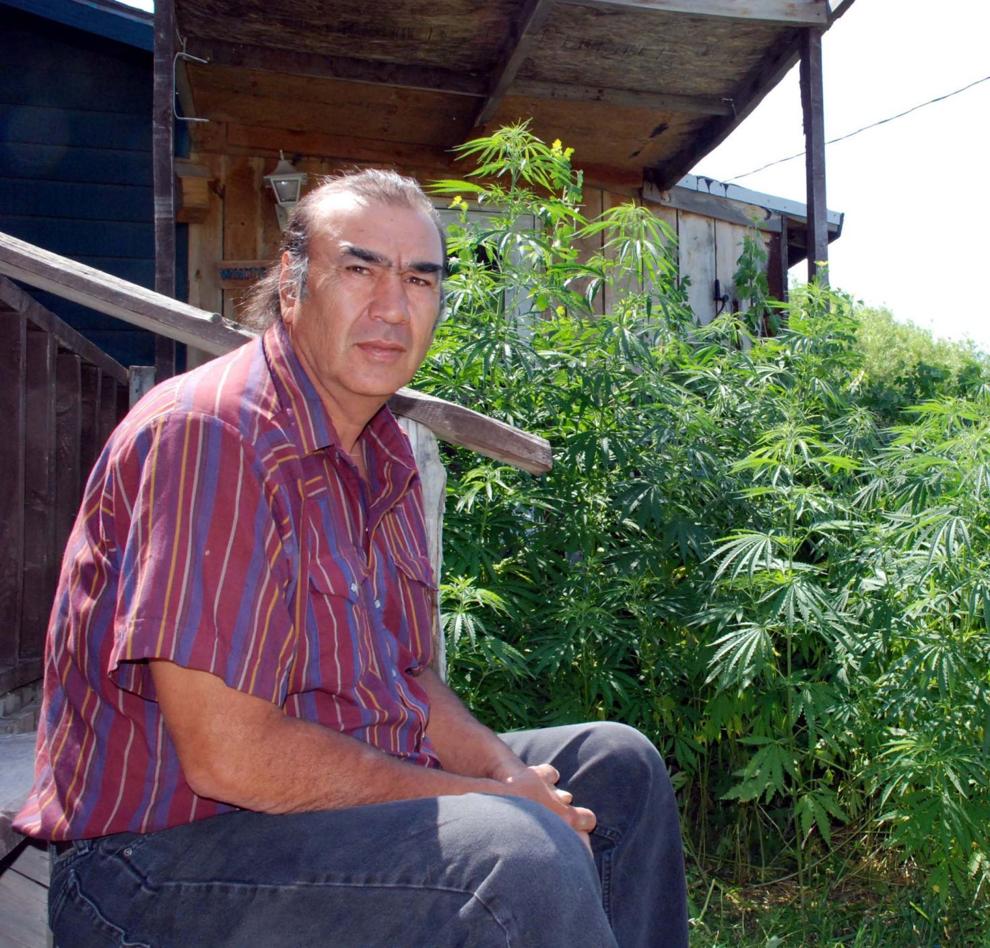 Guns weren't the only weapons the agents carried. They also had mechanized weed-whackers with metal blades, which they used to cut down the hemp plants before hauling them away.
White Plume's family planted another crop in 2001, only to watch the feds cut and seize it again.
In 2002, the White Plumes raised a third crop and conducted a harvest, but days afterward, the federal government sought and ultimately obtained a court order prohibiting the family from cultivating hemp without the DEA's permission. White Plume appealed but lost, and his lawyers have since described the court order as the nation's only such injunction against a specific hemp farmer.
As the years wore on and the court order remained in effect, White Plume tried to raise horses and bison, became embroiled in tribal politics and elections, and otherwise kept himself busy, subsisting on what little money he could scrape together on the mostly jobless reservation.
Meanwhile, the world around him changed. A movement to soften marijuana laws spread like windblown seeds, while laws against industrial hemp remained as frustratingly impenetrable as crusted dirt in an August drought.
But backers of industrial hemp, who had suffered for decades from what they considered their unfair association with marijuana, were hoping to ride marijuana's coattails back into the public's good graces.
The first of many developments that would eventually lead to a rebirth for industrial hemp, and possibly for White Plume's fledgling hemp farm, happened in 2012 when voters in Colorado and Washington approved the legalization of recreational marijuana.
Federal law officers, caught in the awkward position of having to enforce federal anti-marijuana laws in states in which the substance was legalized, needed guidance. That came from then-deputy U.S. Attorney General James Cole, who in 2013 issued what came to be known as the Cole Memorandum, a document outlining a more lenient approach to the enforcement of federal marijuana laws.
Another memo, this one issued in 2014 by Monty Wilkinson, director of the Executive Office for U.S. Attorneys, extended the Cole Memorandum guidelines to federal marijuana enforcement on Native American reservations. 
Also in 2014, hemp enthusiasts won a major political victory.
That year's congressional farm bill, the Agricultural Act of 2014, included a section that allows hemp farming when conducted as a pilot or research project in conjunction with an institution of higher education in a state in which hemp is legalized. Such projects are under way in a number of states, including North Dakota, but not in South Dakota, where hemp-growing remains outlawed.
In the midst of all those heady developments of the past few years, Eric Steenstra, president of a nonprofit, Washington, D.C.-based advocacy group called Vote Hemp, began to worry about Alex White Plume.
The organization had assisted White Plume in his unsuccessful fight with the feds years earlier, and now Steenstra was troubled that one of industrial hemp's pioneering advocates was left behind as the industry charged ahead. The old court order against White Plume meant he could not participate in hemp-growing at all, even in a consulting role.
"We felt it was outrageous that Alex and his family were being so explicitly excluded," Steenstra said.
He called attorney Tim Purdon, with whom Vote Hemp worked years earlier on a failed effort to win rights for hemp farmers in North Dakota. Purdon had gone on to become the U.S. attorney for North Dakota from 2010 to 2015. After he left that job to join the private national firm of Robins Kaplan last year — at the same time as South Dakota's U.S. Attorney Brendan Johnson also resigned and joined the same firm — Steenstra called Purdon to talk about the old court order against White Plume.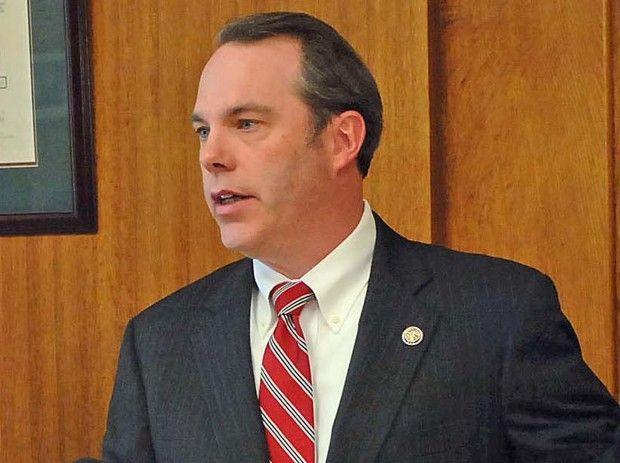 Purdon agreed to help, and Vote Hemp paid $25,000 for the initial work. The money came primarily from Dr. Bronner's, a California company with a mission of producing socially and environmentally responsible products, including soap with hemp oil as an ingredient.
Purdon first tried consulting with the South Dakota U.S. Attorney's Office, now under the direction of Randy Seiler, who worked for Johnson before ascending to the top job. Purdon hoped to persuade Seiler to cooperate in a joint request for the dismissal of the old court order.
Those consultations failed due to a decision handed down from Washington, D.C., Purdon said.
At that point, Purdon agreed to handle the next phase of the work for free. Last July, he filed a motion in Rapid City federal court seeking the dismissal of the White Plume court order.
Monday, Judge Jeffrey Viken granted the motion.
"The court finds there has been a significant shift in the legal landscape," Viken wrote, adding that continued enforcement of the court order would be detrimental to the public interest in industrial hemp production.
The ruling means White Plume is allowed to consult on hemp projects in other states, Purdon said, but the ruling does not mean White Plume can cultivate or harvest his own hemp.
Viken made that abundantly clear by ending his order with three sentences explaining what the order does not do, and he underlined "not" in all three sentences for emphasis: " … this order does not authorize Mr. White Plume to cultivate industrial hemp …" and "... does not resolve whether cultivation of industrial hemp on the Pine Ridge Indian Reservation is legal" and "... does not resolve whether the Agricultural Act of 2014 authorizes cultivation of industrial hemp on the Pine Ridge Indian Reservation."
Viken's "nots" previewed the questions that White Plume faces next. Specifically, he needs to know whether tribes can assert the same rights as states under the 2014 farm bill, which allows hemp farming only in states with enabling laws and only if the farming is conducted as a pilot or research project in cooperation with an institution of higher education.
South Dakota has not legalized the farming of industrial hemp. It came close this past winter when a hemp-legalization bill passed the state House of Representatives by a vote of 57-11, but a motion to pass the bill out of a Senate committee failed 5-4.
The question of whether tribes can act like states under the 2014 farm bill could be answered by a case in Wisconsin, where Purdon is representing the Menominee Indian Tribe in a lawsuit against the federal government for seizing hemp grown on tribal land. A favorable ruling in that case would presumably mean that White Plume, too, could use the cover of tribal law to start a hemp-growing project with Oglala Lakota College, for example.
So, it might be a while before White Plume can plant and harvest hemp. For now he is sustained by memories of years ago, when some of his plants grew to more than 20 feet tall and deer blazed maze-like paths through the crop on their way to the creek.
White Plume sometimes took his rocking chair out to sit in those trampled spaces, where he said the hemp's natural insect-repelling properties kept mosquitoes and flies away.
Reminiscing about the peacefulness of those days reminded him why he still harbors dreams of a thriving hemp field.
"It's going to be thriving again," he said. "Maybe next year."