South Dakota is perhaps more popularly associated with jackrabbits now than ever before, thanks to the recent advancement of South Dakota State University's basketball teams into the NCAA tournaments.
But while images of SDSU's Jackrabbit mascot proliferated on television screens this month, a research paper about the decline of actual jackrabbits was quietly accepted for publication in the European Journal of Biological Research.
The paper, by a professor from a state university whose teams have a different nickname, begins with a declaration likely to surprise people in historically jackrabbit-rich South Dakota.
"A decline of the white-tailed jackrabbit," the paper says, "has been occurring throughout the species' natural range."
The decline has been so pronounced in Iowa that in 2010, an annual roadside wildlife survey covering more than 6,000 miles turned up no jackrabbits at all. As a result of that finding, Iowa closed its annual open season on jackrabbits in 2011 and still does not allow jackrabbit hunting. In neighboring Nebraska, low jackrabbit numbers have led officials to stop jackrabbit hunting in the easternmost part of the state.
Jackrabbit sightings remain common throughout South Dakota, but less so than in decades past, when rural people sometimes gathered socially to hunt the animals by the dozen for pelts and meat and to limit their damage to crops.
White-tailed jackrabbits can measure up to 2 feet in length with 4-inch ears and gray-brown fur that turns white during the winter. The trait that won white-tailed jackrabbits the honor of SDSU mascot was likely their surprising athletic ability, which includes bursts of speed up to 40 mph and leaps of greater than 10 feet.
Concern about declining jackrabbit numbers is not yet grave among wildlife managers in South Dakota, where the animal is classified as a varmint. Licenses are required for adults to hunt jackrabbits, but the season is year-round, and there is no limit on the number a hunter can kill.
There was, however, enough curiosity about dwindling numbers by the mid-2000s that an SDSU professor and graduate student conducted the only modern scientific survey of South Dakota's jackrabbit population as part of a broader study of jackrabbit ecology.
Among other findings, the survey showed that an area including part of Brookings County, home of SDSU and its Jackrabbit athletic teams, had the fifth-lowest density of jackrabbits among 21 survey areas statewide.
Since then, there has been little study of white-tailed jackrabbits in South Dakota.
Mines instructor gets involved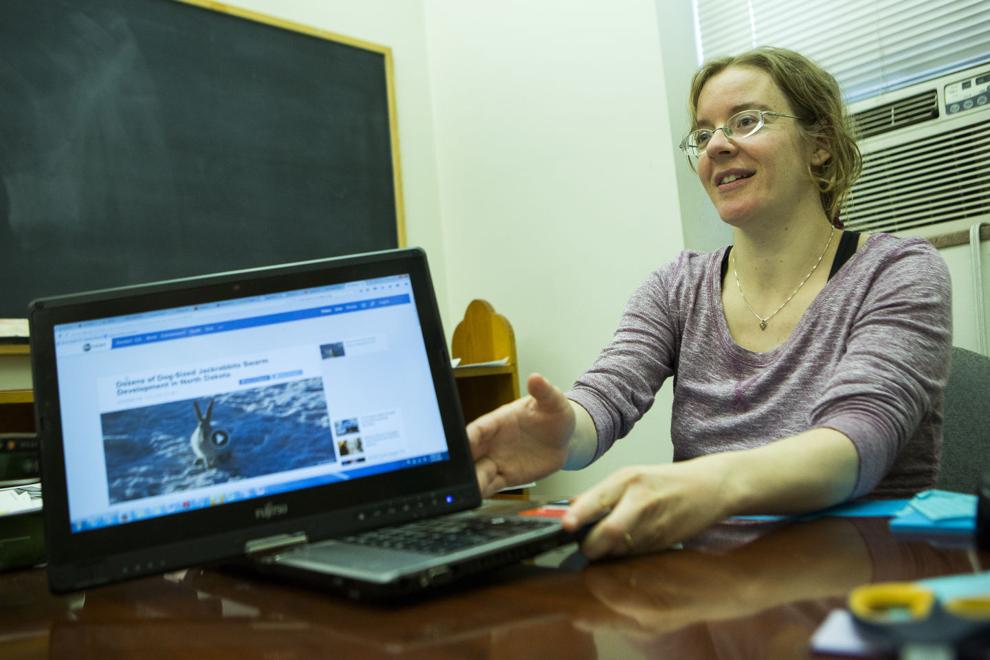 Enter Kelsey Gilcrease, an instructor at the South Dakota School of Mines & Technology in Rapid City (teams' nicknames: Hardrockers), who developed a love of rabbits and hares — jackrabbits technically belong to the latter group — during her childhood in Iowa and Minnesota. She is the principal author of the article on white-tailed jackrabbits recently published in the European Journal of Biological Research. 
While working toward her undergraduate degree at the University of Minnesota, she wondered why there were lots of jackrabbits in the southwest corner of that state but not many in other parts of the state. More broadly, she wondered why places with seemingly similar habitats might have lots of jackrabbits or none at all.
That curiosity stayed with her as she earned a master's degree and researched koalas at the University of Queensland in Australia. After she got a job in 2009 with the Chemistry and Applied Biological Sciences Department at Mines — where her office is adorned with a framed photo of a jackrabbit — she began to investigate anecdotal evidence of declining jackrabbit numbers in South Dakota.
Using existing research and jackrabbit-population surveys, she colored a map of the United States to illustrate the changing range of white-tailed jackrabbits. The map shows a range that is basically collapsing into the Northern Plains as numbers decline in states to the east, south and west.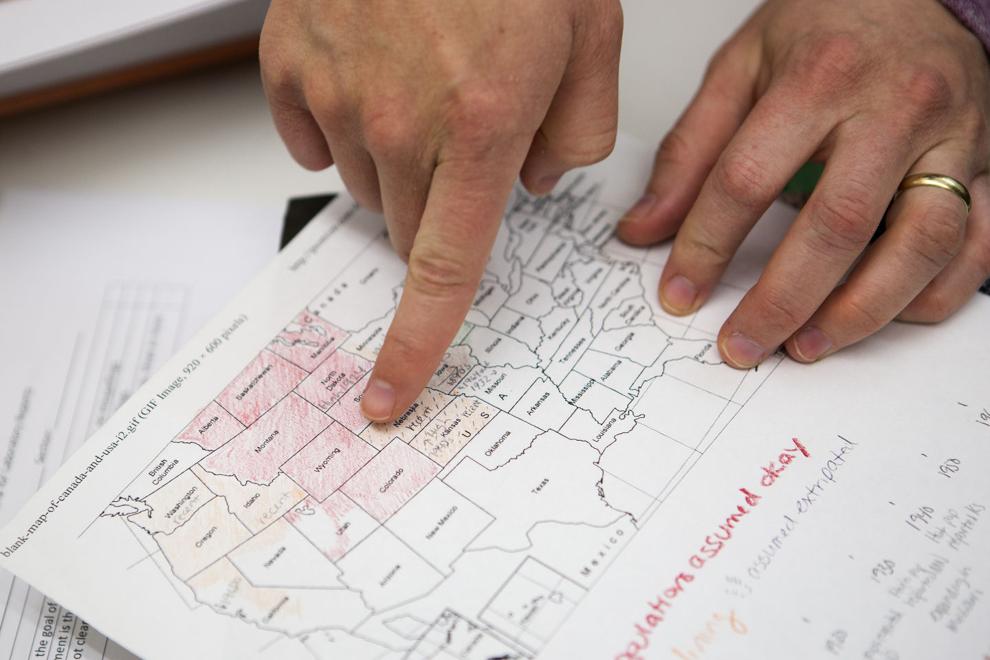 Besides Iowa and Nebraska, additional states including Oregon and Washington have also curtailed jackrabbit hunting in response to falling numbers, according to an overview of jackrabbit research published last year in the Western North American Naturalist journal. That same overview noted that white-tailed jackrabbits have become rare or even nonexistent in areas of Kansas, Missouri and Colorado.
"Although there haven't been any recent South Dakota population studies done, our state is still presumed OK," Gilcrease said. "So it makes it a perfect study place."
Research into the causes of declining jackrabbit numbers is still in its infancy, but Gilcrease said existing studies seem to show no strong link to obvious potential causes including weather, predators and parasites.
"It must be something that we can't visibly see," Gilcrease said.
She began to wonder about soil and vegetation, and whether there might be variations in chemistry, microbial content or nutrients affecting the diet of jackrabbits and either attracting or repelling them.
So she devised a research project, recruited student helpers and obtained a $1,000 grant from the Sophie Danforth Conservation Biology Fund at Roger Williams Park Zoo in Rhode Island. The project involved collecting and analyzing soil and vegetation at various sites in western and central South Dakota.
Her results are the core of the paper in the European Journal.
One of the primary findings was an apparent jackrabbit preference for clay soils. Since clay soil is very chemically active, Gilcrease wonders if the microbes in the soil could be attracting jackrabbits to consume the vegetation that grows there.
Further research over a broader area could help determine if she's right, and whether changes to soil conditions within the traditional range of jackrabbits might be contributing to their declining numbers.
Soil conditions can be altered by changing land uses, including the conversion of grassland to farming, which has been widely blamed for a loss of jackrabbit habitat.
Yet some farming seems to positively influence jackrabbit numbers. Last year's journal article in the Western North American Naturalist acknowledged that the conversion of grassland to farming has resulted in declining jackrabbit numbers, but the clearing of shrubland and forests for agriculture has brought some jackrabbits into areas where they were previously absent.
Jackrabbits studying jackrabbits
Gilcrease's work builds on earlier work by Charles Dieter, the SDSU professor who conducted the jackrabbit survey in 2004 and 2005 with then-graduate student Dustin Schaible. The painstaking and time-consuming nature of the survey, as described in the fall 2014 edition of Great Plains Research, may offer some clues about why it's only been done once.
Dieter and Schaible selected 21 areas throughout the state and developed 40-mile driving routes in each area. Teams of three drove the routes during the spring and fall of 2004 and 2005, starting one hour after sunset when jackrabbits are more active and using 12-volt spotlights to illuminate jackrabbits and reflect off their eyes. The teams drove 10 to 20 mph, slowing down in areas with heavier cover, using binoculars when necessary and counting all the jackrabbits they saw.
They observed at least some white-tailed jackrabbits in all 21 areas, while the animal's smaller cousin, the black-tailed jackrabbit, which has traditionally ranged farther west and south, was spotted in just one area of south-central South Dakota in Tripp and Gregory counties.
The biggest population of jackrabbits, by far, was in an area of northwestern South Dakota in Harding and Butte counties where there were about 70 jackrabbits per square mile. Dieter and Schaible noted that northwestern South Dakota is an ideal jackrabbit habitat consisting of grass, sagebrush, minimal farming and lots of coyote control.
The smallest population of jackrabbits was in southwest South Dakota in Oglala Lakota and Bennett counties, where there was about one jackrabbit per square mile. Dieter and Schaible found that puzzling, since there is ample grassy habitat there.
In jackrabbit research, puzzlement is common. Amid the broad decline in jackrabbit numbers, for example, there are also localized explosions in jackrabbit populations, like one noted last month in Fargo, N.D., where dozens of jackrabbits invaded a newly developed residential neighborhood.
Gilcrease hopes further research will pinpoint the causes of jackrabbit population shifts. Understanding the fate of jackrabbits, she said, is an important part of understanding broader ecological changes.
While jackrabbits have long been considered a pest by some South Dakotans, the animals are an important food source for other wildlife, including eagles and other raptors, plus coyotes, bobcats and even snakes.
"If something's happening to something as big as a jackrabbit," Gilcrease said, "you think about what could be next — what other animals might be affected."