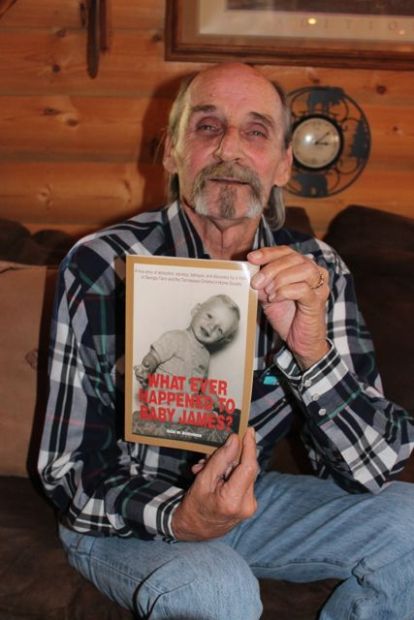 HOT SPRINGS | Don Boehner didn't die as an infant in 1949 as authorities at the Wright's Clinic in Jasper, Tenn., had told his birth mother.
Born James Arnold Bowman, he was secretly adopted, given a new name and raised as a member of the Boehner family in California.
Boehner, 65, said he spent years searching for the truth about his birth. According to records he found, his birth date is May 8, 1949, and his parents were Flossie Bowman and Arnold Lafayette Griffith.
The original records had a different father's name, but through investigation and DNA tests Boehner was able to discover the name of his birth father.
Now, the Hot Springs man has written a book telling the story of his investigation into his own "death" titled "What Ever Happened to Baby James?"
"I did not know who my birth parents were until 2008," Boehner said. "No one ever asked, 'whatever happened to Baby James?'"
Growing up in California, Boehner attended The College of Sequoias in Visalia, majoring in political science. He was sworn into the U.S. Army in December 1968 and served with the 1/69th Armor as a scout in An Khe, South Vietnam. He earned the Purple Heart and the Bronze Star.
After Vietnam, he was accepted into military intelligence in 1970 and became a special agent assigned to the Resident Office in Lincoln, Neb. He left the military in 1973 and returned to California, where he established his law enforcement career. For the past nine years, he and his wife, Lucretia, have lived in rural Hot Springs.
Boehner was a sickly infant and when his mother took him to the Wright's Clinic in December 1949 with an acute stomach ailment. Baby "spotters" then decided he was desirable for adoption because of his blue eyes and blond hair. They took James away to an orphanage called the Tennessee Children's Home Society (TCHS) in Memphis.
In the meantime, the infant's mother was told he had died and that clinic personnel would take care of his remains.
According to Boehner, Wright's Clinic was in cahoots with Beulah George "Georgia" Tann, who ran the Tennessee Children's Home Society. Tann had developed a lucrative business of adopting babies to couples who were willing to pay large amounts of money.
Boehner's adoptive parents, Walter and Sidonia Boehner, then of Los Angeles, paid Tann $5,000 in 1949.
When he was seven years old, one of his cousins was visiting and told him he was adopted. Even after he found this out, he said his parents refused to give him any further information about his birth.
Boehner said they resented him asking about his birth parents and as he grew up they began to resent him for not being their natural son.
In 2008, Boehner's daughter found adoption papers that sent him on the long trail to discovering his roots.
In his book, he goes into more detail about his investigation and his joyful reunion with his birth families. He found out who his natural parents were two days before he turned 60. He also goes into detail about the corruption of the Tennessee Children's Home Society and the many children's lives that were drastically changed or tragically ended because of the corruption, even to the point of adoption laws being changed to suit the purposes of the home society.
"It's something that shouldn't be forgotten," Boehner said." It's such a terrible thing.
"I wrote the book so the story will be remembered, to tell about the investigation into my own death and to present the book to people in authority."
He has sent the book to attorneys and senators hoping to "make it right," he said.