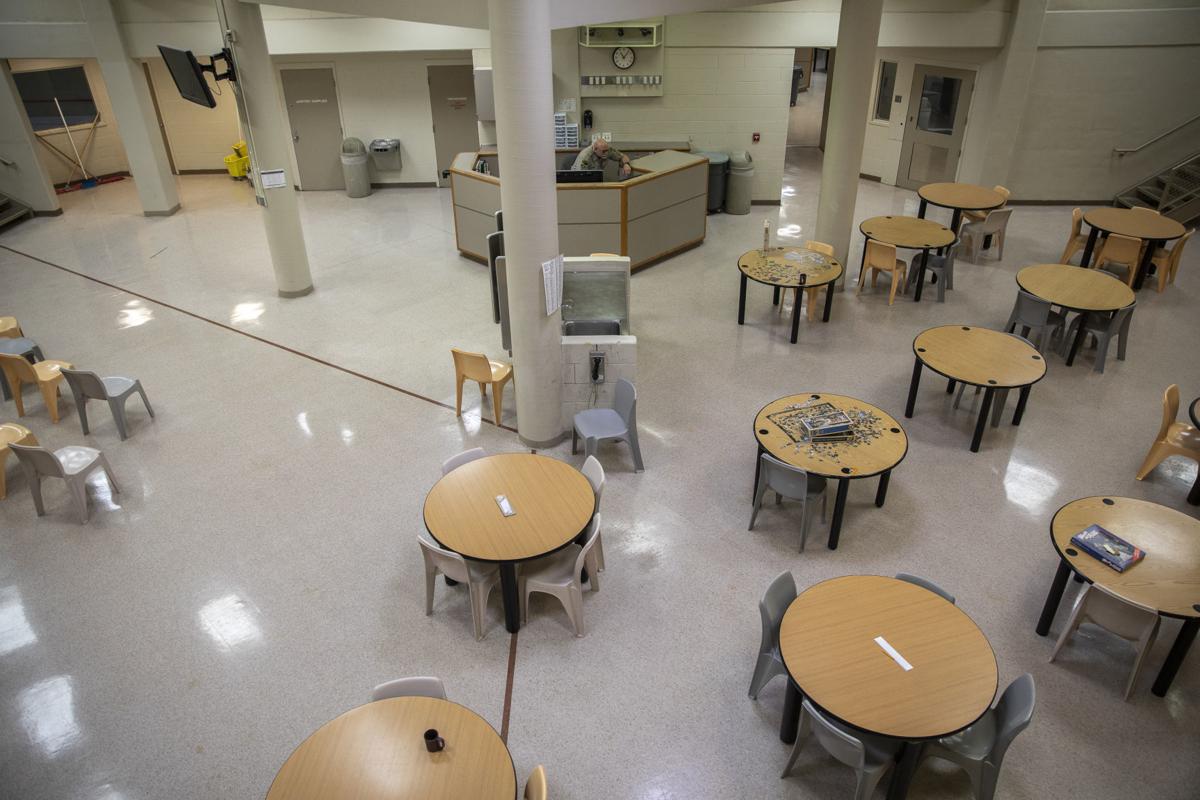 Inmates at the Pennington County Jail say there's no way they can protect themselves from the coronavirus as much as those in the outside world can due to the nature of detention facilities.
"There's no way for us to feel safe," said Vincent Cruz, 43. There's a "greater risk for us contracting the virus and spreading it" since we live in close quarters and have staff and new inmates coming in and out of the jail.
"We watch the news in here" and experts say to stay away from each other but "there's no way to be six feet apart from someone in here," said Philip Reynolds, 41. "If one person gets it in one area, we're basically all going to get it."
Jail staff is "trying to minimize us getting the corona" and have done some deep cleaning, said an inmate who didn't want to be named. Despite those precautions, the man said, he's still concerned that a corrections officer or new inmate could bring in the virus.
The Journal spoke with five inmates in the Pennington County Jail and confirmed their identities — including two who didn't want to be named— by looking their names up on the jail website.
Four of men are pre-trial defendants while one has been convicted and appears to be awaiting transfer to a federal prison, according to the jail website and court records. Three of those awaiting trail are facing state charges while the fourth has a federal charge.
Inmates are encouraged to submit formal complaints they have about jail policies and conditions, said spokeswoman Helene Duhamel.
"Should inmates feel they have insufficient access to hygiene items or legal resources, there is a mechanism for relief," she said. "Every community concern is considered and is an opportunity to review issues to meet our continued goal of operating in line with best correctional practices."
All five of the men told the Journal that while they have access to free soap in the showers and the common area, they haven't been given free soap to keep in their cells, where they have a sink.
One inmate, who didn't want to be named, said he paid $6 to buy soap for his cell.
"It shouldn't cost that much" for a bar of soap, he said.
Instead of buying soap, 37-year-old Les White Calf got creative.
White Calf says that he pumps some of the soap from the common room into a plastic cup to keep in his cell and use throughout the day.
Duhamel confirmed that there's no free soap dispensers or bars in the cell but said inmates can do what White Calf does with the small cups.
"This practice is currently occurring," she said.
The five men also said that while they have paper towels to dry their hands and cleaning wipes to sanitize common areas, the products sometimes run out and aren't replaced for hours or days — even before the COVID-19 outbreak.
"Hygiene wipes and paper towels are supplied daily," Duhamel said. "There may be short periods of time when these supplies run out and need to be restocked."
A man who didn't want to be named said he would like to have Lysol products to clean his cell and hand sanitizer, but inmates can't have the latter since there's alcohol in it. The man says he tries to keep calm about COVID-19 by ignoring rumors he hears from other inmates, and only trusting what he reads or hears on the news.
He said he enjoys group programming at the jail and while an Alcoholics Anonymous group met recently, he's noticed that clergy aren't coming in as often.
"Clergy and volunteers are still doing programming in the jail, however, numbers have been significantly reduced and we are developing screening criteria for volunteers entering the facility," Duhamel said.
White Calf says he feels the jail isn't doing anything to protect inmates, that he wishes he had hand sanitizer, and has asked corrections officers not to give him a roommate who was recently booked into jail.
"It's scary, depressing, I'm worried about the situation," he said.
He said he understands the woman needed to be arrested but wishes she hadn't been detained in a jail.
"I can't believe they would do something like that," Cruz said. "You're bringing something that could have possibly infected a lot of inmates," he said.
Cruz said corrections officers wear masks and gloves when handling food, but that a nurse who recently visited his block wasn't wearing any protective gear. And he said a new inmate told him that booking staff aren't wearing masks. Cruz said that he'd like to have more access to cleaning supplies.
Reynolds also feels the jail isn't doing enough to protect inmates, so he tries to stay safe by keeping away from new inmates who are assigned to his block.
"I try to stay away from all the newer people coming in" in case they have the virus, he said.
Reynolds said he'd like to have his own soap, gloves and cleaning supplies, plus Vitamin C and fresh fruit to keep his immune system healthy.
"Give us a fighting chance," he said, adding that he understands the jail can't release everyone.
Reynolds said that while he's worried for himself, he's most concerned about not being able to support his wife and five children.
Another inmate who didn't want to be named said the jail is "pretty much business as usual" and there's plenty of toilet paper to go around. 
"The close quarters are what everybody is concerned about and the recycled air," the man said. "There's a lot of people that could be released" but otherwise "I'm not sure there's anything they can do," to make it safe.
The man said he wants the outside world to know he's praying for them and that they should take precautions against COVID-19.
"Hopefully we can all get through this with the least amount of fatalities," he said.
The criminal justice system in Pennington County is purposely trying to decrease the jail population to prevent COVID-19 and prepare space in case an inmate needs to be quarantined, the Journal previously reported. It's doing this through reviewing bonds, focusing on processing the cases of detained defendants over those who are out in the community, and through other measures. 
Prosecutors aren't looking to let out defendants with multiple DUIs, a history of violent behavior, or those who are accused of a violent or sex crime, State's Attorney Mark Vargo told the Journal. But prosecutors are wiling to ask for lower or no bonds for those who failed to appear in court or broke multiple non-violent probation rules.
The three state inmates interviewed by the Journal fall into the former categories so likely won't be released before pre-trial. 
The jail had 582 inmates on March 11 and 475 inmates by Friday morning, an 18% decrease, according to data from the sheriff's office. 
However, these jail reduction efforts only apply to state inmates, not federal ones who make up about a third of the jail's population. Cruz, who's charged in federal court with selling meth, said this is unfair since they're all at the same risk of contacting the virus. 
Jeffrey Viken, the judge based at the federal court in Rapid City, says federal judges in the state have no formal policy to re-evaluate release conditions for incarcerated federal defendants due to coronavirus.
"Discretion resides with the magistrate judges and district judges on the basis of circumstances in individual cases, as always," he wrote in an email.
While there's no formal review plan, defendants and their lawyers can still ask a judge to reconsider their detention. 
U.S. Attorney General Bill Barr said the Bureau of Prisons will release some of its oldest and most at-risk inmates, according to a March 26 NPR article. But that doesn't apply to pre-trial federal defendants in local jails.
White Calf was sentenced last month to spend four months in a federal prison for violating conditions of his supervised release. Once he and new inmates enter the BOP, they will have their temperatures checked and be quarantined for two weeks, Barr said.