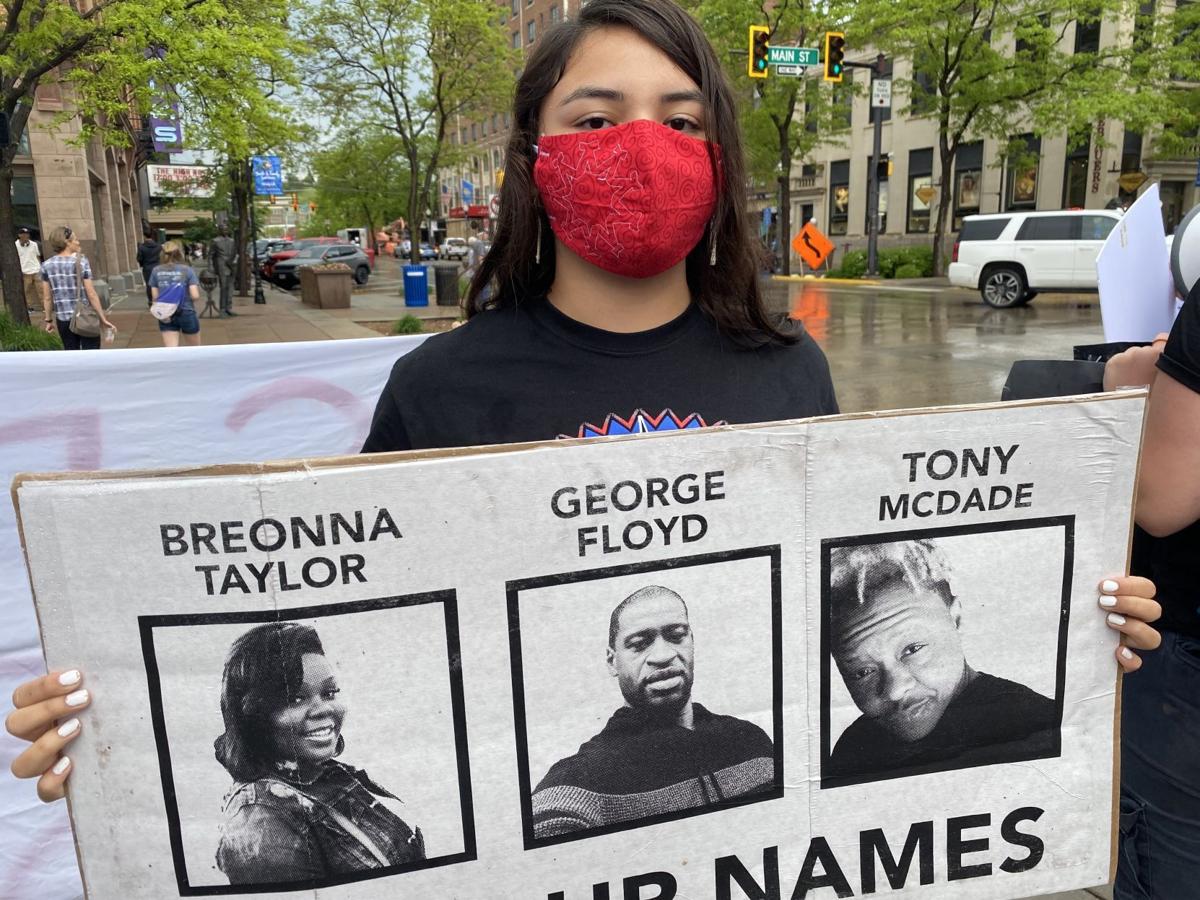 A correctional officer with the Pennington County Jail has been disciplined and a contractor with the Attorney General's Office no longer works there due to social media comments they made in the wake of George Floyd's death in Minneapolis. 
Black Lives Matter protests have occurred across the country, including in Rapid City, after video emerged showing a now-fired police officer pressing his knee against Floyd's neck for nearly nine minutes. The former officer is charged with second-degree murder while three others are charged with aiding and abetting.
The correctional officer used derogatory language about developmentally disabled people, wrote that inmates often lie about not being able to breathe, and said Floyd's death was "his own damn fault." The contractor wrote racist and violent comments against African-Americans on a live feed of a Black Lives Matter protest.
"We denounce the statements and don't condone them at all," Sheriff Kevin Thom said of the comments from the correctional officer. 
Thom said he decided to discipline rather than fire the employee because she has a good track record, her behavior is monitored by video cameras and supervisors, and he expects she can make changes after being disciplined. He did not disclose how she was disciplined, saying it was a personnel matter. 
Tim Bormann, spokesman for the Attorney General's Office, told the Journal that the contractor no longer worked for them as of Tuesday, the day the office was contacted about her posts. He would not say if she resigned or was fired. 
Tessa Mitchell, the former contractor, could not be reached by the Journal, but she contacted the Pierre Capitol Journal on Friday to confirm she was the one who wrote on a joint Facebook account: "This is why many of us don't trust black people … look at what your people are doing to everyone. Right now I could care less if they all got shot."
Mitchell told the Pierre newspaper that she resigned two weeks before writing the comment. 
"Freedom of speech is not for everyone, I guess," she said. 
A reader contacted the Journal on May 27 about numerous Facebook comments written by Kathleen Burns, whose Facebook page said she worked at the Pennington County Sheriff's Office. Burns has since changed her profile name and deleted the workplace. 
Burns wrote her comments on May 26 while responding to a meme from a Facebook friend that said "what kneeling offends you more" over images of a kneeling Colin Kaepernick and former officer Derek Chauvin who was pressing his knee into Floyd's neck.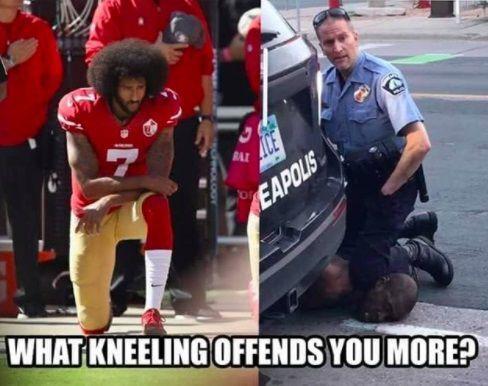 Burns twice referred to Kaepernick — a Black Lives Matter activist who knelt during the national anthem when he was a quarterback in the National Football League. She said Kaepernick was disrespecting the flag and should use "his millions toward helping something or someone."
Kaepernick has in fact helped others, according to published reports. He donated $1 million to various charities and $100,000 to COVID-19 relief, set up a legal defense fund for Minneapolis protesters and created a Know Your Rights Camp, according to a June 3 article on sportscasting.com.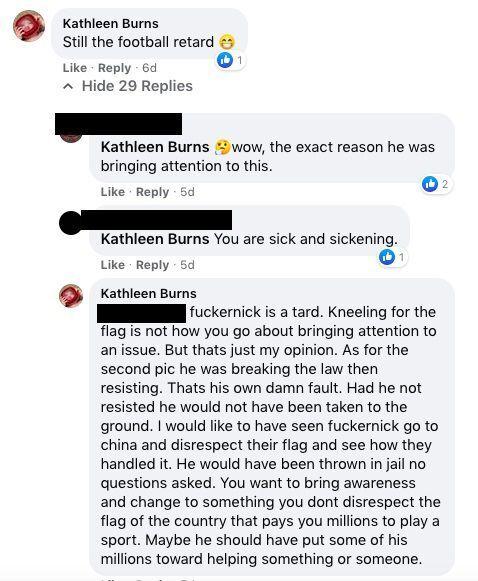 Burns also wrote that Floyd "was breaking the law then resisting. That's his own damn fault. Had he not resisted he would not have been taken to the ground."
Commenters responded that Floyd had only been accused of breaking the law and was not resisting.
Burns later acknowledged Floyd "wasn't combative" but said he was "still not completely cooperative."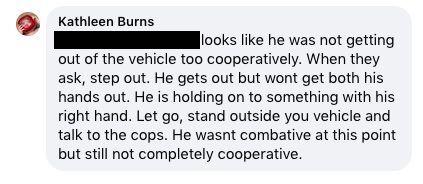 She also dismissed commenters' points about how Floyd was telling the officers he couldn't breathe.
"You know how many people we get that are yelling and screaming" that same thing, Burns asked. "Plenty. And I guarantee they are breathing just fine because they are still yelling and screaming at the top of their lungs at us."
"People will say a lot of things to try and get out of trouble," Burns continued. "We have people claiming to have coronavirus thinking it will keep them from going to jail."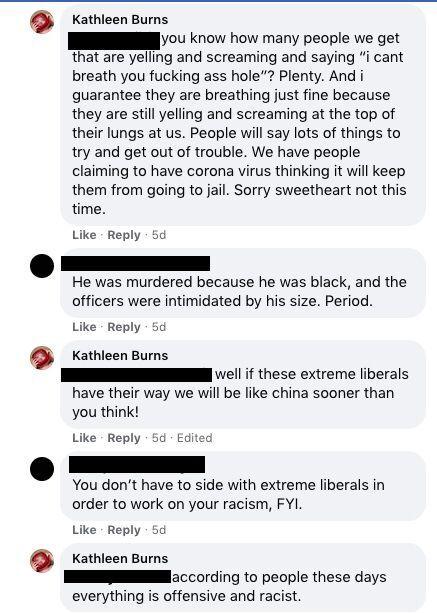 Burns' comments violated social media policy, Thom told the Journal.
"We immediately took action on it" by disciplining her and reminding all employees about the policy, he said. "I feel like we've aggressively addressed it."
At least two readers contacted the Journal on Tuesday morning to share a screenshot of a comment posted on a live feed of an out-of-state protest from a profile called "Allen-Tessa Mitchell."
"This is why many of us don't trust black people … look at what your people are doing to everyone," the post says. "Right now I could care less if they all got shot."
The now-deleted profile of Allen-Tessa Mitchell — which appears to have been a shared profile between Allen and Tessa Mitchell — had photos of Tessa Mitchell wearing a uniform from the Rapid City Police Department, where she previously work as an officer at North Middle School.
Mitchell was listed under that position on the department's website earlier this week, but spokesman Brendyn Medina said the website was outdated and Mitchell hasn't worked there since 2016.
The Journal then learned through a newspaper article, an annual report, and Mitchell's LinkedIn page that she worked as a contract coordinator for the Crisis Intervention Team (CIT), which is under the Law Enforcement Training branch of the Attorney General's Office.
The Journal emailed the Attorney General's Office asking if it was aware of the Facebook post, if they knew if it was Tessa or Allen who wrote it, and if there would be any disciplinary action.
Bormann said Mitchell began her contract position a little over a year ago. He said the office learned about the Facebook post on Tuesday afternoon and as of that date she was no longer employed with the Attorney General's Office.
Citing personnel confidentiality, Bormann would not say whether Mitchell resigned or was fired, or whether it was Tessa or Allen who wrote the post.
The Facebook comment "led to the result that we have" now, he said.
Get local news delivered to your inbox!
Subscribe to our Daily Headlines newsletter.