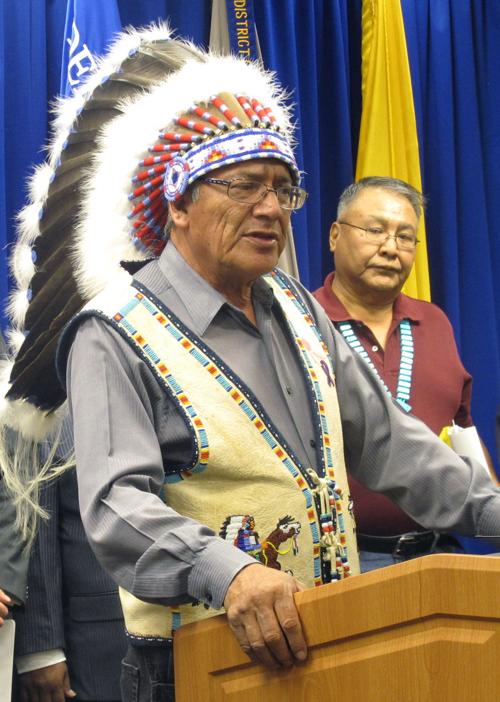 A judge has approved a nearly $1 billion settlement between the Obama administration and Native American tribes over a decades-old claim that the government shorted tribes on contracts to manage education, law enforcement and other federal services.
Attorneys for the tribes learned Wednesday that a federal judge in Albuquerque approved the agreement, some five months after federal officials and tribal leaders announced they had reached a deal to settle the class-action lawsuit for $940 million.
The judge's approval of the settlement filed late Tuesday starts a process to release payment to the tribes that Michael Gross, an attorney for the tribes, said could take several months. The ruling also authorized $1.2 million in attorneys' fees.
Some underfunded federal contracts dated as far back as the 1970s, when a federal policy change allowed tribes to gain more oversight of Bureau of Indian Affairs programs meant to fulfill government obligations established through treaties and other agreements.
Val Panteah, governor of Zuni Pueblo, said his community faced "a financial death spiral" in eastern New Mexico as it tried to offset losses from the contracts. Other tribal leaders described how underfunded contracts raised the potential for them to face financial shortfalls as they tried to meet critical needs.
The case was first filed in 1990 by the Ramah Navajo Chapter, a small community of about 4,000 people in western New Mexico that became the lead plaintiff in the case, along with the Oglala Sioux Tribe in South Dakota and Zuni Pueblo. They claimed they were shorted on administrative support costs to oversee and carry out Bureau of Indian Affairs contracts.
In 2012, the case went before the U.S. Supreme Court, with justices siding with the tribes and sending the case back to the lower courts before the Interior Department announced a proposed settlement in September.
Nearly 700 tribes or tribal agencies are expected to claim compensation, with amounts ranging from $8,000 for some Alaska Native villages and tribes elsewhere to $58 million for the Navajo Nation.