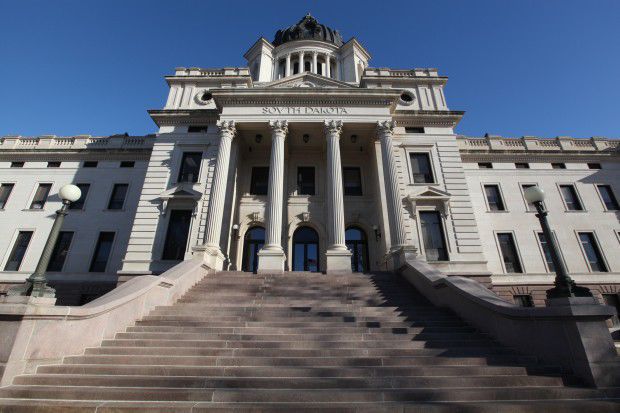 PIERRE | South Dakota lawmakers and their staff attended sexual harassment training Wednesday after news reports about women who experienced sexism and harassment around the statehouse.
The training was required for legislative employees. Leaders had said all lawmakers were expected to attend, but it wasn't mandatory.
"There's really no ability for us to make attendance here mandatory," Senate Majority Leader Blake Curd said. "We're all elected to serve our districts, and we participate where we see fit, but I think for the most part everybody was here."
The afternoon ethics, professionalism and sexual harassment training from the National Conference of State Legislatures addressed topics including state and federal law and the South Dakota Legislature's joint rules. It was provided for free, Legislative Research Council Director Jason Hancock said in an email.
Republican Sen. Deb Peters, who helped bring the training to South Dakota, said her goal was to make sure lawmakers keep the issues of ethics, civility and sexual harassment at the forefront of their thoughts. But Peters said she hasn't seen sexual harassment at the Legislature.
"It's just important that we keep it on the forefront of the conversation and we ensure that everybody feels safe in the workplace," Peters said.
A state lawmaker who admitted to having sexual contact with two interns resigned last year. Citing poor health, a former legislator named to the state Board of Pardons and Paroles withdrew from consideration in December after a past lobbyist accused him of sexual harassment. He criticized the allegations as "false attacks" leveled for political gain.
In October, a former state senator came forward with her story of sexual harassment by an ex-House majority leader and a lobbyist shared her story of being raped.
Some lawmakers declined to go to the training. Sitting at her desk on the state House floor while it was occurring, Republican Rep. Marli Wiese said she had "issues that just precluded me from attending." GOP Rep. Lance Carson, also at his desk, said he had previously went through sexual harassment training. It wasn't clear if Republican Sen. Neal Tapio, who didn't immediately return a telephone message from The Associated Press, attended the training.
Carson said that if someone is smart enough to get elected to the Legislature, they're "smart enough to know what's right and what's wrong."
Republican Rep. Elizabeth May said the training wasn't a good use of her time, but she came because she didn't want to let her leadership down.
"This is not a serious issue because there's not a problem," May said. "I have serious issues to deal with, and this is not one of them."
Senate President Pro Tempore Brock Greenfield, a Republican, disagreed.
"Anybody who's been around in the last year who says it wasn't worthwhile, they need to do a serious check as to what their attitude is," Greenfield said. "I take it too seriously to be dismissive and say, 'What a waste of time.'"
LEAD South Dakota, a nonprofit group that encourages women to enter politics, said in a statement that it hopes the training is the start of making the legislative session safer and more inclusive for women.
"This training is a good first step, but it can't be the last," LEAD Co-Chair Susan Kroger said. "Real change for this issue comes from dismantling the permissive culture in Pierre and electing new leaders to office."
Greenfield is going to appoint a legislative group to look at current anti-harassment policies, changes proposed by a Democratic lawmaker and issues proposed by others.
Democratic Sen. Billie Sutton had proposed changes that would require nonpartisan legislative staff to conduct investigations into harassment allegations. The proposed rules would apply to the harassment of legislators, lobbyists, interns, pages and legislative employees by people holding those positions.