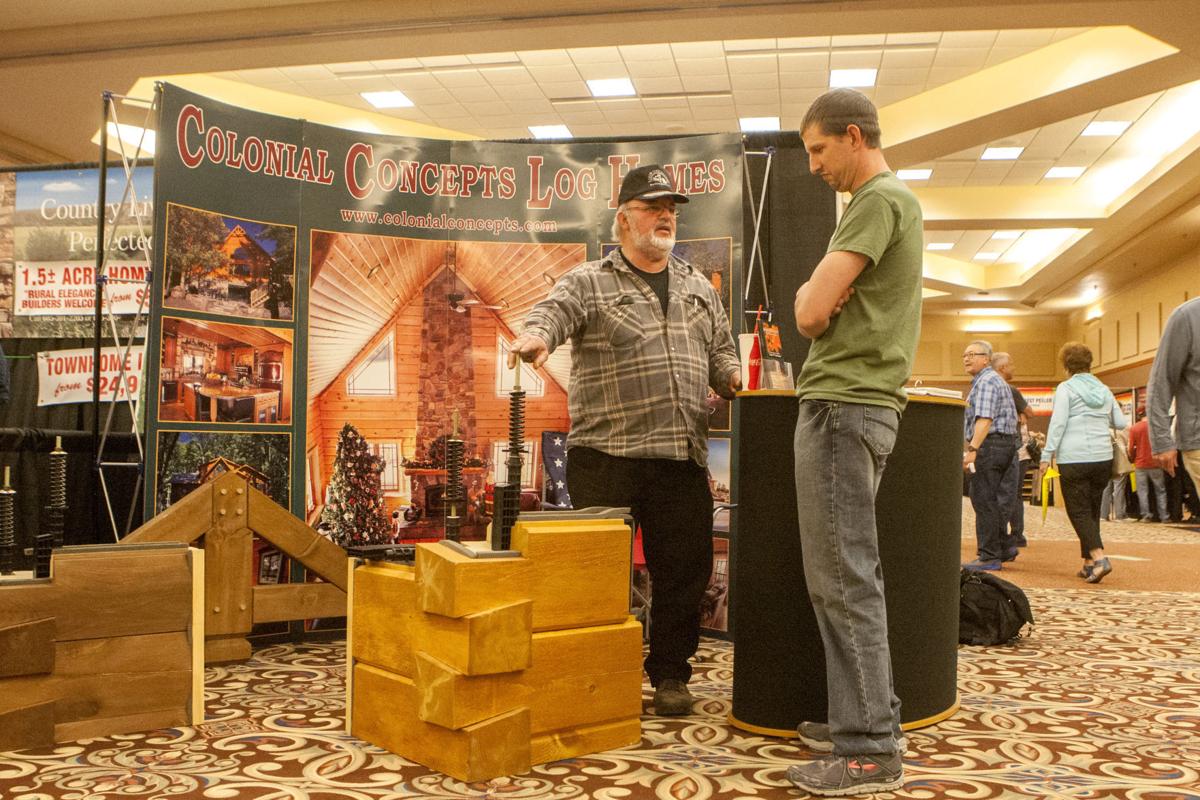 Heath Keffeler was at the annual Black Hills Home Builders Association Home Show on Saturday to attract customers for his cabinetry business, as well as to get a feel for the latest trends in homes. 
The 15-year construction industry veteran said he's seen an increase this year in the number of vendors who build log homes, in particular. 
The association's 43rd annual home show, at Rushmore Plaza Civic Center this weekend, offers a wide variety of goods and services, including flagpoles, fire pits, new home construction and foundation repair.
The event continues from 10 a.m. to 4 p.m. today.
With more than 8,000 visitors expected over the weekend, the event showcases big trends toward energy efficiency, do-it-yourself projects and specialty products with time-honored appeal, such as log homes and rustic furniture.
Keffeler said he has always wanted a log home for himself, but that is a dream for the future.
He spoke to Bob Rakow with Glacial Lakes Log Homes, who represents Colonial Concepts Log and Timber Frame, one of several vendors at the show featuring log homes on Saturday, to see if the company needed someone to do cabinetry. 
Rakow said the booth has gotten a lot of attention. 
"Everybody who walks by looks at the homes and says, 'Oh, that's my dream,'" he said.
He added that he thinks they appeal to people looking to get back to their roots or those with nostalgia for a simpler life but who still want modern conveniences and technology. 
Other big trends at the home show centered on remodeling and people choosing to stay in their homes as they age. 
Jennifer Landguth, owner/designer with Swank Spaces, said she has seen a lot more people asking for home features that help them "age in place," such as bathroom showers that do not have a lip on the bottom, or making doorways wider to accommodate a wheelchair. 
Landguth said another huge trend is big closets with drawers and a variety of organizational tools. 
"People are moving towards bigger closets and less furniture in the bedrooms," Landguth said. 
She said there is also a a greater focus on creating spaces with multiple uses, such as an office that doubles as a guest room. That can be done in a variety of ways, including installing a wall bed that folds up into the wall when not in use. 
Randall Bren, project manager with At Home Design in downtown Rapid City, said remodeling homes is becoming more common, in part because of the housing market.
"With so few homes available, a lot of people are upgrading what they have," Bren said. 
Casey Varick, broker associate with Gold Key Realty and Auctions in Box Elder, echoed that observation. 
"Throughout the area there is a lack of inventory," Varick said. "There are a lot more people looking to buy than there are houses on the market." 
That's encouraging news for sellers, but the market is also prime for buyers right now, as interest rates are low, Varick said. 
Part of making the most of what you have could be adding a new building to your land such as a garden shed, a guest house or a personal retreat.
One of the stars of the home show Saturday was Big Sky Mini Barns and its sister company, Backyard Hideaways, which build small structures that can serve as storage sheds, animal housing or outdoor spaces.
The buildings are custom made, with some available on a rent-to-own system. The featured showstoppers included a fully furnished "man cave" with a television, comfy chairs and whiskey bar inside and porch outside. 
The company owner, Thad Debuhr, said it fills a niche between tiny house and a fancier version of storage shed. He said the buildings were drawing a great deal of interest from home show visitors.
Debuhr said people like to watch programs on HGTV or the DIY Network about tiny houses and the people who live in them and sort of long for that kind of simplicity. But sometimes the romantic idea and reality are two different things.
With a backyard hideaway, Debuhr said, people can achieve something that represents the best of both worlds.