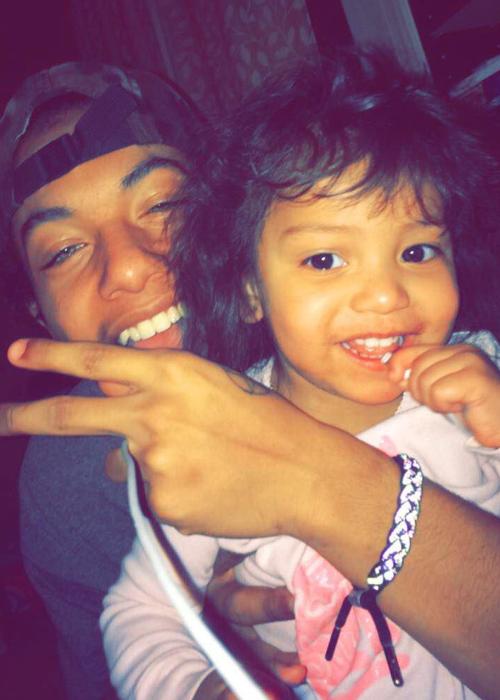 Family and friends of Michael Mayweather have organized a march and protest for this afternoon, six months after their loved one was found shot dead outside a Rapid City home. 
"It's just been really hard, it just tore my family apart," Mayweather's mother, Shawndy Villa, said through tears last week. I'm "just trying to live day by day."
"We miss him everyday," said Lacey Reddest, Mayweather's ex-girlfriend and the mother of their 3-year-old child. "Juliana wakes up crying for her daddy. I wake up crying for my best friend to come home," she said.
Someone inside a home on the 300 block of East Adams Street reported finding 20-year-old Mayweather unconscious in the backyard around 3 p.m. on Feb. 27. A few hours later, the assistant Rapid City police chief told the Journal that Mayweather was shot in the head and his death was being investigated as a homicide, the second in 24 hours. 
Six months and hundreds of hours of investigation later, the police department now categorizes the death as a suicide, spokesman Brendyn Medina said. 
"We haven't come in contact with any piece of evidence that suggests anything other than a self-inflicted gunshot wound," he said. 
The department believes Mayweather died by suicide, but there's not yet an official death certificate because the case remains open since family and friends continue to send tips about a possible murder, Medina said. He said all past tips have been investigated and the department will continue to investigate new ones. 
Both Villa and Reddest say Mayweather was murdered based on people they've spoken with and social media posts they've seen. 
Reddest, who is organizing the Walk For Justice, said they will meet at the Memorial Park band shell at 1 p.m. today and walk to the Public Safety Building on Kansas City Street with posters calling for police to find who shot Mayweather. 
"Michael is so handsome, he just cared about everybody, he always had a smile on his face," Villa said. "And his daughter loved him and he loved his daughter so much."
Villa and Reddest don't believe Mayweather would kill himself. Villa said her son wasn't depressed. Reddest questioned why Mayweather would kill himself right after calling his mother to ask her to pick him up and take him to the store. They also believe there's evidence he was murdered. 
Villa said her son was found outside the house with no shoes on despite there being snow on the ground and that his wallet wasn't with him and hasn't been found. Reddest said there is even a video of someone taking responsibility for killing Mayweather. The pair says they've handed all of the evidence to police and connected police with Mayweather's friends and people who were at the East Adams Street home — which both police and Villa describe as a house with drug activity — at the time of the shooting. 
Medina and John Olson, captain of the Criminal Investigation Division, said police have interviewed everyone who was at the home and everyone Villa and Reddest referred them to.
Police are aware that several people have claimed responsibility for shooting Mayweather, but "each of these claims have been thoroughly investigated and not have been found to be credible," said Medina, who said people may be doing that to gain "street cred."
Olson confirmed that Mayweather wasn't wearing shoes but was wearing socks. Medina said police obtained a search warrant to look through the house but never identified any identification card or wallet that belonged to Mayweather. 
Police originally thought the shooting was a homicide because there was no weapon found next to Mayweather, who was found just outside the back entrance to the house, Medina and Olson said. The gun was found after someone in the house showed police where they had kicked it into a window well. 
"Sheer stress of the situation causes people to basically kind of panic or react in a hurried manner," and people were trying to give Mayweather CPR, Olson said when asked why someone would kick the gun away. 
Olson said no one in the house witnessed the shooting but they reported it immediately. Testing found Mayweather had gunpowder residue on his hand and the autopsy found evidence — such as the bullet trajectory and burn marks on the forehead — that is "clearly" consistent with suicide, Medina said. 
The Journal has not viewed the autopsy — which is not a public document — or any other documents related to the investigation. 
Villa and Reddest both say they're not confident with the investigation and level of communication with the police department. Reddest said she hasn't had a face-to-face meeting with police officers in a month and they've given her conflicting information. 
Medina said a victim's specialist told him she has had multiple meetings with Villa to keep her updated and that the detective assigned to the case has also met with the family. 
"A situation like this is traumatic for any family," Olson said. He said police have to balance communicating with the family with protecting sensitive, ongoing parts of the investigation.