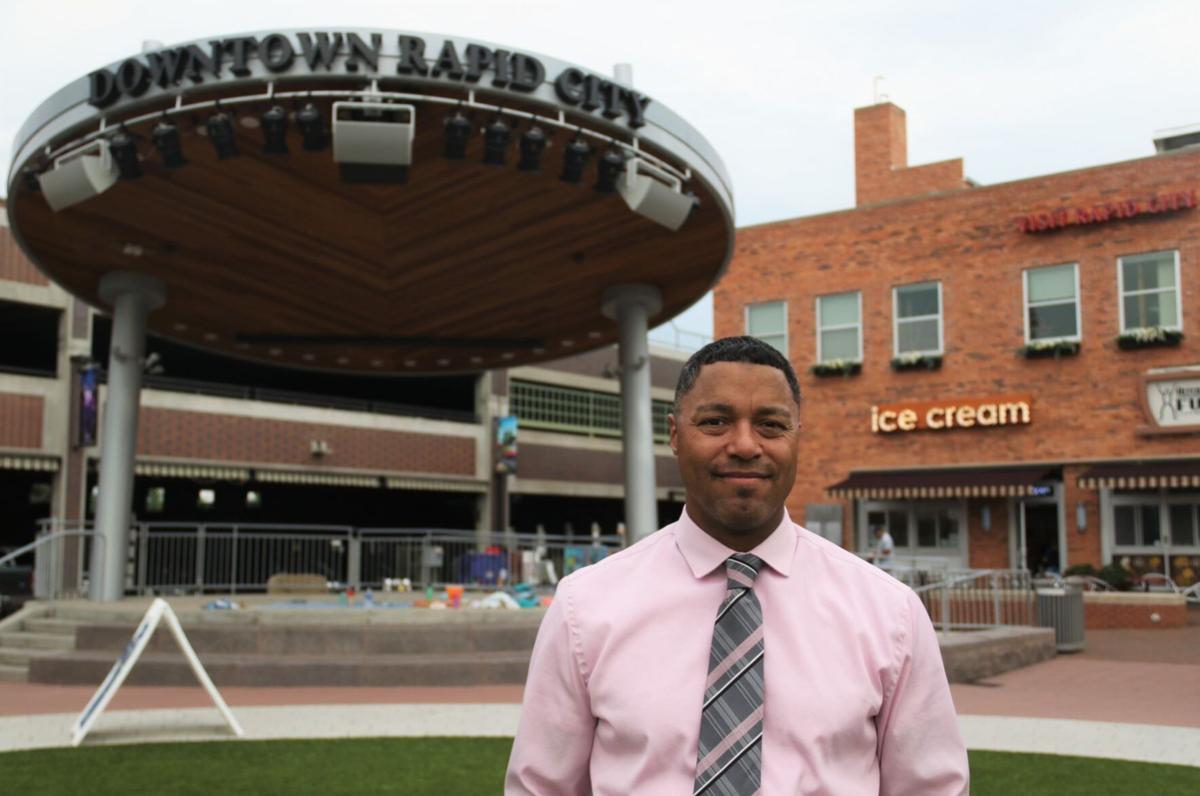 Domico Rodriguez, who recently replaced Dan Seftner as president and CEO of Main Street Square and Destination Rapid City, has been there since the beginning for the popular downtown attraction.
Now, he's a key figure in its future.
Rodriguez has served as executive director since July 2020. He was introduced to the Main Street Square concept around 2010 when he was working for Visit Rapid City and tasked with going door to door on West Boulevard to introduce people to the idea. 
"It's kind of come full circle from pitching the idea to now taking it into the next phase for Rapid City and the surrounding areas," Rodriguez said. 
For the first few years, Main Street Square was focused on establishing its footprint. Now, it looks to grow, according to Rodriguez. 
Rodriguez, who replaced Seftner on July 1, understands the impact that tourism has on downtown businesses and the community. He also realizes that Main Street Square needs to appeal to locals as well. 
"Having been downtown for my entire professional career, I know how important the tourism season is," he said. "But I think the biggest piece for us, as kind of the heartbeat of Rapid City, is to reintroduce the community."
He hopes to do this by expanding the events and partnering with larger entities such as Memorial Park and The Monument to attract more people downtown. 
Rodriguez plans to host more family-oriented events at Main Street Square like The Pumpkin Festival and the Kids Carnival. Other popular features that attract families and children are the water fountains and ice skating rink. 
During the COVID pandemic, city pools were closed, so the fountains became one of the only outdoor water features available to the public.
This year, the fountains are getting more use. Main Street Square has seen an influx of children from pre-schools, youth facilities, and day cares. Many of these facilities weren't able to operate during the pandemic and their field trips bring even more children to the already busy area. 
"Our numbers are off the charts right now, and we fully expect that through the rest of the year with the fountains," Rodriguez said.
The ice skating rink had a record season as well, he said.
Rodriguez said concerts have also been successful. Live music is part of the Splash Patio celebrations on Thursday nights and Golden Hour Live is a concert series that brings acts to downtown Rapid City.
He also expects the new Summit Arena will be good for Main Street Square.
"When we have a 13,000-person concert over at the arena, downtown's going to be busy," said Rodriguez. "Making sure that people can come down before those events over at the new Monument to enjoy downtown is going to be a big piece."
Rodriguez wants to make sure that downtown businesses benefit from Main Street Square as well.
"There's still five months in the winter where we don't have the tourism base that we would normally have," he said. "So growing that off season, reintroducing Rapid City residents to the downtown businesses, the things that we have going on downtown, that's also kind of a big piece of it too."
As the president of the nonprofit, Rodriguez spends a lot of time fundraising. The organization has partners such as the Vucurevich Foundation and Dakota Charitable Foundation. They also receive funds from various community sponsors and donors. 
"It's a lot of reaching out to them, saying thank you," Rodriguez said. "It's all about personal relationships, and so that is the biggest piece, growing those relationships that have been established and finding new relationships as well."
Rodriguez was able to work closely with Seftner for a few months to learn more about the position and the organization. He wants to ensure that the vision and traditions that have formed Main Street Square are honored, while continuing to grow and transform the downtown in new ways. 
"I know that it's not about me or the person that's sitting in this chair, it's about the community and ensuring that Main Street Square is here for the community," Rodriguez said.