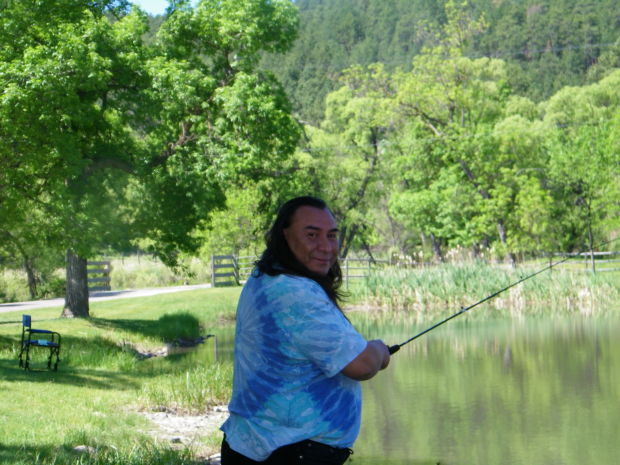 What should have been a fun way to kick off the Fourth of July weekend quickly turned tragic for a Custer man who choked to death while trying to speedily eat hot dogs during a competitive eating contest.
The crowd at Way Park in Custer, just across from the county courthouse, was stunned Thursday afternoon when one of six contestants — Walter Eagle Tail, 47 — began to choke while trying to win the contest.
Paramedics who swiftly were called to his side tried in vain to save him. Eagle Tail was transported by ambulance to Custer Regional Hospital, where he died, authorities said.
"There was someone doing CPR when we arrived," Custer County Sheriff Rick Wheeler said on Monday. "Basically, he probably just suffocated. It got lodged in his throat and they couldn't get it out."
"It all happened within minutes," he added. "I think everybody was pretty well shocked about it."
Eagle Tail's untimely death put a damper on the festivities sponsored by the Custer Chamber of Commerce. Organizers cancelled a planned pie eating contest for the next day.
Wheeler said he was not sure if the death will prompt organizers to make changes to the contest next year.
On Monday, a friend fondly remembered Eagle Tail as a fun-loving, kind and caring man.
"Walter was just being Walter, having fun when he entered this contest," said Ardis McRae. "He was just having a good time."
McRae, who works for the Native Sun News weekly paper and occasionally sold jewelry with Eagle Tail at the Crazy Horse Memorial for three years, said Eagle Tail was a man who loved a good joke and helping friends in need.
At Crazy Horse, McRae said Eagle Tail had a knack for chatting up the customers who bought his bear claw necklaces.
"You could just see him smile and laugh. He was just an outgoing person," she said. "People, they would just smile at the things he was up to. He was just a character."
Custer Area Chamber of Commerce Executive Director Dave Ressler said Eagle Tail's death was the first time in memory anyone had gotten hurt during the few years the local contest has been held.
"We are at a loss for words," he said. "We are mourning for Walter and his family right now."
The death marked the rare time someone has died in competitive eating, which has grown in popularity in recent years. Competitive eater Joey Chestnut has garnered national attention for his ability to eat hot dogs quickly, including when he knocked back 61 dogs in 10 minutes over the holiday. A similar style contest was held in Rapid City last week. Competitors often dip the hot dogs in water before eating to make the buns easier to eat.
Deaths during competitive eating contests have happened in the past. According to various web sites, a Romanian man choked to death during a sausage-eating contest in 2013 in that country, and in 2012, a Florida man choked to death after eating dozens of live cockroaches during a contest.
In 2008, a Taiwanese student died after hurriedly eating at least two rice and cheese buns during a competition. And a 2007 case led to radio station employees in California being fired after a water-drinking competition for a Nintendo Wii ended in the winner's death.
In the world of competitive eating, those in the industry say safety is always a top priority.
"We always make sure it's in a controlled environment," said George Shea, chairman of Major League Eating, a competitive eating organization out of New York.
"We organize the entire thing around safety. (Just as) if it's football or hockey or auto racing, we approach it as a top priority," he said.
Funeral arrangements for Eagle Tail are pending.