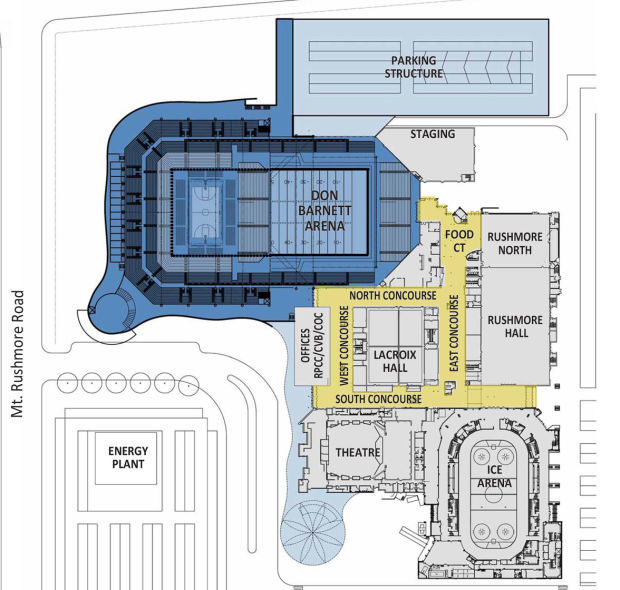 Enough signatures have been collected to put the financing of the expansion of the Rushmore Plaza Civic Center to a citywide vote in March, Rapid City Mayor Sam Kooiker said this week.
More than 2,700 petition signatures will be presented to City Finance Director Pauline Sumption on Monday morning. The total number of signatures required was estimated at 2,061, which is five percent of registered voters, including the recent annexation of the Countryside area.
Kooiker, who estimated he personally collected about 400 signatures, said he was pleased that the City Council's decision to approve $180 million in bonds for a new civic center arena will be put to a public vote.
The bonds will be backed by the city Vision Fund, which comes from an existing half-cent sales tax. In the 2014 fiscal year, the fund delivered about $12 million to the city.
The city has positioned itself to cover repaying the bonds by combining the Vision Fund with its sales-tax counterpart, the Capital Improvement Program, which also comes from an existing half-cent sales tax and delivered another roughly $12 million in funds for the city.
Although the two funds are now one, both will be accounted for separately, according to the city.
You have free articles remaining.
The people should have a chance to weigh in anytime there's a project with this much money involved, Kooiker said. He added that a public vote will increase discussion on the projects and provide a platform for people who support the project, himself included, to explain why it is so important.
He said he thinks it will pass once the merits of the project are better explained to the public.
Kooiker said he found it easy to gather signatures because just about everyone he encountered thought a public vote would be in Rapid City's best interest.
"Everyone on both sides wants this vote," he said.
"People have asked me if I think this project is too big," he said. "I tell them, 'Yes, it's too big for today, but it's not too big for tomorrow.' This is an investment in the future."
The $180 million in bonds the city would seek would be repaid entirely with local sales tax money. With interest, it could cost up to $420 million over 30 years, depending on what interest rate is secured on the bonds, according to the City Finance Office. The project would be the most expensive in Rapid City history.
Kooiker pointed out the money that will be used was originally a one-cent sales tax that paid for the Barnett center. Now it's only a half-cent and will be used to build a new arena, which he said is much better than trying to patch up the current arena to meet all of today's standards.
"Patching up the center would be like trying to remodel an entire home while you're living in it."