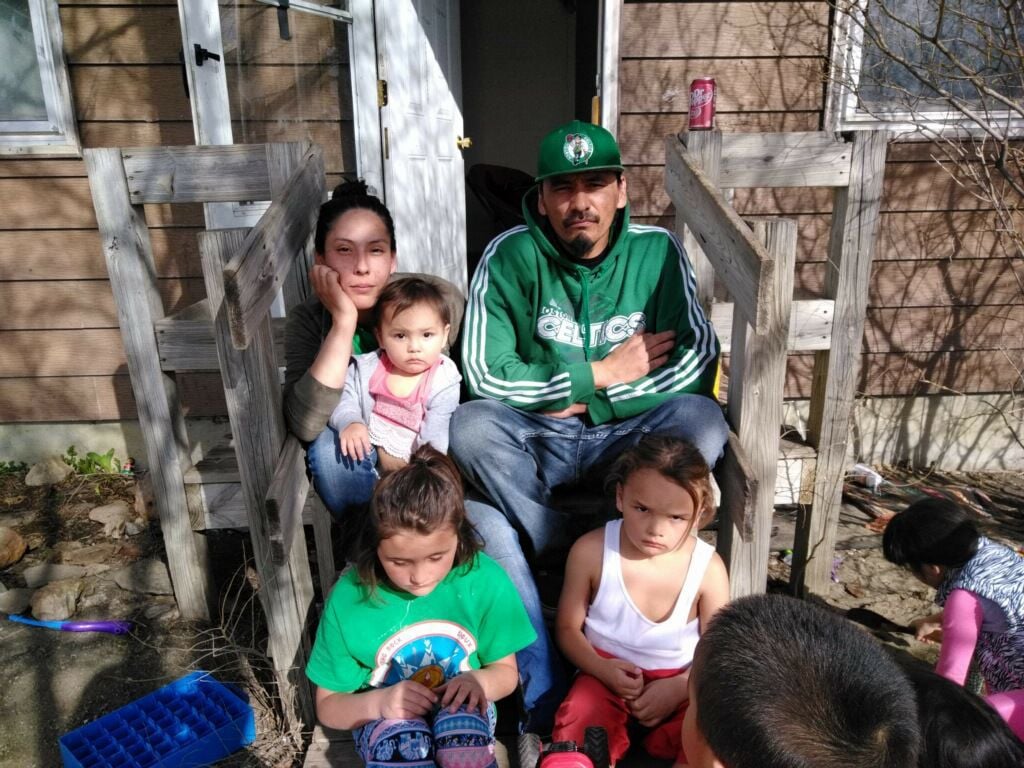 A family of five is living in their car and with relatives after they couldn't pay their electric bill and a small South Dakota town shut off the utilities at their FEMA trailer home.
The family and an advocacy group say shutting off water and other utilities creates a public health risk during the coronavirus outbreak. And they ask why the town of McLaughlin is closing buildings and businesses in acknowledgment of the virus but not stopping the shutoffs.
The mayor of McLaughlin — a town of less than 700 people in Corson County and the Standing Rock Reservation in north-central South Dakota — says he feels bad about turning off utilities, but if the cash-strapped city doesn't do so, it won't be able to pay its own bills.
I'm "just trying to get by day to day," said Patric White Mountain, a 39-year-old member of the Standing Rock Sioux Tribe.
White Mountain and his wife, Heaven Strong Heart, support their family by making traditional Lakota artwork, regalia and objects — ranging from brain-tanned buffalo hides to cradle boards to earrings.
They usually live in a FEMA trailer with their children: 7-year-old Grace, 5-year-old Patric Jr. and 1-year-old Winter Song. But they moved out and are living in their car and floating between family members after their utilities were disconnected.
"There's a lot of big risk" of catching COVID-19 without stable housing, running water and peace of mind, White Mountain said.
He said the trailer uses electricity to power its lights, heat and water, which adds up to as much as $650 a month during the winter and to $250 in the summer. McLaughlin Mayor Arnold Schott didn't dispute the high utility bills for families who live in FEMA trailers.
"I feel sorry for the people" who've had their utilities shut off, said Schott. But "if our customers don't pay, we can't pay" our bills, he said.
Schott said he recently loaned $100 to White Mountain — something White Mountain acknowledged — and has done the same for others. And he said he trusts White Mountain will pay him back. 
The Journal learned about the situation in McLaughlin from the Lakota People's Law Project, a nonprofit that works on social, environmental and other issues impacting the Lakota people.
Daniel Nelson, program director for LPLP, said an anonymous donor recently offered to cover the cost to turn White Mountain's utilities back on after the organization shared the family's story. 
Schott said the town of McLaughlin earns revenue through property tax, utilities, renting out a meeting space and operating a liquor store. There are few businesses in town.
"It's tough going" here, the mayor said of his city. 
Nearly half the residents are unemployed and 31% live in poverty, according to the most recent Census data. Most people — 71% — in the city are Native American and most others are white. Nelson said there is only one Native American on the city council. 
"It's kind of tough trying to get jobs around where we live," White Mountain said. "The economy is really (weak) here."
Schott says the city would happily take assistance from the state to prevent shutoffs during COVID-19, but he doesn't think there are any programs that can help. He cited his unsuccessful experience of trying to obtain state aid for the city's deteriorating streets.
"There's no grants, nothing," Schott said. 
The South Dakota Public Utilities Commission was closed Friday so could not be reached to ask if there are any programs that could help residents and the town avoid utility shutoffs.
Some larger South Dakota cities, including Rapid City and Sioux Falls, have suspended utility shutoffs during the COVID-19 pandemic. Sioux Falls also waived late fees. Customers in both cities are still expected to pay their bills as soon as possible. White Mountain said that utility companies that directly charge customers near McLaughlin have also suspended shutoffs. 
Reasons cited for suspended shutoffs during the COVID-19 pandemic include the fact that many families may not be able to pay their bills after losing income through no fault of their own and that a lack of running water makes it harder to wash one's hands — a key way to prevent the virus. 
Schott grew up in McLaughlin and has been the mayor for the past 10 years.
"I am there to help people, I'm a mayor to help people," he said.
In order to keep people safe during the COVID-19 outbreak, Schott said, he ordered that the city's government building, meeting space and liquor store be closed. But he said the six-member city council unanimously voted to reopen the liquor store on Monday — a move he disagreed with.
Patric's father Robert spoke at that meeting to ask the council to stop utility shutoffs during the viral outbreak. Schott said the council didn't agree to that. 
"I know it's not good," Schott said when asked about the public-health risk of turning off utilities. But he says the city can't provide free energy since it has to pay its supplier, Western Area Power Administration (WAPA).
Schott said White Mountain and others in town aren't just struggling because of COVID-19 but have failed to pay their bills in the past.
"I feel sorry for them, but they have to go out and work and do something," he said. 
Schott says at age 86 he still has to work every day so he can pay his own bills. He said he used to own an auto repair shop that employed local workers. Now he cleans an elderly home, sells tires, mows lawns in the summer and plows snow in the winter. Schott says he sometimes gives away tires to those who can't afford them and plows driveways for free.
White Mountain said his family tries to save money by turning the lights off when they don't need to be on and limiting how often they use the washer and dryer. He and his wife are also creating a website to improve their sales and make more money. White Mountain said the few jobs in town are already filled, that he'd have to travel to find a better or second income.
It's hard to pay the bills since artists don't earn a regular or predictable paycheck, White Mountain said. He said the tribe provides assistance during the winter, but the checks sometimes arrive late.
A city ordinance says that utility payments are due the 12th of every month and that utilities will be shut off if they're not paid by the 15th, Schott said.
"There's an ordinance and I can't break that ordinance," the mayor said.
White Mountain said his utilities have been turned off about a dozen times — including during the winter — since he moved into the trailer in 2008. He said the city charges a $75 fee to re-connect each time. White Mountain also said there have been times when he's just a few dollars or cents short and city staff won't let him pay what he has and return later with more cash.
Schott said residents are allowed to leave partial payments with the city.
White Mountain said his utilities were most recently turned off in March and he knows other Native American families who are dealing with the same thing during the coronavirus outbreak. He said he recently collected money for the bills by selling artwork, art tools and a car, but when he went to pay, the city worker said he also had to pay for April. Schott said that didn't make sense.
When the electricity goes out, White Mountain said, all their food in the fridge and meat in the freezer go to waste. And he said March nights are cold in the car. He said he's worried his family is at risk for COVID-19 since they're not eating as well, are stressed, and have had irregular access to showers and housing. And he said it's dangerous to crowd into other people's homes.
White Mountain said he wishes the city would keep the utilities on during the pandemic, that he's happy to pay everything he owes once he saves enough money. 
"It's been a pretty big headache," he said.
Concerned about COVID-19?
Sign up now to get the most recent coronavirus headlines and other important local and national news sent to your email inbox daily.