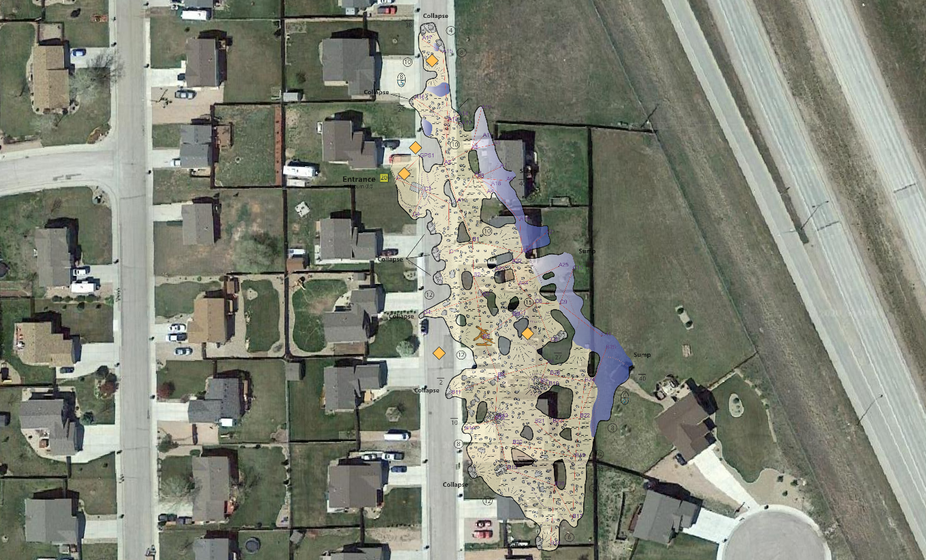 "It appears that the Hazard Mitigation Grant Program (HMGP) opportunity is not a viable path to pursue for the homeowners," the June 9 release says. "Meade County was not obligated — but volunteered — to pursue the HMGP application process" so it no longer being applying for the grant.
More than 117 former and current residents are suing the state, Meade County, current and past county commissioners, and the former equalization director. Title, engineering and real estate companies, plus developers, engineers and lawyers who worked on the project are also being sued.
The lawsuit came after pubic records showed that the Meade County planning board, commissioners and planning staff were sent a document in 2000 that mentions a mine below the community and says field boring may be needed to identify any hazardous cavities. It's unclear if that testing ever took place. The planning board was again told about the mine and a collapse in 2006 but didn't' take any action, records show. 
The lawsuit also points to a document acknowledging the mine that attorney John Fitzgerald said was created by the developers and shared with contractors and realtors but not with the families and the county's Register of Deeds.
The FEMA grant would have paid homeowners 75% of the value of their homes before the mine collapse. The remaining 25% would have been pooled together to pay for the cost of tearing down the homes, capping utilities and turning the area into a green space. Gov. Kristi Noem said the state would have contributed an additional 10% of the home values.
"Throughout the course of these events, Meade County has sought multiple sources of relief for the impacted homeowners via state and federal offices, as well as local service/private organizations," the release says.
What follows is outlined in the news release:
Commissioners attended a meeting with 150 homeowners and concerned neighbors on May 1 to discus the FEMA grant. The county added information to its website on May 8 about the FEMA grant, the mine history and collapse, and public records related to the development. 
The Commission voted May 12 to begin the grant application and spend $30,000 on home appraisers and engineers. The county was served the lawsuit on May 22 and the commission voted four days later to put the grant application on hold until it could review FEMA requirements and discuss the issue with state and federal officials.
Sen. Rounds confirmed on June 1 that FEMA can't evaluate or award grants if there are ongoing lawsuits.