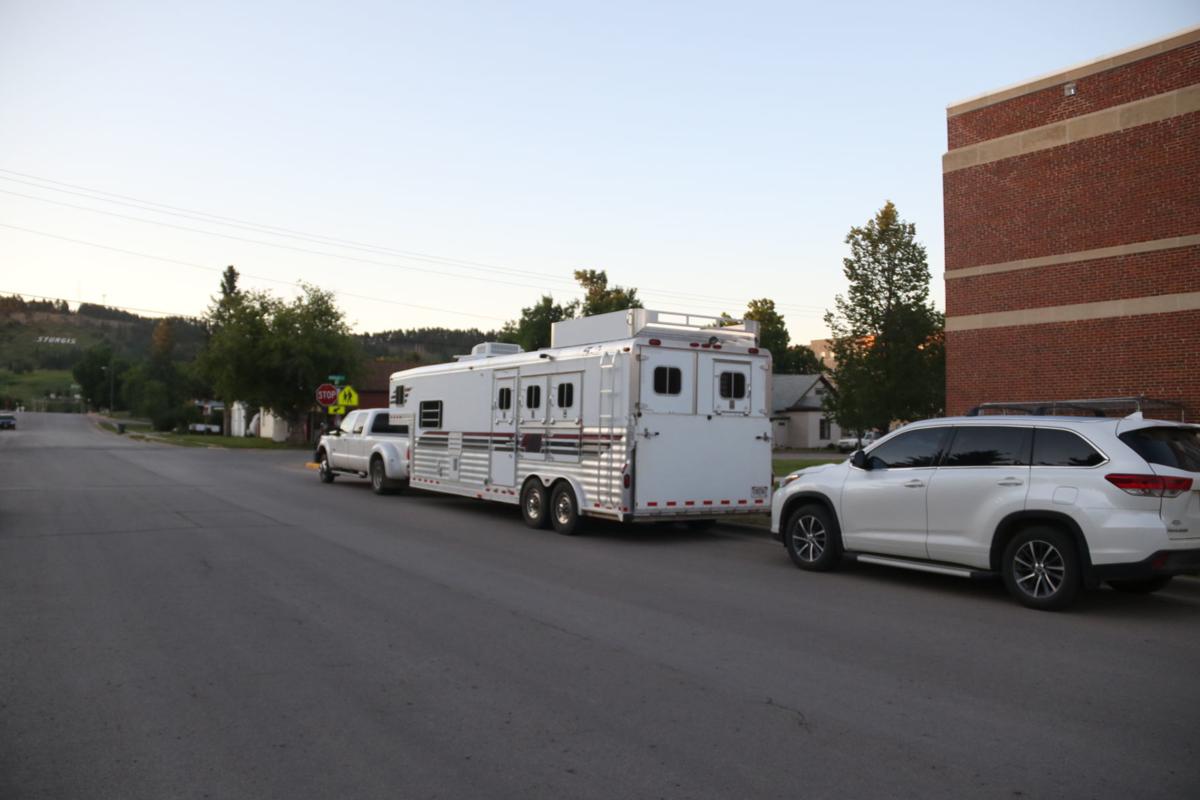 Eight teachers looking forward to retirement were waiting Friday afternoon in lawn chairs outside the Meade 46-1 School District administration to submit retirement notices at 7 a.m. Monday with hopes of receiving a $35,000 bonus.
According to a 2019-2020 agreement between the district and the Meade Education Association, money for the early-retirement incentive is available until the start of the next school year. The program started with $1.5 million that was to be spread out over five years.
In the final year of the program, there appears to be only enough money to give eight eligible teachers the full $35,000 early-retirement bonus, which is what brought the soon-to-be-retired teachers to the administration building in Sturgis.
"The best part is those of us who knew, we just found out who all the people were who were interested," a teacher in the group said. "We're here, we made it into the line and we should all be able to receive the funds. We don't know about anybody else who comes."
Saturday evening, someone in the group called Meade School Board president Dennis Chowen and asked if there was a way for the teachers to turn in their retirement letters Saturday, Chowen said.
He said he spoke with the other board members who all OK'd it so the teachers wouldn't have to spend Sunday and into Monday outside. All eight teachers in line turned in their retirement letters that evening and will receive the full $35,000.
The maximum payout from the program is $300,000 annually plus carryover funds from the previous year. June 30, 2021, is the last available date to access the Early Retirement/Pension Account. A teacher must notify the superintendent in writing during business hours no earlier than June 26 and prior to March 1 of their retirement year, meaning those hoping to receive the benefit this year have June 29 and 30 to submit retirement notices.
Any teacher who has completed 10 years of service with the district and was 55 years or older by Dec. 31 of their retirement year is eligible to receive an early-retirement benefit — a lump sum of 70% of the average of the teacher's highest three contracted salaries with the maximum payout being $35,000.
If each teacher meets the maximum benefit, only eight receive the funds.
Chowen said there is about $25,000 left in the pot, so an eligible teacher wouldn't receive the full $35,000, but someone in the clerical and/or custodial staff would be able to receive their $15,000, if eligible.
He said the board called the six staff members who are eligible for retirement, and they all declined to apply this year.
The agreement was made about five years ago to extend the early-retirement incentive program.
"It was supposed to be early retirement to get rid of us because we're the highest paid teachers," said one the teachers waiting in line on Friday.
The teachers, who asked to remain anonymous, have worked for the district their entire careers said Friday evening they felt like they were being made to grovel.
"Something that you felt should honorably be given to you, you have to (sit outside the door for a weekend) in order to get it," a teacher said. "It is humiliating, it is groveling and it is so sad because no one should be treated like this. I can't think of another profession out there where their staff is treated like this."
By about 6:30 p.m. Friday, the eight teachers with almost 200 years of experience among them were in line to turn in their retirement notices and applications Monday morning. They were joined by current and retired teachers, who offered snacks, coffee, water and moral support.
Some teachers brought horse trailers and campers in order to have access to the bathroom and shelter, depending on the weather.
About an hour after they arrived, the teachers were all smiles and laughs, staying positive, knowing each of them would likely receive their benefit but called the experience an emotional one.
"We've put everything into this job, and now this is where we are," one teacher said. "I'm leaving this profession that I love, I love these kids."
"It's such a lack of respect," a retired teacher said.
"After all you've given, this is what you get at the end of your career," another teacher hoping to receive the benefit chimed in.
One teacher said it is what it is, and they're going to make the best of their wait.
The teachers who retire after this year or aren't able to receive the incentive benefit will still receive their South Dakota Retirement, if they meet the requirements.
Some said they counted on the $35,000 at their retirement and factored it into their budgets.
A retired teacher there to offer moral support said it's sad after all these years of teaching that this is what it comes down to — sitting outside on the final weekend in June in 90-degree heat to make sure they receive the benefit.
One teacher said she understands she could've left the district and sought higher pay, but Sturgis is her home.
"We went to school here," she said. "We've taught each other's kids."
Get local news delivered to your inbox!
Subscribe to our Daily Headlines newsletter.