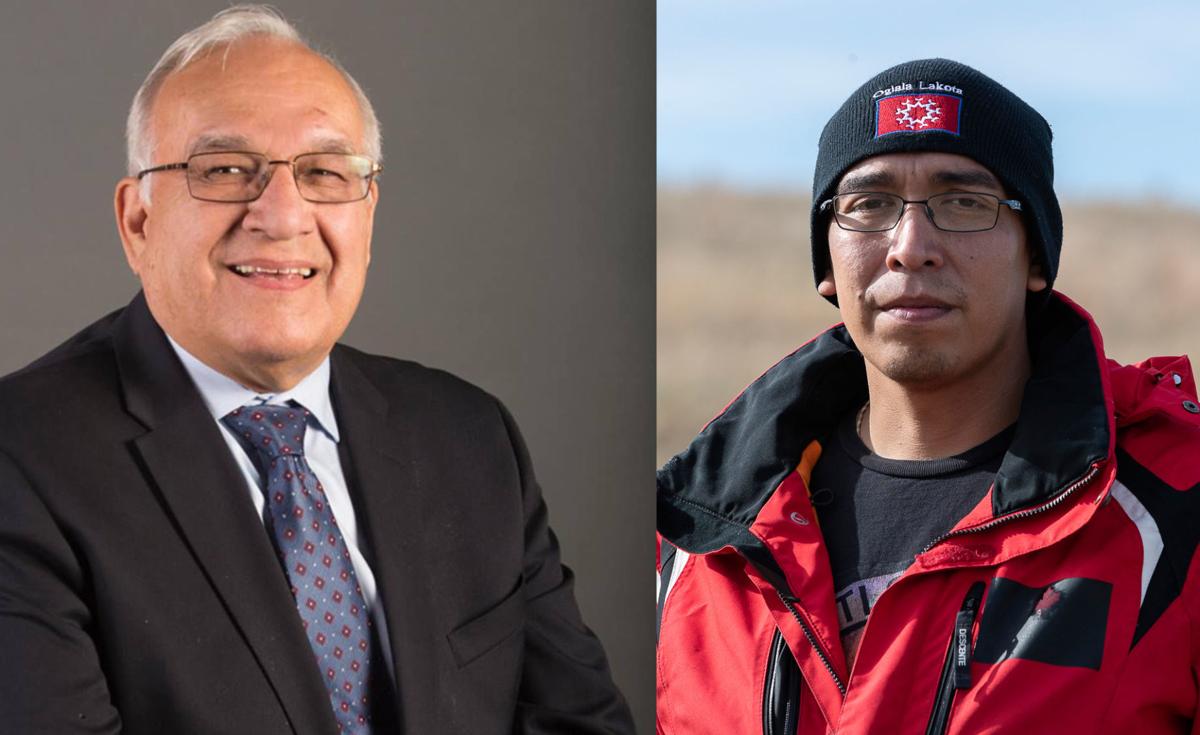 When members of the Oglala Sioux Tribe go to the polls on Nov. 6, they won't just be voting for candidates for U.S. House, governor and a plethora of other state positions. They'll also be choosing who they want to serve as their next president.
Julian Bear Runner, 33, and Richard Zephier, 73, both of Manderson, will face off on Election Day after gaining the most votes in the seven-candidate primary. The candidates sat down with the Journal last week during separate, in-person interviews to discuss the race and key issues facing the tribe.
Bear Runner, who attended Pine Ridge and Red Cloud high schools, stressed his knowledge and connections to the Pine Ridge Indian Reservation and the Oglala Sioux Tribe, or OST.
"I grew up and spent probably 90 percent of my life here on the reservation. So growing up within our homelands and understanding and living firsthand the struggle and hardships that we face," he said. "My heart belongs to the people and I can relate to them on just about every level that you can imagine."
Bear Runner said he will focus on the OST's spirituality and taking care of the canunpa, or sacred pipe of the people. He said he's familiar with the nation's laws from his time working as a corrections officer, dispatcher for the ambulance service and compliance technician at the OST clinical lab.
He said he also protested the Dakota Access Pipeline in Standing Rock, and served three years in the 101st Airborne Division of the Army, stationed at Fort Campbell in Kentucky and Tennessee.
Zephier highlighted his extensive educational and leadership background.
"What makes me qualified is 35 years of experience as a manager of educational systems, health-care systems, small businesses and large hospitals, and I worked as executive director in the Oglala Sioux Tribe," he said.
He also said the nation will benefit from the research skills he gained while writing his Ph.D dissertation and developing presentations for the National Indian Education Association.
Zephier, who is a self-employed consultant, said he received his bachelor's degree from Northern State University in Aberdeen, master's and Ph.D in education administration from Penn State, and a master's in business administration from the online University of Phoenix.
He said he's served as a school teacher, principal and superintendent and in several leadership positions in tribal and non-tribal health and higher-education institutes. After working in states including the Dakotas, New Mexico and Arizona, Zephier said, he returned to the Pine Ridge Reservation in 2009, where he worked in various education and tribal executive positions.
Zephier said he would enhance the OST economy by improving and fully carrying out the economic-development plan he created, which was approved by the tribal council in 2016.
He said the plan includes partnering with federal agencies and the private sector, improving data storage, and an organic livestock and gardening project. It also involves taking advantage of the reservation's status as a Promise Zone, a federal-assistance program.
Zephier said past efforts to convince a major corporation to create a factory or warehouse on the reservation have failed, so he would instead focus on supporting small businesses. He said the reservation needs a local bank or lending group that focuses on helping people create and maintain small businesses.
Both Zephier and Bear Runner support legalizing the growth and sale of marijuana and hemp to create jobs and revenue.
Bear Runner said he would enforce an ordinance that says residents need to support local businesses, improve the day-laborer program, and create truck-weight limits and weigh stations at the entrances to the reservation.
Weight limits would generate revenue from overweight permits and create jobs at the weigh stations, Bear Runner said.
He also said he would ask Rapid City and other areas within the 1868 Treaty of Fort Laramie to share revenue from Native events, such as powwows.
"We take all our money to Rapid City, and we don't benefit back from that. The city doesn't give anything back to the native communities," he said.
Bear Runner said he would create new housing and improve existing homes by getting more funding and better management of those funds.
He said there are contractors who are interested in creating eco-homes on the reservation in a program where the homeowner would work alongside the contractors to help build their new home. The sustainable features would help save money, Bear Runner added.
"If you don't have a good housing program, or houses to house the workforce, it's unlikely you will have an economic base that's well-established," Zephier said.
He said he would create a program that will allow people to buy and privatize land and receive financing assistance to help purchase a home.
Zephier said he would call for another referendum on whether the Pine Ridge Reservation should keep its ban on alcohol and then enforce whatever the voters say.
Citizens voted to overturn the ban in 2013, but the tribe never implemented the change.
Bear Runner said he personally supports the ban on alcohol, and he is unsure if he would honor the 2013 referendum.
Drugs, alcohol, domestic violence
Bear Runner said drug and alcohol users need harsher punishment and longer community service hours, but also better treatment options. He said a better after-care program is needed to prevent people from relapsing.
He said the weigh stations could be manned by armed guards, possibly trained by the U.S. Border Patrol, to prevent alcohol and drugs from entering the reservation.
Zephier said the reservation needs more facilities that focus on all stages of recovery, from detox to inpatient or outpatient treatment, to re-entrance and after-care programs. When facilities are full, he said, there needs to be a way to send patients to other treatment centers in the region.
Both Zephier and Bear Runner said treating drug addiction will help prevent domestic violence.
Bear Runner said the reservation needs a domestic-violence shelter, and the checkpoints could prevent abusers from fleeing.
Zephier said health agencies in Rapid City and the reservation need to share data so staff can track victims and perpetrators of domestic violence and get them help.
Bear Runner said tribal officials engaging with the people through more community and one-on-one meetings will create a more impactful government.
He said he would create youth, elder and spiritual committees to advise the council and an internship program to develop civic engagement and future government leaders.
"Making tribal management work is the theme of my campaign," Zephier said, adding that he saw "many flaws" while working for the OST.
He said right now, different departments and programs are organized by funding sources. He said they would be more effective if they were grouped by function, so all health-care initiatives would be organized together, for example.
Creating a strong tribal database that can identify trends and make predictions would help the government make spending and other decisions, Zephier said. He said he supports proposed constitutional amendments that would make the three branches of government more independent, and create four-year, rather than two-year presidential terms.
Zephier said he would create an ethics committee and automate and digitize all financial transactions.
"Corruption usually happens when cash comes in and cash goes out," he said.
Zephier said right now, some financial transactions are paid and recorded by hand, and information can move slowly, be duplicated, or get lost or stolen.
"I'll stand up against it when I see it," Bear Runner said when asked how he would tackle corruption.
He said he stood up to corruption when he worked in the nation's clinical lab by reporting a councilman who refused to take a drug test as required by tribal policy.
Bear Runner said he would encourage the advisory committees to report corruption; allow government employees to report corruption to anyone, not just their direct supervisor; and protect whistle blowers and punish those who retaliate against them.
Get local news delivered to your inbox!
Subscribe to our Daily Headlines newsletter.