A Lakota-led winter camp has been set up on tribal land in Pennington County, just outside the west side of Rapid City.
The camp is now protected from local government intrusion since it's located on 93 acres owned by the Oglala, Rosebud and Cheyenne River Sioux tribes, public records show.
The Camp Mniluzahan website says "#LandBack for our unsheltered relatives!" and the camp appears to be a manifestation of the #LandBack movement: returning land to Indigenous people.
The land that Camp Mniluzahan is on was part of the 1,200-acre Rapid City Indian Boarding School property that was owned and operated by the Department of the Interior from 1898-1933.
The boarding school later became a segregated tuberculosis hospital and is now the Sioux San/Oyate Health Center campus.
Despite decades of lobbying by the Rapid City Indigenous community, none of the land went to the Native Americans until 2017. That's when the Department of Interior entrusted two parcels to the Oglala, Rosebud and Cheyenne River Sioux tribes.
The other parcel is where Camp Mniluzahan now sits. 
Camp Mniluzahan is housing homeless people in tipis and tents, according to posts by members on social media. They are also hoping to bring tiny homes to the area. The people there are being served by volunteers who are providing bathrooms, hand-washing stations, food, first aid and public safety.
The camp was on Lakota and other tribal land for generations. The 1868 Treaty of Fort Laramie promised that all of western South Dakota would be the Great Sioux Nation, but tribal land shrunk as settlers and the government violated the agreement.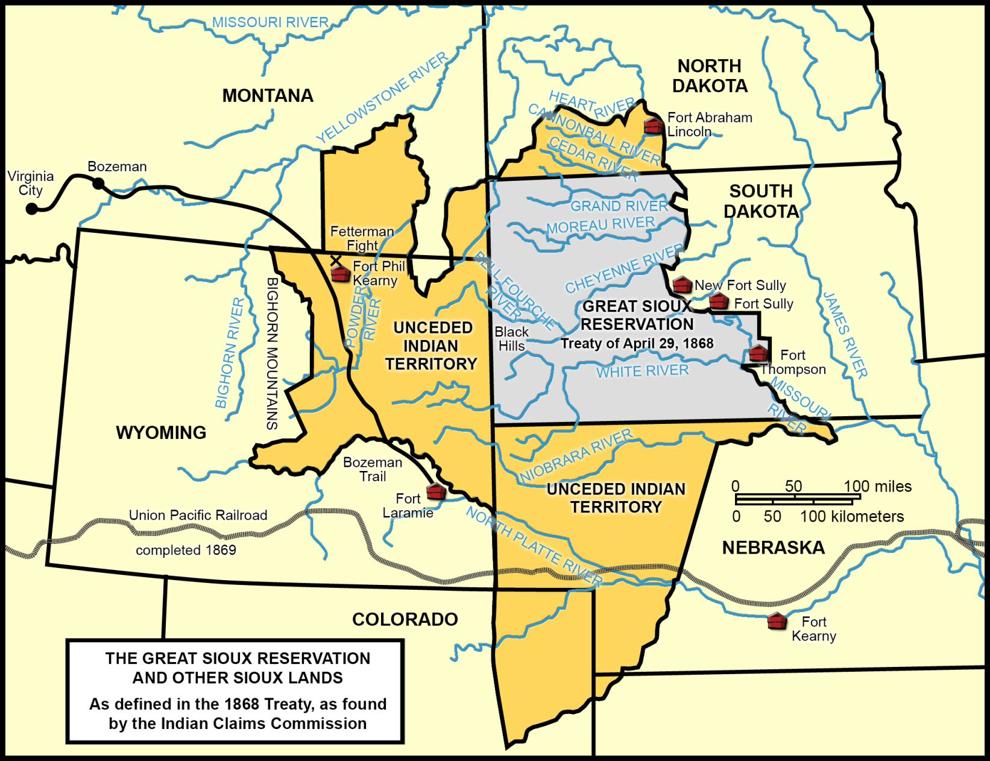 The U.S. Supreme Court recognized in 1980 that the Black Hills were illegally taken and that the federal government owes the Oceti Sakowin people compensation. The government is holding more than $1 billion that tribes haven't accepted because they want the land returned. 
Rapid City Mayor Steve Allender previously told the Journal that he doesn't support a winter camp in the city.
He's taking a different view toward the new Camp Mniluzahan since it's on tribal land. 
"They have found a piece of land that works and so I'm glad for them. I support them doing this because this is what they have set out to do," he said Friday. "I still question whether or not it's a suitable setting for the homeless, but that has to be up to them to determine.
"I have no desire to try to intervene or discourage them from doing what they can lawfully do," he added.
The mayor said he's "absolutely" willing to discuss creating a Memorandum of Understanding between the camp and/or tribal leaders if they want assistance with medical, fire or public safety issues. He said the city has already sent an ambulance there for a medical emergency. 
Allender said he would be "a little uncomfortable" if the camp grew and didn't have an MOU for those services.
The city would also be happy to create an office space for a tribal police officer within the Rapid City-Pennington County public safety building, Allender added. That officer would handle any minor public safety issues, while the FBI would have jurisdiction if any major crime is committed.
"It's on tribal land, so we don't have jurisdiction on that land," echoed Gary Drewes, vice chair of the Pennington County Board of Commissioners.
Drewes said most entities set up MOUs before settling an area, but he would be wiling to discuss the issue if they approached the commission. 
"It would be up to them to come forward … they would have to explain what their purpose" is with the camp, he said. "I'd be willing to sit down with them but that doesn't mean we would be willing to provide services to them."
The presidents of the Rosebud and Cheyenne River Sioux tribes did not return messages from the Journal. Camp Mniluzahan members either declined to comment or didn't respond to requests for an interview.