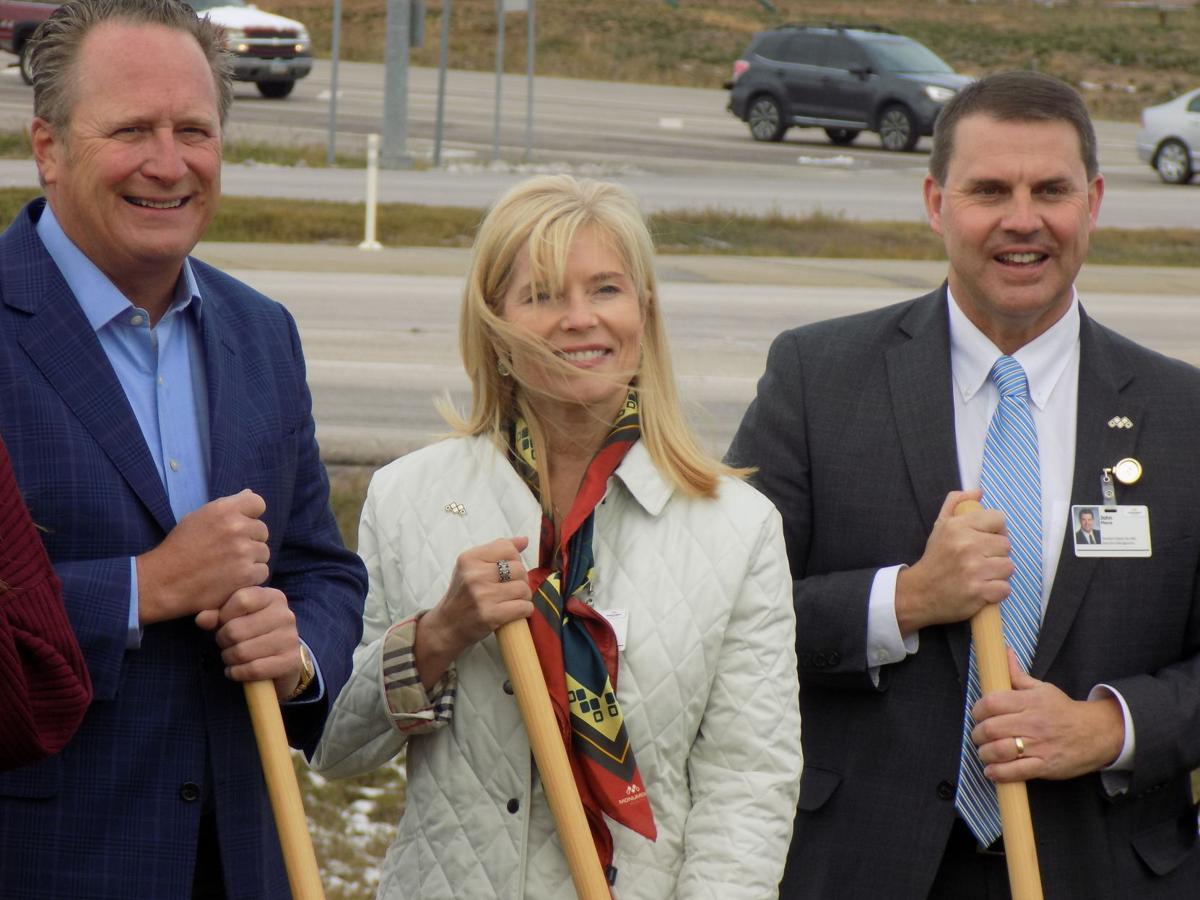 Officials at Monument Health and Vibra Healthcare conducted a ceremonial groundbreaking Thursday for a specialty hospital slated to be built within two years.
The building site lies near the northwest corner of Catron Boulevard and U.S. Highway 16 intersection, in Rapid City. Construction of the hospital, to be devoted to two main types of long-term care, was first announced in May.
Thursday's ceremony took place at the Monument Health Orthopedic and Specialty Hospital.
Vibra Healthcare, partnering with Monument Health, is a Pennsylvania-based corporation with extensive experience in managing critical care hospitals.
The new hospital is scheduled to contain 54 beds, including 36 private rooms for in-patient rehabilitation care and 18 private rooms for long-term acute care, said Paulette Davidson, president and CEO of Monument Health, in her address during the ceremony.
"We're celebrating a new collaboration," Davidson said. "We are working on caring for more of our families and our communities closer to home."
Mark Longacre, vice president of operations for the Rapid City Market for Monument Health, and Becky Burton, executive vice president of sales, marketing and managed care for Vibra Healthcare, also spoke at the gathering.
Dan Daly, communications specialist for Monument Health, stressed after the gathering that "long-term acute care" — which will comprise 18 of the hospital's beds — is a new service for the area.
"LTACH (long-term acute care hospital) services have not been offered in this area before," Daly said. "That's a new service."
Officials from Monument Health and Vibra Healthcare noted that patients requiring such care currently need to travel long distances to states such as Wyoming and Montana to receive it.
Dr. Kelly Stacy, executive medical director of Monument Health, discussed the phrase "long-term acute care" in an interview after the ceremony.
"It's an acute event that's going to cause long-term consequences," she said.
Stacy cited COVID-19 as an example.
"COVID is a perfect example," she said. "You have patients who have COVID illness where they're in the ICU or very sick for two, four or six weeks, and they become very debilitated because of that."
A statement from Monument Health also noted "serious respiratory, cardiac, multi-system, neurological and infectious disease, as well as wound healing and other conditions," with hospital stays often exceeding 21 days, as examples of long-term acute care.
The 36 rehabilitation rooms to be included in the new hospital offer an expansion of current Monument Health services, Daly said.
"The rehabilitation services have been offered in Rapid City before, but we have outgrown our location," he said.
Daly noted that Monument Health currently offers in-patient rehabilitation treatment to up to 16 patients at a time in rented space at The Village at Skyline Pines Assisted Living and Memory Care. Those services are expected to be absorbed by the new hospital.
According to Monument Health's website, this rehabilitation care is devoted to "patients requiring hospitalization and who require close medical supervision by a physician who specializes in rehabilitation."
Monument Health officials said the new hospital is estimated to cost $26 million, with construction beginning in November. They anticipate a construction period of 16 to 24 months.
Burton, of Vibra Healthcare, said Vibra Healthcare will work with Monument Health to hire staff members and manage the new hospital. She said Vibra Healthcare operates more than 70 critical care hospitals and acute medical rehabilitation hospitals in 18 states.
Longacre anticipated a staff of about 200 at the new hospital, including a range of medical and administrative positions.