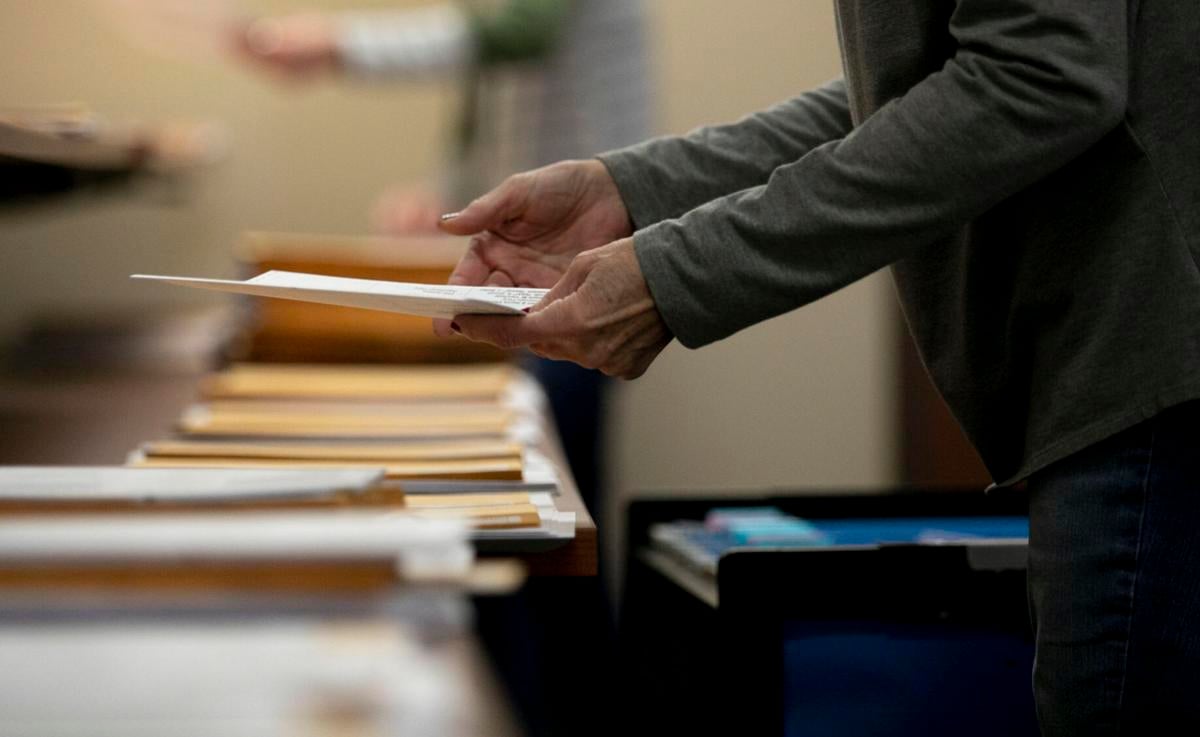 The Pennington County Auditor's office saw 370 voters on Friday, the first day that residents could vote for the Nov. 3 election.
Auditor Cindy Mohler said there were 163 voters on the first day of voting during the 2016 general election.
"It's very strong," Mohler said Monday. "We have a lot more that have already voted than we have in the last two elections."
The office mailed out about 20,000 absentee ballots Friday, although Mohler said that number is likely to grow as more applications are submitted.
During the 2016 general election, 19,523 residents in the county voted absentee. There were 16,622 absentee votes in the 2018 general election.
County residents can submit absentee ballot applications as late as 5 p.m. Monday, Nov. 2, the day before the election. Applications can also be emailed with a copy of an ID to elections@pennco.org.
Absentee ballots must be mailed to the auditor's office or placed in the sole ballot drop-off box in the entry to the county Administration building by 7 p.m. Nov. 3. The box is open to the public 24/7. Mailed-in ballots require $1 postage.
Walk-ins are welcome at the Auditor's Office, although only three people can vote at the window at the same time. People will be asked to social distance while voting and waiting in line, but masks are not required.
Those wondering if they've already requested a ballot can call the auditor's office at 605-394-2153.
Those who checked "All elections" while filling out the application for the primary election do not need to submit an application again. 
Residents must be registered to vote by Oct. 19 to vote in this year's general election. To check for voter registration information, polling place location and the ballot, visit the Sec. of State's website.
Candidates for the Ward 1 position on the Rapid City Council may file petitions through 5 p.m. Oct. 2 for the election.
Republican — Incumbent Janet Sayler
Republican — Incumbent Mark A. Vargo
County Commissioner, District 2
Republican — Incumbent Lloyd LaCroix
County Commissioner, District 4
Republican — Travis Lasseter
Democrat — Karen McGregor
Conservation District Supervisor
South Dakotans will vote on Measure 26, an initiated measure that would legalize marijuana for medical use by qualifying patients, including minors.
According to the measure, medical use includes use, delivery, manufacture and cultivation for state residents. Patients would have to obtain a registration card from the state Dept. of Health, and non-residents may use out-of-state registration cards in order to purchase or carry marijuana. Patients would be able to designate caregivers to assist their use of marijuana. They would also need to register with the state.
Constitutional Amendment A would amend the state constitution to legalize, regulate and tax marijuana, and require the legislature to pass laws regarding hemp. It would also require the Legislature to make laws ensuring access to marijuana for medicinal use.
Constitutional Amendment B would amend the state constitution authorizing the Legislature to allow sports wagering in Deadwood.
Republican — Sen. Mike Rounds
Republican — Rep. Dusty Johnson
Libertarian — Randy "Uriah" Luallin
Public Utilities Commissioner
Democrat — Remi W. B. Bald Eagle
Libertarian — Devin Saxon
State Senator, District 27
Republican — Judd W. Schomp
Democrat — Incumbent Sen. Red Dawn Foster 
State Representative, District 27
Democrat — Ernest Weston Jr.
Democrat — Incumbent Rep. Peri Pourier
State Senator, District 29
Republican — Incumbent Sen. Gary L. Cammack
Libertarian — Kent Wilsey
State Representative, District 29
Republican — Incumbent Rep. Kirk J. Chaffee
Independent — Jade Addison
State Senator, District 30
Republican — Rep. Julie Frye-Mueller
Libertarian — A. Gideon Oakes
State Representative, District 30
Republican — Trish Ladner 
Republican — Incumbent Rep. Tim R. Goodwin
State Senator, District 32
Republican — Incumbent Sen. Helene Duhamel
Democrat — Michael Calabrese
State Representative, District 32
Republican — Incumbent Rep. Chris Johnson
State Senator, District 33
Republican — Rep. David Johnson
State Representative, District 33
Republican — Sen. Phil Jensen
Republican — Incumbent Rep. Taffy Howard
State Senator, District 34
Republican — Rep. Michael G. Diedrich
State Representative, District 34
Republican — Incumbent Rep. Jess Olson
Democrat — Rick Stracqualursi
State Senator, District 35
Republican — Incumbent Sen. Jessica Castleberry
Independent — Brian Gentry
State Representative, District 35
Republican — Incumbent Rep. Tina L. Mulally
Republican — Incumbent Rep. Tony Randolph
Democrat — David A. Hubbard
Republican — President Donald Trump and Vice President Mike Pence
Democrat — Former Vice President Joe Biden and Sen. Kamala Harris
Libertarian — Jo Jorgensen and Jeremy "Spike" Cohen