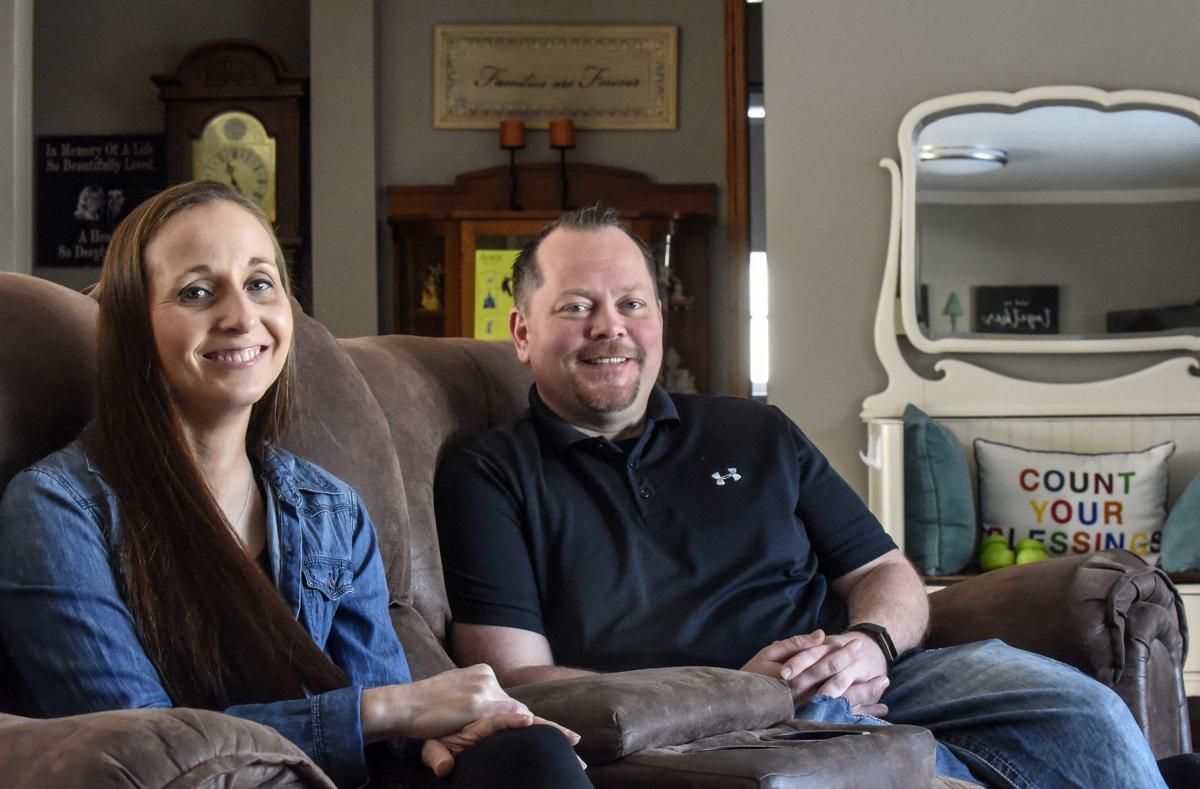 Sarah and Terry Reyelts didn't intend to double their family when they went into foster care, but that's what happened.
The Reyelts have two biological daughters, who are 19 and 14, and adopted their 15-year-old son after he came to them three years ago in what was supposed to be a three-day-long foster placement. As of next month, they'll also have adopted the 2½-year-old girl and 1½-year-old boy they've fostered for nearly the children's entire lives.
"When they license you, they recommend that you do both foster and adoption, just for this reason," Sarah Reyelts said. "We're 40. We didn't plan to have babies again. When you have a baby for two years and they're calling you Mom and Dad, there's really no other option. And there never really was."
Beginning with her State of the State address on Jan. 8, Gov. Kristi Noem has referenced the need for foster families. She said that on Christmas, 940 children were in foster care.
"The next generation of South Dakotans cannot thrive if they don't have a home, which is why I've committed my podium and my influence this year to emphasize the situation of South Dakota kids in foster care," Noem wrote in a statement. "Every child deserves a home."
According to Tia Kafka, communications director for the South Dakota Department of Social Services, there are not enough foster families in the state to accommodate the number of children under DSS care. Both the number of children in care and the number of foster families needed is increasing, with many children placed into foster care due to methamphetamine or other drugs being present in their homes.
"There's everything from home problems to abuse problems to substance problems. It could be for any one of a million different reasons," said Terry Reyelts, a police officer who said incidents he experienced on the job were part of what led to him becoming a foster parent. "The thing is that a lot of these parents just need to get themselves right before they can handle the family dynamic again."
The Reyeltses are not out of the ordinary in deciding to adopt children they've fostered. According to Kafka, of South Dakota adoptions finalized in fiscal year 2018, 56 percent were foster-parent adoptions.
South Dakota's Department of Social Services, which becomes responsible for children taken away from abusive or neglectful homes by law enforcement or court order, requires prospective foster parents to complete a 30-hour training program called the Parent Resource for Information, Development and Education, also known as PRIDE, as well as a home study.
The Reyeltses said their experience with PRIDE training took place in a classroom setting over six weekends, during which they learned about how to recognize signs of abuse and neglect and got acquainted with the departments they'd be working with as foster parents.
"It's more to get your mindset right as to, how are you helping the kid? Because there will be a readjustment period back into the family," Terry Reyelts said. "How are you going to assist not only this child that's with you, but also the family? Because there are opportunities in cases where they want the foster family to work with the parent, as well."
In addition to completing training, according to the DSS website, foster parents are required to be at least 21 years old, to have a home free of health or structural hazards and to be screened for past criminal activity or reports of abuse or neglect.
They must also have enough income to meet their family's needs, although DSS provides medical coverage and monthly assistance for foster children. Currently, foster parents in South Dakota are reimbursed $562.03 per month for a child 12 or younger and $674.56 per month for a child between 13 and 18, according to Kafka.
DSS also offers a Unity program, which is designed around native traditions and cultures to teach foster parents of Native American children about issues identified as important by Native American foster parents.
The Reyeltses said they've had good experiences with social workers and DSS, and encouraged anyone who's at all interested in foster care to speak with someone at a local DSS office or another foster family about it.
"Even if you can't do foster care, help with some of the extras from it," Sarah Reyelts said. "There's foster care, there's the CASA program, the visitation center, the Safehouse. They all work together to try and help these kids."
Get local news delivered to your inbox!
Subscribe to our Daily Headlines newsletter.