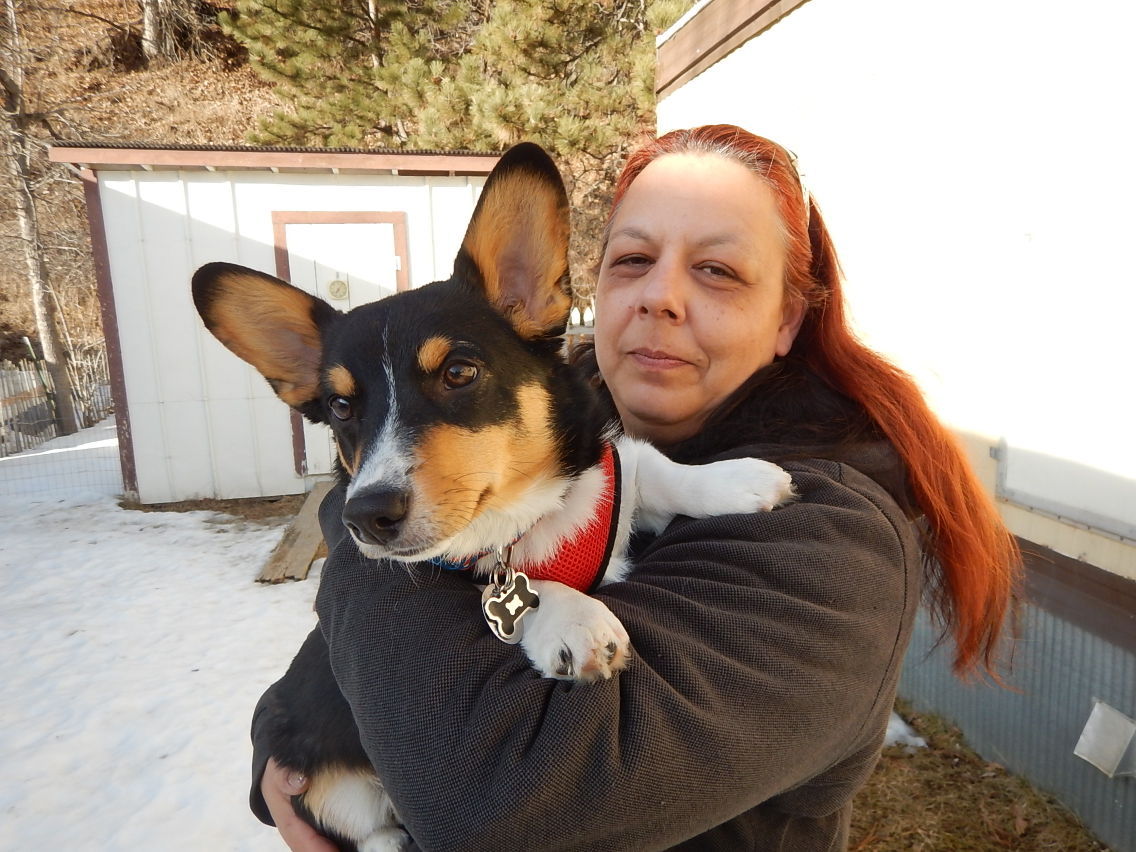 DEADWOOD | A Deadwood woman and her puppy barely got to safety Sunday night, arriving at her back door a whisker ahead of a sprinting mountain lion.
Virginia Potter had taken her Welsh Corgi, Shorty, out in her yard off Charles Street about 7 p.m. when the 6-month-old pup began to bark.
"We have a group of bunny rabbits that live under the shed in the backyard, so I didn't think much of it," Potter, 45, said Monday afternoon. "Shorty usually barks at them and I said, `Shorty, be quiet.'"
Seconds later, Potter watched in awe as a full-grown adult male mountain lion leaped over her white picket fence, then bounded over a second fence and headed straight for her and her dog.
"I screamed bloody murder and started high-tailing it toward the house with Shorty on my heels, and we got to the house at the same time," Potter said, nearly breathless almost a full day later. "It was two feet away when we got to the door, and it was huge.
"I have never been that scared in my life," she added. "It was terrifying."
Deadwood Police Chief Kelly Fuller said two of his officers went to Potter's home in the Claim Jumpers Mobile Home Park.
"We responded," Fuller said, "and officers observed a freshly killed deer and two mountain lions in the area. An officer took a shot at it and missed."
The chief said police then removed the dead deer. Potter said officers stayed at her home for nearly three hours, waiting for the cat to return.
Fuller said it wasn't unusual for police to receive reports of mountain lion sightings in Deadwood this time of year.
"We're starting to get a fair amount of them," he said. "As deer and other food sources begin moving into town, the mountain lions tend to follow. Our sightings generally go up this time of year."
After examining police reports, Fuller said mountain lions were spotted Dec. 9 at Whistler Gulch Campground; Dec. 12 near City Hall; last Wednesday near Gordon Park when a domestic cat was killed; and New Year's Day near the Deadwood Recreation Center.
Several years ago, Deadwood Police and state Game, Fish & Parks officers shot and killed a 150-pound male mountain lion near the playground of the Lead-Deadwood Elementary School after it had killed a deer, dragged it up a driveway and buried it in a garden. That massive lion was later sent to a taxidermist and found a permanent home in Deadwood's Adams Museum.
"This latest lion has been very aggressive, and we believe it killed someone's pet," Fuller said. "Then last night, the report we got was it was acting aggressively toward a resident and her dog. This behavior indicates a problem cat that is showing no fear of humans.
"It's been pretty brazen," the chief added. He advised anyone who spots a mountain lion to "make themselves as big and imposing as possible. Make a lot of noise. I wouldn't turn my back on it and run. That might trigger the predator instinct."
Fuller said police only reluctantly shoot mountain lions, and instead often use rubber bullets in their shotguns to "haze" them out of town and instill a fear of humans.
"We realize they share the area with us," he said. "As long as they're good neighbors, we don't have a problem with them. They are a magnificent animal, and they have their place here. But our job is about public safety, and sometimes we have to take action."
For Potter, that action will come none too soon.
"I'm so scared for the kids in the neighborhood," she said. "I always thought if I was out there, no wild animal would come up to us, but that was not the case. Now the cat is going after people, and I want to know what GF&P is going to do. When they start going after people it's a different story."
Potter said she had already purchased a "pee pad" so Shorty won't have to go outside to do his business. And, she said she was planning to buy a stun gun, and will not take her dog outside early in the morning or after twilight.
"We just won't give him a reason to have lunch here," Potter said of the mountain lion, shaking her head. "We're not going to be on his menu."