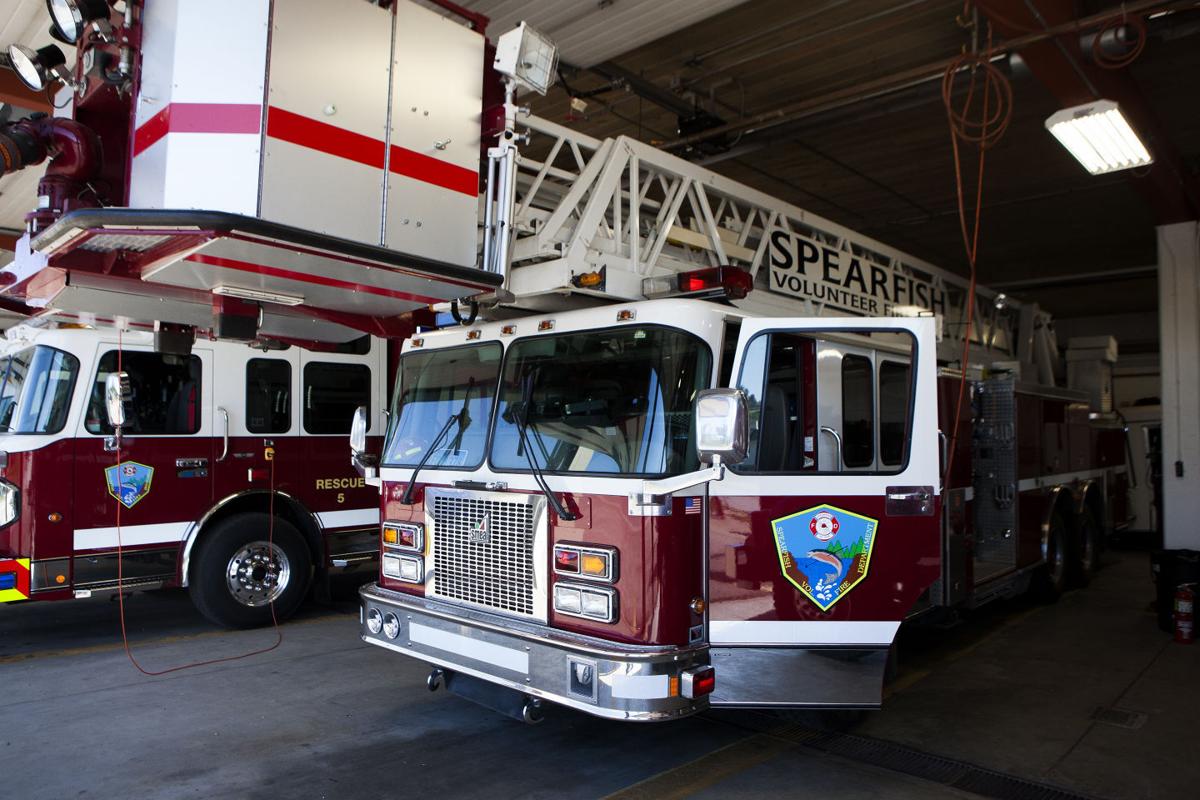 SPEARFISH | Ten weeks after the Spearfish Volunteer Fire Department members voted to resign en masse, the city and Lawrence County are poised to create a city department that will blend a paid fire chief and administrative staff with volunteer firefighters.
Citing exhaustion, the rigors of fundraising and an inability to attract new volunteer leadership, a majority of the 134-year-old Spearfish Volunteer Fire Department, one of the oldest in western South Dakota, voted to disband, effective Jan. 31, 2016.  In the wake of that Sept. 29 action, the Spearfish City Council authorized Mayor Dana Boke to appoint a Fire Department Advisory Task Force.
Boke named a 10-member team that included several local volunteer firefighters, former Spearfish Fire Chief Stuart Williams, Spearfish Police Chief Pat Rotert, Rapid City Fire Chief Mike Maltaverne, Lawrence County Emergency Manager Paul Thomson, and Lawrence County Commissioner Randall Rosenau, among others. After meeting three times in October and November, the findings of the task force were presented Monday night to the Spearfish City Council by firefighter and task force member Adam Zeigler.
Zeigler told the council it was the task force's unanimous recommendation to create a new Spearfish Fire Department, "which would be a distinct city department," led by three full-time paid employees of the city of Spearfish. Such posts would include a fire chief and two command/support staff employees with titles and duties to be determined by the chief.
The task force also recommended certain conditions:
• Volunteer firefighters would continue to form the foundation of the department.
• The city would continue to provide fire protection services to rural areas outside city limits.
• A deferred compensation program for volunteers would be continued.
• The city would explore how it might assist with recruitment and retention of volunteers, including consideration of pay-per-call or other reimbursements to volunteers, and incentives for employers of volunteer firefighters.
Mayor Boke said on Thursday that more than 30 former firefighters had already signed back on, and several new firefighters had applied to become volunteers.
"We knew there were committed firefighters who were willing to work through this process with the city," Boke said. "With that foundation, I appointed the task force, which anticipated the needs and the required funding and with that, we set a timeline to get this accomplished."
Boke said the task force and its meetings presented an opportunity for all entities involved to step back, explore options, and develop a model that would serve Spearfish for decades to come.
"Things have really clicked into place and the plan gives us the flexibility in the future as things change and needs evolve," she said. "With this becoming a city department, we will realize many efficiencies in the process by utilizing our finance department, our mechanics and personnel from other departments within the city that can assist with the functions of the fire department."
While the task force recommended significant changes in the structure and administration of the new fire department, one veteran volunteer firefighter and first-year county commissioner said the model was far from unique.
"This model closely resembles those already used by a number of fire departments in South Dakota that have a blend of volunteer and paid staff," said Rosenau, a nine-year volunteer firefighter who on Tuesday presented the task force findings to the Lawrence County Commission. "We weren't trying to re-invent the wheel. We were really trying to establish a viable alternative for the future of the fire department in Spearfish."
Rosenau, a retired sheriff's deputy and one of those who recently rejoined the fire department, said the department's role extends well beyond firefighting to education, search and rescue, and the extrication of victims from motor vehicle accidents.
"Everybody deep down is very concerned about the fire department because it often is a forgotten element until it's needed," he said. "This report provides a road map to get to our final destination. There might be some speed bumps along the way, but it's too important for any of us to forget about. Everything is moving forward now, and that was our primary goal."
Spearfish City Administrator Joe Neeb said the City Council probably would approve the task force recommendations at its Dec. 21 meeting, then consider first reading of a new fire protection ordinance and set a public hearing for Jan. 4, at which time it may also consider an amendment to its budget to provide for the new department's operations.
City and county officials are scheduled to meet Dec. 29 to discuss a joint-powers agreement concerning the Spearfish Fire Protection District, Neeb said. The city probably will begin its search for a full-time fire chief the first week of January, he said.
Neeb praised the task force for its careful and thoughtful analysis and its recommendations, which he said would not result in any interruption in fire protection for the residents of Lawrence County.
"This matter was undertaken the way it was meant to be: together," Neeb said. "The recommendations recognize the exceptional history of volunteer fire protection in and around Spearfish and establish a model that will allow the fire department to adjust accordingly as Spearfish grows and evolves."