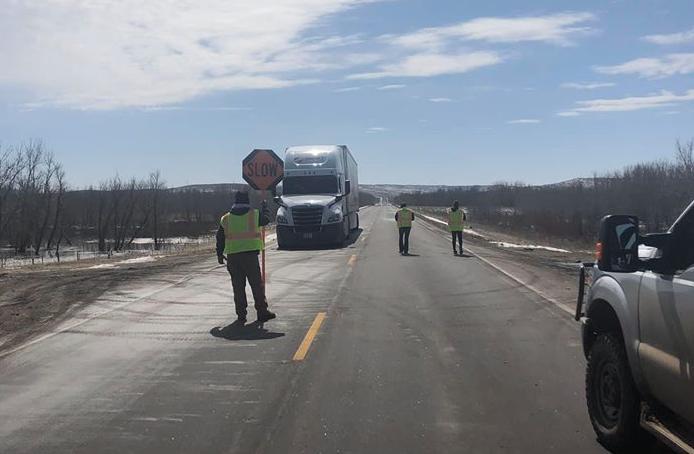 The South Dakota Attorney General has been investigating the COVID-19 checkpoints on the Pine Ridge and Cheyenne River reservations and forwarding findings to the White House and other federal officials, Gov. Kristi Noem said Wednesday. 
The Oglala and Cheyenne River Sioux Tribes have checkpoints that limit some drivers from passing through or stopping on the reservations to help prevent the spread of COVID-19. The checkpoints are also used to collect information in case contact tracing is needed.
The checkpoints are interfering with interstate commerce and travel, and "actually increase the risk of" spreading COVID-19 on the reservations by "increasing the frequency of exposure as tribal members interact with travelers that would otherwise pass through the reservation," Noem wrote in her May 20 letter to President Donald Trump. 
The governor said Wednesday that she asked Attorney General Jason Ravnsborg to investigate the checkpoints after Frazier and Bear Runner refused to take them down.
Noem said the investigation is ongoing but affidavits and video recordings show that the checkpoints are "unlawful" and this evidence was sent Wednesday to Trump, the Department of Justice, Department of Interior (which oversees the Bureau of Indian Affairs), and South Dakota's congressional delegation.
Noem's spokesman said he can't share the five affidavits and one video sent to Trump  since the investigation is ongoing.
The Department of Justice has legal jurisdiction over this issue and "we're asking them to do their jobs," Noem said Wednesday. She said she sent the evidence to the other federal agencies so they can encourage the DOJ to take action.
"This isn't taking sides. This is just simply upholding the law," Noem said. "I continue to work in good faith to help the tribes protect their people as well as comply with law and to be good partners with the state of South Dakota.
"I know that there are questions out there about respecting sovereignty," Noem said. But she said documents uploaded to covid.sd.gov show the tribes agreed to easements "granting us the right to put these roads where they are" and "legal documentation is there showing that these checkpoints can not lawfully be on U.S. and state highways."
Spokesmen for Bear Runner and Frazier did not immediately respond to a request for comment. 
The Bureau of Indian Affairs wrote in an April 8 memo that tribes have the right to close or restrict access on tribal roads. But it said tribes can only do the same on state and federally owned roads "only on behalf of the affected road owner after rate tribe has consulted and reached an agreement."
"I don't think checkpoints are a good idea on state and federal highways," Noem said May 11.
Noem wrote April 23 to DOI Secretary David Bernhardt asking him for help because the Cheyenne River Sioux Tribe set up checkpoints on state highways without coming to an agreement with the state and "refuses to partner with us."
The checkpoints go "beyond all reasonable measures to protect tribal members from COVID-19," Noem wrote.
Noem said state employees and non-tribal residents must obtain travel permits to pass through the reservation, and people working in the ranching and farming industries have been turned away. She also said that a gasoline supplier who had a travel permit was not allowed to enter.
The Journal found multiple complaints about the Cheyenne River Sioux Tribe not following its own rules and one related to the Oglala Sioux Tribe. Frazier said any enforcement problems can be fixed and that he welcomes suggestions from Noem, who he invited to observe a checkpoint.
Checkpoints on state and federal highways "must be immediately removed" if the state doesn't agree to them, LaCounte wrote.
Frazier told LaCounte two days later that he's consulted with the state and questioned why South Dakota has a say over a federal highway within the reservation. He also asked why the BIA was "suddenly concerned" about state and federal roads when it has let BIA roads on the reservation fall into "dismal conditions."
Noem said she sent her May 8 ultimatum after attempts to come to an agreement with Bear Runner and Frazier. The president and chairman said they would not take down the checkpoints and the state never filed a lawsuit.
Noem sent another letter to Bear Runner and Frazier on May 12 that she referred to on Wednesday as a "compromise." The letter says she is OK with checkpoints on BIA roads but offers no compromise when it comes to the specific issue of checkpoints on state and federal highways. ​
The Journal emailed questions to the BIA last week but has not received a response. 
Concerned about COVID-19?
Sign up now to get the most recent coronavirus headlines and other important local and national news sent to your email inbox daily.