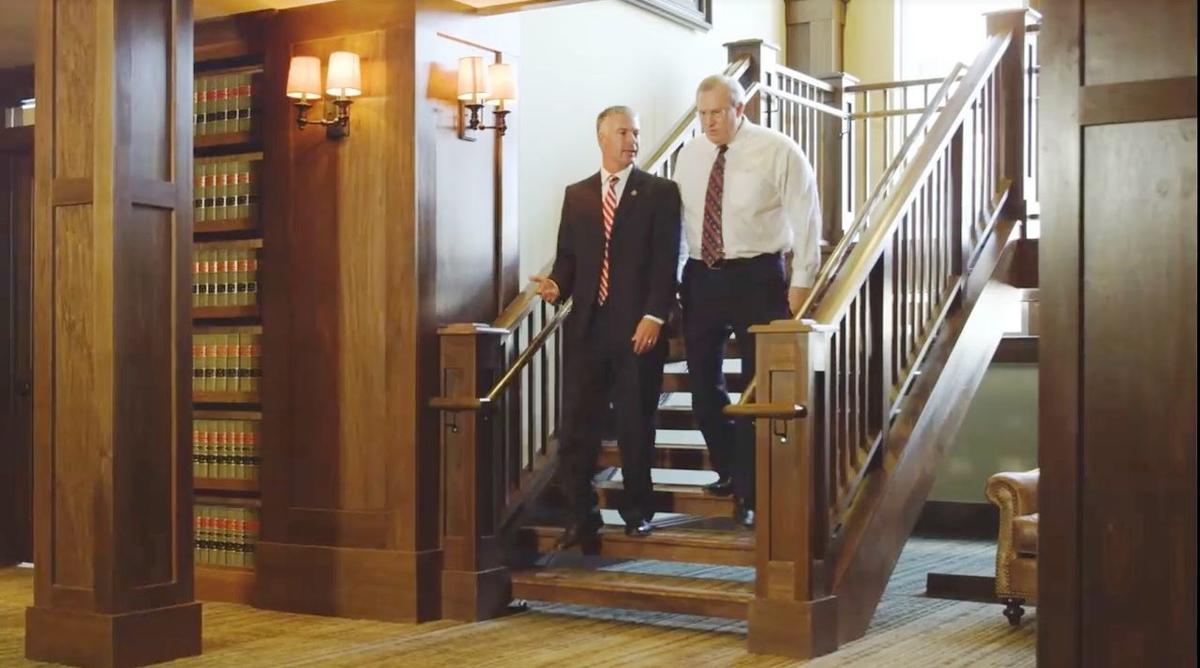 Editor's note: This is an installment of Campaign Roundup, a periodic feature in the Rapid City Journal this election year.
The intensity of the race for governor picked up recently when Kristi Noem accused Marty Jackley of falsely claiming to have created an internet crimes task force, and Jackley clarified the claim.
Noem, a U.S. representative, and Jackley, the state's attorney general, are the best-funded and most prominent candidates for the Republican nomination for governor, which will be decided in the June 5 primary election.
The root of their dispute last week was Jackley's first television advertisement, which has been airing since he debuted it March 5. Among the lines read by the narrator of the ad is this: "Marty Jackley created the Internet Crimes Against Children Task Force to protect our kids from predators."
On Thursday, Noem issued a news release saying Jackley's claim was false, and that the task force was actually created under the Janklow administration nearly a decade before Jackley was appointed attorney general.
Noem's release cited evidence including minutes from a 2004 state Bureau of Information and Telecommunications review committee, the 2007 South Dakota Legislative Manual, and a 2002 grant announcement from the U.S. Department of Justice.
"Marty Jackley needs to correct the record," said a written statement in Noem's release from Justin Brasell, Noem's campaign manager. "Voters deserve to have honest and accurate information. Clarifying the facts on this claim would be a good first step."
After being asked to respond by the Rapid City Journal, the Jackley campaign issued its own news release clarifying that although the task force did predate Jackley's appointment as attorney general in 2009, the task force was an affiliate of Minnesota's task force until 2007. It was Jackley's effort while serving as South Dakota's U.S. attorney that resulted in the South Dakota task force becoming a standalone entity, Jackley's release said.
His release cited evidence including Minnesota legislative documents, a 2007 Department of Justice news release, and an email Jackley sent in 2007.
"The creation and recognition of our own standalone South Dakota ICAC Task Force has provided our law enforcement officers with more freedom and ability to protect our kids in South Dakota," Jackley said.
Noem followed up with another news release Friday in which her campaign manager, Brasell, reiterated Noem's contention that Jackley was making a false claim.
"Only in a lawyer's office does filing a different set of paperwork for an existing entity mean you created something new," Brasell said. "South Dakotans deserve an honest accounting of what happened. Marty Jackley needs to correct the record and change his misleading TV commercial."
Johnson posts pro-life video
On Thursday, Dusty Johnson, who is seeking the Republican nomination for U.S. House, posted a video on Facebook in which he explained why he is pro-life.
Johnson, a former public utilities commissioner and former governor's chief of staff, said he and his wife, Jacquelyn, suffered a miscarriage between the births of two of their three sons.
"In the days and years since then we have cried a lot of tears and we have done a lot of mourning," Johnson said. "We would not have done that over the loss of a clump of cells. A baby died that day. Our baby. That experience has made it clear in my heart that there is a human life inside the womb."
Johnson said that if elected, he would be a "reliable and consistent vote for and voice for life."
Bjorkman touts race analysis
Tim Bjorkman, a retired circuit court judge who is seeking the Democratic nomination for U.S. House, took to social media Wednesday to tout an analysis that rated South Dakota's U.S. House race as more competitive than Tuesday's extremely close special U.S. House election in Pennsylvania.
The analysis was conducted by Benchmark Politics, an arm of the politically progressive news website Shareblue Media. In a tweet, Benchmark Politics said its model for analyzing congressional races rates more than 100 races as more competitive than the Pennsylvania race. One of the races is in South Dakota, where Rep. Kristi Noem's decision to run for governor means there will be no incumbent in the U.S. House race.
"Republicans in these races cannot assume they will win," said a tweet from Benchmark Politics.
On Wednesday, Shantel Krebs, who is seeking the Republican nomination for U.S. House, sent out an email plea for donations that touted her achievements as South Dakota's current secretary of state.
After criticizing the "kick the can down the road" approach by Congress to health care, immigration, funding for the military and other issues, Krebs cited her own record.
"I took on my own party to run for Secretary of State because government was failing," she said in the email. "On day one, I walked into a mess but we buckled down, worked hard, and turned a failing bureaucracy around.
"By implementing business principles like zero-based budgeting and eliminating waste, we have increased revenues, decreased budgets, and responded to taxpayer needs in real-time."
Tapio rails against school walkout
State Sen. Neal Tapio, R-Watertown, who is running for the Republican nomination for U.S. House, sent a news release Wednesday criticizing a nationwide student walkout protest of congressional inaction on gun violence.
Tapio called the protest "a leftist political movement designed to exploit and indoctrinate American children."
"We are watching the demise and possibly the end of the public school system," he said.
Tapio also cited "multiple media outlets and published reports" — without naming any of them — to support his claim that "this current national protest seems to be headed by the National Woman's March, which is led by Linda Sarsour, a terrorist sympathizer and Islamist apologist who believes in sharia law, which is the Islamic law that includes the death penalty for those that choose to leave Islam."
"Nation of Islam leader, Louis Farrakhan, is also a confirmed organizer of the walkout," Tapio added.
Following are some of the Black Hills-area candidates who recently filed the necessary number of petition signatures to earn spots on the June 5 primary and Nov. 6 general election ballots. The filing deadline for many candidates is March 27.
• Butte County: Elaine Jensen, R-Belle Fourche, for county auditor; Karen Wagner, R-Belle Fourche, for county commissioner in District 1.
• Pennington County: Keryn Rowland, D-Rapid City, for county commission in District 1; Donna Mayer, R-Rapid City, for register of deeds.
• Custer County: Shannon M. Lehmann, R-Custer, for county commissioner at-large; Marty W. Mechaley, R-Custer, for sheriff.
• Legislature: Peri Pourier, D-Pine Ridge, for state representative in District 27.
• Haakon County: Michael M. Gebes, R-Philip, for county commissioner in District 1.
• Jackson County: Vicki D. Wilson, R-Kadoka, for county auditor.
• Meade County: Talbot J. Wieczorek, R-Piedmont, for county commissioner in District 3; Lisa Schieffer, R-Sturgis, for county auditor.
• Hill City School District (nonpartisan): Carmen M. Ronish, Hill City, for school board; George King, Hill City, for school board.
• West Dakota Water Development District (nonpartisan): Linda Harris, Rapid City, for director in District 9.