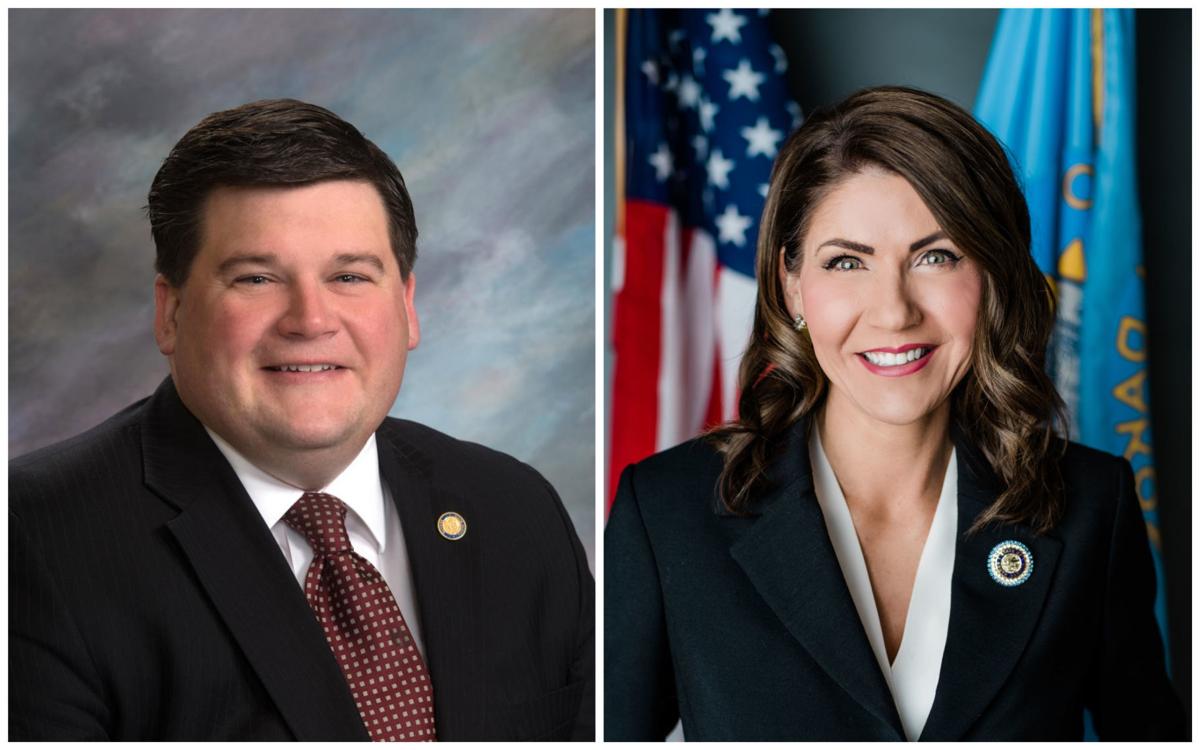 Gov. Kristi Noem made a "180-degree change" on the state's approach to tribes' COVID-19 checkpoints on state and federal highways, a Republican lawmaker told the Journal.
Noem told lawmakers during a conference call last Tuesday that "the state's hands were tied" when it comes to the checkpoints, Ryan Maher, a senator from Isabel on the Cheyenne River Reservation, said Monday.
Maher said the governor explained the state is not "going to do anything" about the checkpoints beyond trying to resolve issues through conversations with the federal government and Oglala and Cheyenne River Sioux Tribes. 
Noem told the media on April 24 that the checkpoints are a matter for the federal government: "The state of South Dakota does not have jurisdiction in this area, but the federal government does."
So Maher was "surprised" to learn Friday that Noem issued an ultimatum to the tribes: take down the checkpoints on state and U.S. highways within 48 hours or the state will sue in federal court.
Lawmakers "found out Friday afternoon when the press release came out," Maher said. "This is a 180-degree change" and "I still to this day don't know what changed from Tuesday to Friday."
Noem said during her Monday news conference that she's been hosting regular calls with legislators to provide updates and answer any questions about the checkpoints and other COVID-19 issues. Maher agreed there's been communication but said she never brought up the possibility of issuing an ultimatum. 
For more than a month "we've had ongoing conversations with the tribes hoping to see some kind of resolution and that's still what I would hope to see," Noem said Monday. "But we will be taking (legal) actions so that we can get some clarity on how to move forward."
Noem said ranchers, property owners, drivers delivering essential services and others have not been allowed to visit or cross the reservations. Maher agreed with Noem and listed four businesses that were unable to drive through the reservation to make essential deliveries. Tribal leaders say these groups aren't being blocked and all drivers making essential deliveries are allowed to enter.  
"I don't think checkpoints are a good idea on state and federal highways," Noem said Monday when asked if the state would support such checkpoints if she gains confidence that these groups and services are allowed.
Maher, who is not a tribal member, said he's not sure what to make of the legality of the checkpoints, that it's a "question that needs to be answered" by a court.
But he said a lawsuit maybe could have been avoided if there was better communication between the state, tribal leaders and lawmakers.
Maher said his constituents — both Native Americans and non-tribal members — are divided on the checkpoints on the Cheyenne River Reservation. But he said the more controversial issue is the travel permits, so he suggested to Noem that she use that as a bargaining chip — say the checkpoints can stay if the permits are changed. 
The senator said the permits aren't equally handled at each checkpoint and non-tribal members — who usually aren't under the tribe's jurisdiction — can face tribal jail time or fines if they improperly use the permits. 
Harold Frazier, chairman of the Cheyenne River Tribe, told the Journal that the permits are supposed to expedite travel and any inconsistencies can be improved. 
Seventeen state lawmakers who represent districts with tribal members also said Noem made her ultimatum without first letting them know or asking for their help. 
"We could have helped facilitate conversations and given your office unique insight as to the history, culture, protocols and vernacular of how to work together with tribal governments," the lawmakers — some of whom are tribal members — said in a letter to Noem obtained by the West River Eagle. 
"You elected, however, not to contact us and sent an ultimatum to both tribes," the 16 Democrats and one Republican wrote. "We think a better approach is communication rather than confrontation, cooperation rather than constitution crisis, and discussion rather than demands."
Julian Bear Runner, president of the Oglala Sioux Tribe, said he learned of the state's concerns and ultimatum through media reports.
Bear Runner and Frazier say they have no plans to stop the checkpoints since the state has not taken enough precautions against COVID-19. The leaders and health experts say tribal members are especially susceptible to contracting and dying of the virus due to lack of medical resources and socioeconomic health barriers.
Concerned about COVID-19?
Sign up now to get the most recent coronavirus headlines and other important local and national news sent to your email inbox daily.