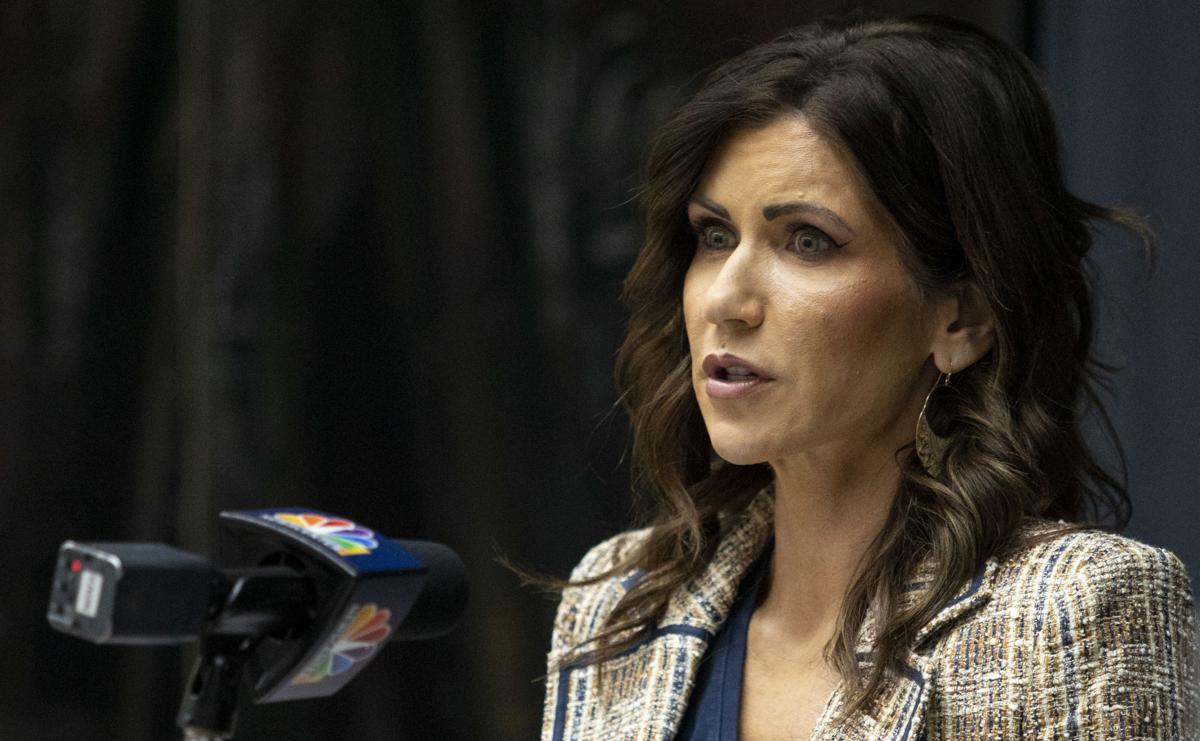 Gov. Kristi Noem was scheduled to vote for President Donald Trump during the Electoral College on Monday but instead met with him in person.
Noem is meeting with Trump in Washington, D.C., and is expected to meet with First Lady Melania Trump on Tuesday, according to her spokesman Ian Fury. He did not explain what they would be talking about or any other details about the governor's visit.
The governor and others with her were seen getting a tour of the West Wing before attending a White House Christmas party, Associated Press reporter Jonathan Lemire tweeted Monday evening.
The group, wearing formal attire and no masks, was also seen taking photographs in the press briefing room, reported Nikki Schwab of the Daily Mail. There is a mask mandate in that room, according to AP reporter Zeke Miller.
"There are multiple signs in and around the White House briefing room reminding guests that masks are required. It is deeply upsetting that White House tours continue to put journalists — who are there as the eyes and ears of the American people — at unnecessary risk," Miller tweeted.
There are multiple signs in and around the White House briefing room reminding guests that masks are required. It is deeply upsetting that White House tours continue to put journalists — who are there as the eyes and ears of the American people — at unnecessary risk. https://t.co/sCmZ3KMWzt

— Zeke Miller (@ZekeJMiller) December 15, 2020
At least three South Dakota lawmakers who attended Noem's budget address last week have COVID-19. 
"Governor Noem was not a close contact of any of the legislators who tested positive. She self-monitors for symptoms daily and feels great," Fury said when asked if Noem was recently tested for the virus.
Noem's change in her Monday schedule comes after a weekend of duck hunting in Arkansas, meeting with a Florida opioid-awareness activist on an airplane in South Dakota, and receiving an award in D.C.
None of the three events were announced ahead of time. The state plane was not used during any of Noem's weekend travel, Fury said.
Noem, a supporter of Trump, was replaced as an elector by Dan Lederman, chair of the South Dakota Republican Party, Bob Mercer of KELO reported on Saturday. The change was not publicly announced by any South Dakota official.
Kea Warne, deputy Secretary of State, said Monday that she learned about the swap mid-week last week but was not given a reason for the change. 
Trump received nearly 62% of the popular vote in South Dakota, defeating Democratic nominee Joe Biden by more than 100,000 votes. The state has chosen the Republican nominee for president in every general election since 1964.
Lederman and fellow electors Lt. Gov. Larry Rhoden and Attorney General Jason Ravnsborg met at noon Central Time at the Capitol Building where they unanimously cast their votes for Trump and Vice President Mike Pence. 
Electors met in all 50 states and the District of Columbia to cast their ballots on Monday, the day set by law for the meeting of the Electoral College. Biden is expected to receive 306 votes over Trump's 232. The results will be sent to Washington and tallied in a Jan. 6 joint session of Congress over which Pence will preside.
Trump has refused to concede the election and continues to make unsupported allegations of fraud, drawing more attention to electors' votes than in a usual year.
Fury did not respond when asked if Noem believes Biden won in a fair and free election without widespread voter fraud or a rigged election. Noem had not acknowledged Biden's victory as of last Tuesday, Fury posted on Twitter.
The U.S. Supreme Court — which has a conservative majority and three Trump appointees — declined to hear two election cases last week, including a lawsuit supported by Ravnsborg asking the court to prevent Georgia, Michigan, Pennsylvania and Wisconsin from voting in the Electoral College, a move that would have made Trump the winner.
An investigation into Ravnsborg fatally hitting a man with his car Sept. 12 is nearly wrapped up, according to prosecutors. 
Noem went duck hunting in Arkansas with the state's Lieutenant Governor on Friday, according to Instagram posts by Lt. Gov. Tim Griffin.
"So much fun doing some Arkansas duck hunting with my friend and former colleague South Dakota Governor Kristi Noem and my son John," Griffin wrote on Friday. "It was a beautiful morning to enjoy outdoors in The Natural State."
Noem, who was tagged in the photographs, is seen wading in thigh-deep water and holding ducks with Griffin and his son.
Noem was back in South Dakota on Saturday where she met on an airplane with Jackie Siegel, a Florida-based socialite and opioid-awareness activist. Siegel posted a photograph with Noem that appears to have been taken on a small, private plane.
"What an amazing day! Today I met with Gov. Kristi Noem in South Dakota to talk about how Victoria's Voice Foundation can save lives in South Dakota," Siegel posted on Saturday. "As a mom and governor she is passionate about preventing senseless deaths from the drug epidemic like Victoria. So grateful for the time spent together today."
Siegel's daughter Victoria was 18 when she died from a drug overdose in 2015. The Victoria's Voice Foundation created a teen drug prevention program, educates teens through social media influencers and school speakers, and advocates for drug policy reform and naloxone access.
Siegel, whose husband David created Westgate Resorts, starred in "The Queen of Versailles," a 2012 documentary that follows the Siegels as they build their Florida mansion, which is one of the largest and most expensive in the U.S. 
Noem's three children and son-in-law were also on the plane, according to an Instagram post by Kassidy Noem.
Fury did not answer a question about how this meeting came to be and whether Siegel will be getting involved in any South Dakota drug prevention campaign.
Noem was in D.C. on Sunday to receive the Mother of Influence award from Moms for America.
"Honored to receive this award from Moms for America. My legacy will be my children," Noem wrote on a Monday morning Twitter post.
Moms for America is a conservative nonprofit that formed in 2004 with a mission "to build a foundation of liberty in the homes of America, through the mothers of America, to raise a new generation of patriots, and heal our nation from the inside out," according to its website. 
Noem attended the award ceremony with her husband, three children and son-in-law, Breitbart reported. The nonprofit praised Noem's approach to the pandemic while Noem spoke about her family, including how her life changed after her father's fatal farm accident.
Moms for America encouraged people to attend the "Stop the Steal" rally Saturday in DC and has been spreading conspiracy theories about the election on its social media pages, such as claiming there was widespread voter fraud during the Nov. 3 election and that Trump actually won in a landslide.
USA Today falsely reported that Noem was set to speak at the Saturday rally, Fury wrote on Twitter. Noem was invited to speak but declined, he said.
Fury did not respond when asked if Noem supports the election conspiracy theories shared by Moms For America, and why she declined to speak at the rally but accept the award.
Noem's family appears to remain in D.C. with her. On Monday morning her daughter Kennedy posted a photo on Instagram of the lobby of the Trump Hotel.
The Governor was in D.C. last month where she spoke at the dinner for new Republicans in Congress and met with Attorney General William Barr and the secretaries of labor, energy and the interior.